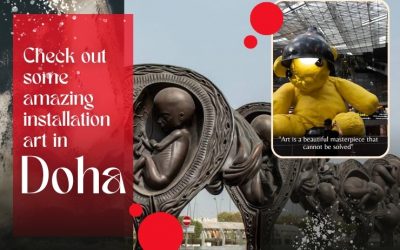 Doha's art installations honor the country's rich cultural heritage. High art is referred to as Haute I'art (or 'High Art'). Sculptures, paintings, and other artistic creations are common examples of this art. Many art installations celebrate the country's culture in...
Qatar is one of the few countries in the Middle Eastern region whose origins go back as early as 50,000 years ago. So it is no surprise that travelers can immerse themselves in the rich historic heritage of this country. Some well-known archaeological sites include the Al Zubarah Fort, the Katara Cultural Village, and the Mysterious Film City of Dukhan.
What began as a fishing and pearl hunting settlement, turned into a full-fledged country in 1971 after gaining independence from the Colonial British Empire. Soon after, Qatar transformed into a well-developed Nation thanks to its ample oil deposits. In fact, the Human Development Index of Qatar as of 2019 was 0.848, which signifies a very high human development. 
Any visitor to Qatar is bound to be floored by the modernity of its skyscrapers and contemporary art installations, especially in the capital city of Doha. The Mathaf Museum of Modern Art located at the heart of Doha bears testimony to this fact. Other architectural feats such as the Force of Nature and the Golden Thumb Statue are equally eye-catching. 
But there is more to Qatar than what can be caught by the eye. When you're there you can seep yourself into the country's historic and cultural treasures at the numerous Museums spread throughout Doha. The National Museum of Qatar, Msheireb Museum, Museum of Islamic Art are not to be missed. 
Outside the borders of the city center, Qatar has also preserved its natural landscapes and biodiversity.  Besides the beach enclosures around the Persian Gulf, The Zekreet rock formations, caves, and Musfur sinkholes are unique features of the Qatari landscape. So, the list of things to do in this West Asian country is a variety of adventures. You can choose desert safaris, beach vacations, cave adventures, wildlife exploration, and more. 
The cuisine is a multifarious affair, and you'll surely find a little bit of everything. But, tasting authentic Arabic cuisine while in Qatar should definitely be on your bucket list. A visit to the Falcon Souq will offer you the best local experience in the city.  Planning a trip to Qatar soon or are you geared up for the Fifa World Cup 2022 at Doha? TicketsToDo brings to you an all-inclusive guide so that you can plan that perfect Qatar Vacation.
Frequently Asked Questions About Qatar