Qatar, one of the most beautiful countries in the Middle East, is a culinary paradise. Food has always been an important part of Qatari culture, and it is something that brings people together. Food is always the topic of conversation at festivals, social gatherings, and other special occasions. In fact, when it comes to traditional delicacies, Qatar has more than a few to offer. Apart from exploring the art scene, culture, sports activities, shopping, and visiting the many attractions here, there are a few must-try foods in Qatar, if you are here for the first time!
TicketsToDo is your ideal travel companion, bringing everything you can discover right into your hands. TicketsToDo has detailed blogs, informative travel guides, and fun activities to help you plan your entire trip from the comfort of your own home! Plan your Qatar itinerary with the best activities and attractions in Doha.
Must try food when you visit Qatar
Let's delve deeper and learn more about food in Qatar.
1. Machboos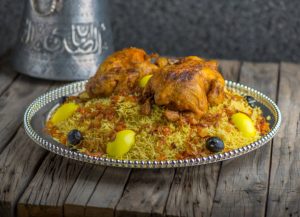 Machboos is a well-known rice-based dish that is a Qatari staple. It is prepared with your choice of marinated meats or seafood. To add flavor, it is sprinkled with rose water or lemon juice before serving. It is typically served with a spicy salsa dip that complements the rice!
Where to try: Bander Aden restaurant
Location: 7GQM+R52, Abdullah Bin Jassim St, Doha, Qatar
2. Saloona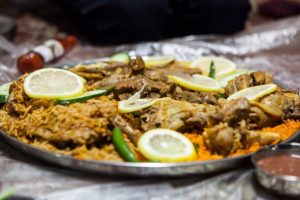 Saloona is a spicy stew made with meat, vegetables, or both. The dish is loaded with tomatoes, aubergine, potatoes, carrots, and other vegetables. The dish can be eaten alone or with rice to make a full meal.
Where to try: Walima
Location: Mondrian Doha
3. Samboosa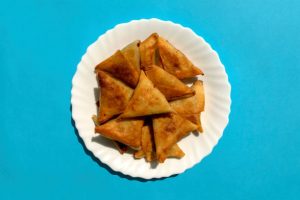 You may have already attempted this in some form or another. Samboosa is a deep-fried pastry filled with vegetables, meat, cheese, or other ingredients and deep-fried until golden brown. It goes well with a cup of tea, Karak, or as an appetizer.
Where to try: Delhi Bakery Qatar
Location: 7GGP+PHP, Hadramout St, Doha, Qatar
Also read: Your detailed guide to Qatar public transit for an easy navigation
4. Luqaimat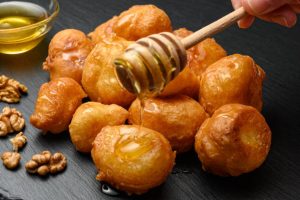 Luqaimat is a popular dessert that is both soft on the inside and crunchy on the outside. It is an Arabic word that means "bite-sized," and it is typically in the shape of small bite-sized balls. While there are numerous ways to make the dish, people in Qatar prefer to make it the traditional way, with butter, milk, flour, sugar, saffron, and cardamom. Before serving, the batter is deep-fried and dipped in sweet syrup or honey.
Where to try: Karaki
Location: The Pearl, Doha, Qatar
5. Thareed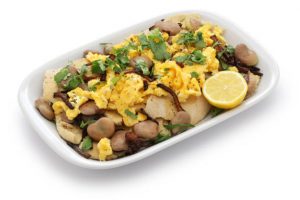 Thareed is another warm and comforting dish. It has a fine blend of vegetables like potatoes, carrots, beans, and meat like chicken or lamb, similar to a pot of stew. This popular Qatari dish is served with bread, which absorbs all of the delicious juices and gives you the perfect mouthful. The dish can be compared to a traditional Qatari lasagne.
Where to try: Spice market
Location: W Doha Hotel & Residences West Bay, Doha, Qatar
6. Knafeh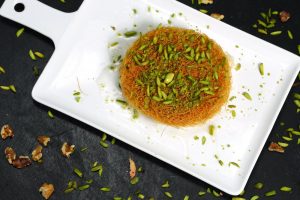 If you enjoy cheese, you're in for a treat! Knafeh is a rich dessert made with sheets of filo pastry or semolina dough that have been soaked in a sweet syrup and layered with cheese, nuts, or even clotted cream!
Where to try: Al Aker sweets
Location: شارع الجزيرة، Doha, Qatar
7. Arabic mezze platter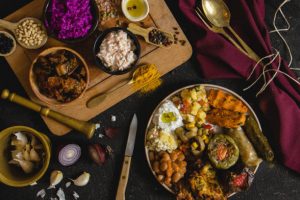 In Arabic, the word "mezze" means "sharing". An Arabic mezze is a collection of small plates that typically include hummus, mouttabal, baba ganoush, and tabbouleh, as well as Arabic bread and pickled vegetables. This is an excellent platter to share with friends and family!
Where to try: Turkey Central
Location: Al Mirqab Al Jadeed St, Doha
Also read: Dine with luxury at the Best Restaurants in Abu Dhabi
8. Regag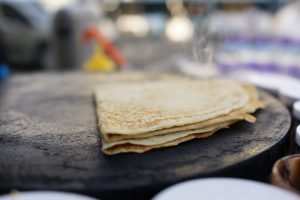 Regag is the Arabic word for a crepe. These thin, crispy pancakes are folded into a cone shape and served with a hot cup of Karak or tea. You can also top it with your favorite toppings, such as cheese, honey, Nutella, eggs, and more!
Where to try: Yasmine Palace restaurant
Location: Parcel 18 Fountain Roundabout Pearl Qatar، Marina Way 31، Doha, Qatar
9. Shawarma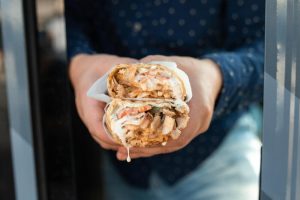 If you haven't tried Shawarma yet, make it a point to do so in Qatar. When you try this delicious dish, you'll understand why it's so popular and well-liked here! The name is said to be derived from a Turkish word that means "turning". A block of meat is placed on a rotating skewer, and small pieces of meat are shaved off and filled in a wrap with sauces and pickled vegetables.
Where to try: Jabal Lebnan Restaurant
Location: Al Mirqab, Al Jadeed St, Doha
10. Karak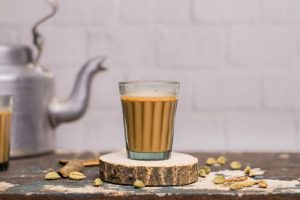 This is an iconic drink in Qatar, and we've included it on the food list because no meal is complete without it. Karak is a must-try beverage among locals and residents alike. You are sure to fall in love with it at first sip! Spices, condensed milk, and cardamom flavor this sweet tea, Karak. Saffron and ginger are occasionally added.
Where to try: Chapati & Karak cafe
Location: 9G5G+J34, Doha, Qatar
Also read: 15 must-try foods in Dubai: Your guide to best Emirati cuisine
Dive into some deliciousness so that you can plan your culinary itinerary soon!
If you plan to travel soon, you can avoid the hassle of standing in lines by booking your tickets through TicketsToDo.com. Use the promo codes and coupon codes from VoucherCodesUAE, to get special discounts on tickets.