Qatar is a barren Arab region, which includes the long Persian Gulf with coastal beaches and dunes. Some beaches are easily located in Doha, the capital. Qatar's beaches offer the ideal setting for those who want to enjoy the sunshine and the blue waters. From beautiful resorts to pink sand beaches and hidden harbors, here are some of the best beaches you can visit in Qatar.
Also, get your tickets to exciting attractions and destinations all around the world hassle-free with TicketsToDo.
Best beautiful beaches to visit in Qatar
1. Fuwairit beach
Fuwairit Beach is located in northern Qatar. This sea is a real gem because of its long powdery white sand and the blue sea. The coast is full of beautiful pink, white, red, and yellow seashells. Fuwairit Beach is a relaxed and beautiful country and is a great place to spend some special time with your family or friends.
2. Zekreet beach
Zekreet Beach features a pile of sand and limestone that makes the landscape unique and fascinating. Located off the coast of Dukkan, the vibrant villas and the beautiful scenery make it one of the best places to relax. Zekreet Beach, also known as Ras Abrouq Beach or Bir Zekreet, is isolated, with no routes or resources, making it inaccessible to the masses. It is good to spend the day under a clear sky, recommending the tranquility of your surroundings. The desert and tranquility are one of the reasons why Zekreet beach is so popular among tourists.
3. Al Farkiah beach
Al Farkiah Beach is located in Al Khor about 2 km from Al Khor Mall. This beach is a fenced beach and there is only one entrance and exit. There are about 50 shades placed on the beach intended for guests to relax and soak up the sun. The toilets and showers available here to comfort guests make this beach one of the best beaches in Qatar. You can also find children's playgrounds where little munchkins can play while parents enjoy a healthy time on the beach. If you want more fun at Al Farkiah Beach, there are barbecues where one enjoys hot treats.
4. Al Thakhira beach
Al Thakhira Beach is one of the major tourist attractions in Doha. The sea is about six miles [10 km] away, and salt-resistant mangroves thrive on its shores. Al Thakira is a popular bird-watching destination and is a well-known kayaking and fishing destination. Sea turtles are known to breed in the sea during spring and summer. A swim in the sea and sunburn on the sand can be a good solution to your stress.
Related Article: From museums to desert activities, here are the top 10 things to do in Qatar
5. Al Wakrah beach
If you are looking for a quiet ambiance to share with family or friends, Al Wakrah Beach is a great option. The beach is about 30 miles from the center of Doha and has beautiful scenery. Children's playgrounds keep kids' busy, while volleyball stadiums, soccer fields, leisure centers, and barbecues make the Al Wakrah beach worth a visit. You can fly a kite, or simply stroll along the beach. The sunset begins with a golden hue and it softens as you approach the ocean.
6. Al Khor beach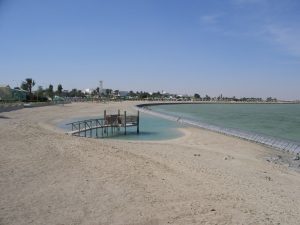 Al Khor Beach is home to many plants that turn the wetland to a magnificent purple when it blossoms and is therefore known as Purple Island. As one of the northern beaches of Qatar, Al Khor is easily accessible by car and is now a popular camping destination. Al Khor offers a wide range of amenities, including showers and changing rooms for adults and children. If you feel hungry, there are a few barbecue spots nearby that offer delicious options to suit every taste.
7. Simaisma beach
If you want to visit one of the quietest and most peaceful beaches in Qatar, Simaisma Beach is the one. Free barbecue grills and well-placed shaded areas make it a great outdoor dining option, too. Traps – known locally as hadra –are used to catch shrimp and other small fish. There is a children's playground and includes several restaurants and vendors selling ice cream and snacks.
8. Sealine beach
Sealine Beach in Mesaieed is one of the most popular beaches in Qatar, It is ideal for families and friends as it offers a wide variety of activities. These activities include camel riding, safari tours, and dune bashing. Moreover, it is a fantastic spot to watch the sunset and different shades of sky!
Related Article: Qatar travel plan: A 10 day-itinerary for that perfect getaway