People yelling, flags waving, and sweat pouring from every pore! The FIFA enthusiasm must be at its peak because the World Cup season has arrived!
With that comes the never-ending DJ parties and events. We've compiled a list of top Qatar events to amplify your World Cup fantasy so you can focus solely on the game.
Let us help you make the most of your time in Doha by providing you with a list of the best things to do in Doha. TicketsToDo, your online ticket-booking portal that has the best things to do in any city worldwide, can help you choose the right activities!
Upcoming Qatar events
1. Qatar Daydream Festival 2022: The Ultimate Guide to the Biggest EDM Festival in Qatar
When: 22 Nov – 18 Dec
Where: Daydream Festival | West Bay P.O.Box 13530, Doha, Qatar
The Qatar Daydream Festival is an eight-day Electronic Dance Music (EDM) festival taking place in Qatar from 22 November – 18 December 2022. The festival will feature some of the biggest names in the EDM world, as well as a host of other activities and events. This will be the first EDM festival in Qatar and is sure to be a memorable experience for all those who attend.
An all-star lineup of some of the world's best DJs. Including Armin Van Buuren, Tisto, Alesso, Dimitri Vegas & Like Mike, Alok, Timmy Trumpet, Major Lazer Soundsystem, Nervo, Jonas Blue, Paul Van Dyk, Ferry Corsten, Nicky Romero, and many more.
The Daydream Festival Doha will take place for eight days, on the following dates:
Tuesday, November 22nd
Thursday, November 24th
Saturday, November 26th
Thursday, December 1st
Friday, December 2nd
Tuesday, December 6th
Saturday, December 10th
Wednesday, December 14th
Sunday, December 18th
You may also like: 48 hours in Doha: How to make the most out of your time
2. Arcadia Electronic Music Festival 2022
When: 19 Nov, 10 am – 19 Dec, 5 am GMT+3
Where: Ras Bu Fontas, Doha, Qatar
Qatar will play host to one of the biggest electronic music festivals in the world this FIFA time. The Arcadia Music Festival will take place in Doha from 19th November to 19th December 2022. Catch the Spider, the Afterburner, and the Bug with Over 150 EDM artists ready to fire up 3 iconic stages of Arcadia, Doha's most anticipated electronic music festival.
Related Article: A Comprehensive Guide to Qatar: All You Need to Know
3. ARAVIA by MDLBeast in Qatar 2022
When: 21 Nov, 8 pm – 18 Dec, 2 am GMT+3
Where: Al Wakrah, Qatar
For 28 Aravian nights, step off the field and onto the dance floor! This is our take on music culture: cross-border dancefloors woven with Arabian flair.
ARABIA by MDLBEAST is the first-ever electronic music festival to take place in Doha, Qatar. The festival will feature over 50 world-renowned DJs and producers. Including Afrojack, Harwell, Martin Garrix, David Guetta, Calvin Harris, Axwell, Lost Frequencies, Steve Aoki, and more. With its state-of-the-art facilities and world-class lineup, Arabia by MDLBEAST is sure to be an unforgettable experience for all who attend. The most anticipated Qatar event of them all!
4. FIFA Fan Festival
When: 21. November – 18. December 2022
Where: Al Bidda Park, Doha, Qatar

The FIFA Fan Festival is the world's largest football party! It is the ideal location to watch Men's and Women's FIFA World Cup matches live in a World Cup atmosphere, while also enjoying an exciting football and entertainment program combining the best of football, music, culture, and lifestyle – a true football festival.
The FIFA Fan Festival is an important part of the World Cup experience in both the Host Country and each Host City. It provides new ways for all types of fans – from avid to casual football fans, to fans of music, food, and culture – to connect and engage with football in a festival setting.
Related Article: Everything you need to know about 3-2-1 Qatar Olympic & Sports Museum
5. Katara International Dhow Festival 2022
When: 19 November – 18 December 2022 | 2:00 pm – 12:00 am
Where: Katara Beach

The 12th Traditional Katara International Dhow Festival is a yearly cultural event inspired by Qatar's rich maritime heritage. The festival features exciting artistic and musical activities, marine shows, and competitions aimed at restoring culture and preserving folk heritage. Moreover, Dr. Khalid bin Ibrahim Al Sulaiti, General Manager of Katara Cultural Village Foundation, stated that the foundation plans to organize 51 events, including 300 sub-events, with the participation of 22 countries from November 18 to December 18, 2022, and that these events will be distributed across five key branches, including festivals, ceremonies, exhibitions, live presentations, and events.
6. Medinafest at The Pearl Island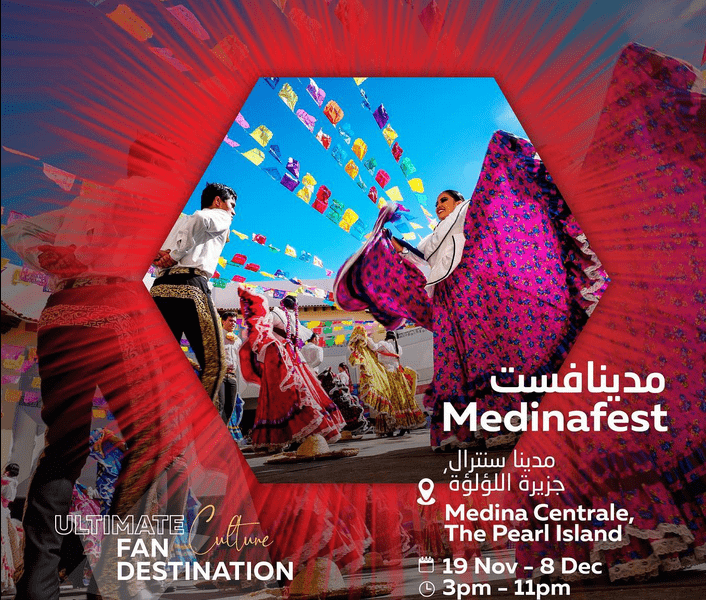 When: 19 Nov, 3 pm – 8 Dec, 11 pm GMT+3
Where: Medina Centrale, Doha, Qatar

Pearl Island is a popular tourist destination that provides residents and visitors with an all-inclusive leisure experience. Luxury living blends with lively shopping and entertainment on this fascinating Island and scenic backdrops are complemented by a thriving community lifestyle, making The Pearl Island a true living wonder. Not to mention it hosts the best Qatar events. Moreover, this World Cup season, the excitement continues on Pearl Island with Roaming Parade, International Street Artists & Performers, and African, Asian, European, and American Themes!
Related Article: Things to do in Qatar during the FIFA World Cup 2022
Qatar is a country with a lot to offer, and there are plenty of events to keep you entertained. From screaming fans at the FIFA World Cup to waving flags to eccentric nightlife, there is something for everyone. TicketsToDo can help you book things to do in Doha, so you can make the most of your time in Qatar.