Put those 100 Dirhams to the test and discover how much fun you can have while spending the least amount of money possible. With ingenuity and a bit of creativity, you can have a blast in a variety of settings and activities, taking advantage of what your city and the surrounding area has to offer. From cultural experiences to outdoor adventures, there are plenty of budget-friendly activities to choose from, providing you with an exciting and memorable day of leisure. Take the challenge and find amazing things to do in Dubai for under 100 Dirhams or less – with us, you're sure to have a time to remember!
Let your worries fade away and start exploring the thrilling range of low-cost activities from TicketsToDo. From booking dazzling cultural experiences to embarking on thrilling outdoor adventures, there's something for every budget and every taste. It is the perfect place to look for fun things to do without breaking the bank. With over 100 experiences priced under 100 Dirhams, you can pick and choose the perfect experience for you without compromising on your budget. So, take the challenge and find something amazing to do without burning a hole in your pocket.
Take the challenge and find amazing things to do for under 100 Dirhams or less
1. Visit the Dubai Camel Racing Club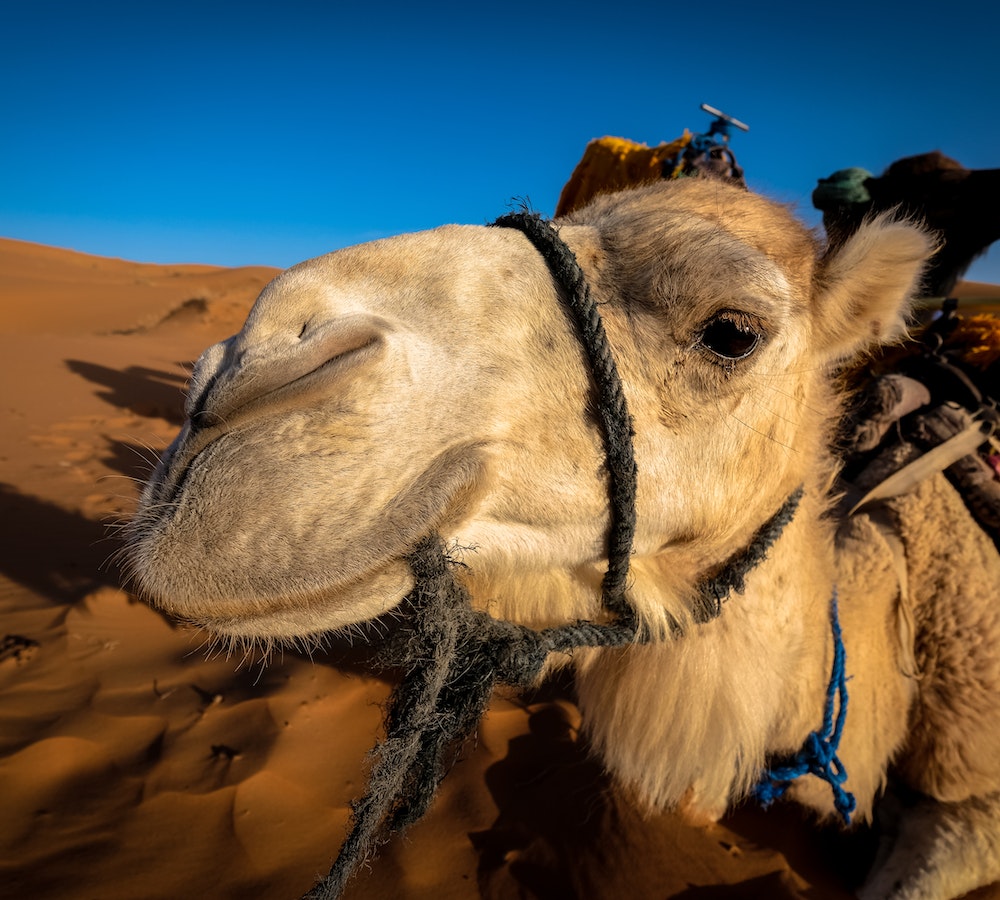 The Dubai Camel Racing Club is an activity that is fast, intriguing, and full of flavor. It is a great way to get to know the local culture and to see some of the most amazing animals in the world up close. Camel racing is a popular sport in Dubai and something you can do for under 100 dihrams. You can watch the races at the Dubai Camel Racing Club or even go on a camel ride.
If you're feeling adventurous, you can even try your hand at camel feeding. Camel racing is a great way to experience the local culture and get a taste of the Dubai lifestyle. So if you're looking for something to do that's a little different, be sure to check it out.
Related Article: The complete guide to 48 hours in Dubai and what you should do
2. Enjoying the Beach Life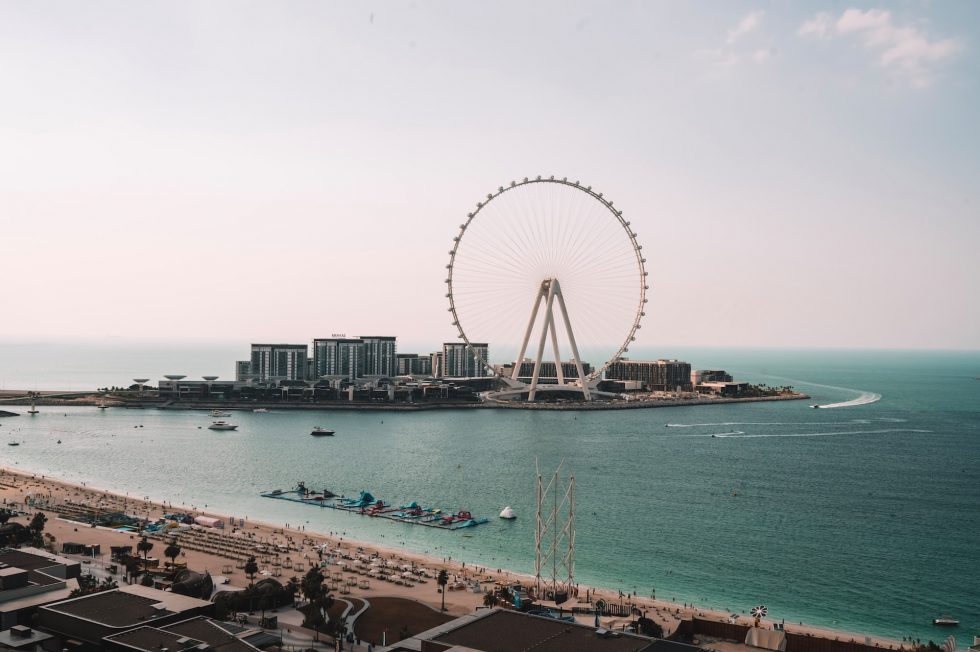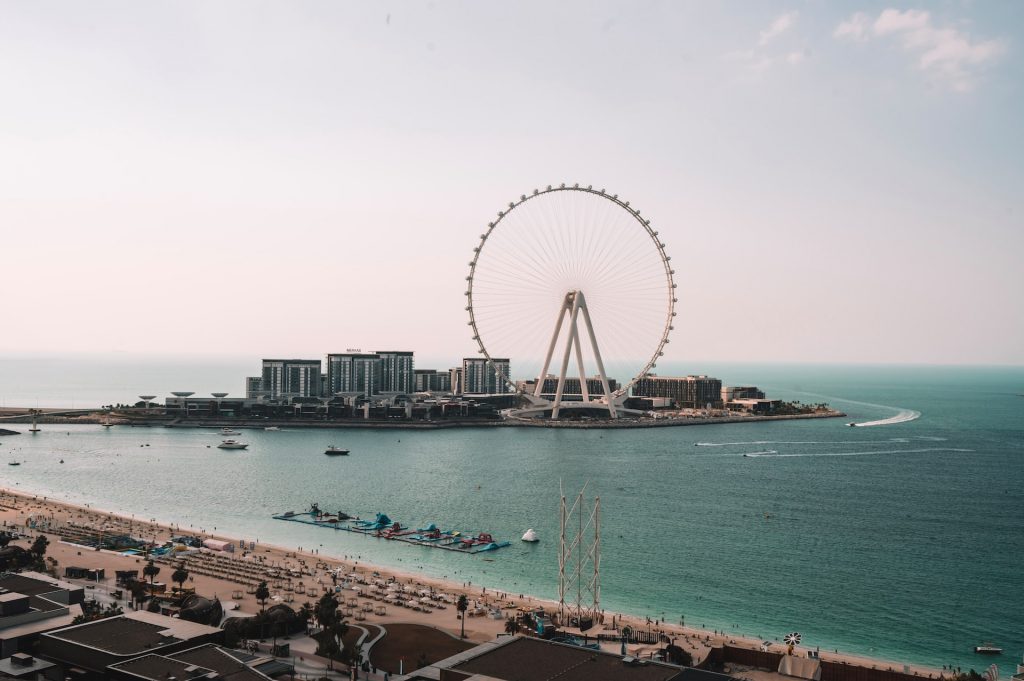 If you're looking for a way to enjoy the beach life in Dubai for less than 100 dirhams, we've got you covered. Here are a few tips:
1. Avoid the main beaches. They're full of people, and the sand is often covered in litter.
2. Try visiting the beaches in either Jumeirah or Umm Suqeim – they're a lot quieter and cleaner.
3. Head to the beach early in the morning or late in the evening to avoid the heat.
4. Bring your own food and drinks, or buy them from one of the local shops nearby.
5. Have fun!
Related Article: Exciting Outdoor Activities In Dubai To Experience The Thrill
3. Shopping at the Souks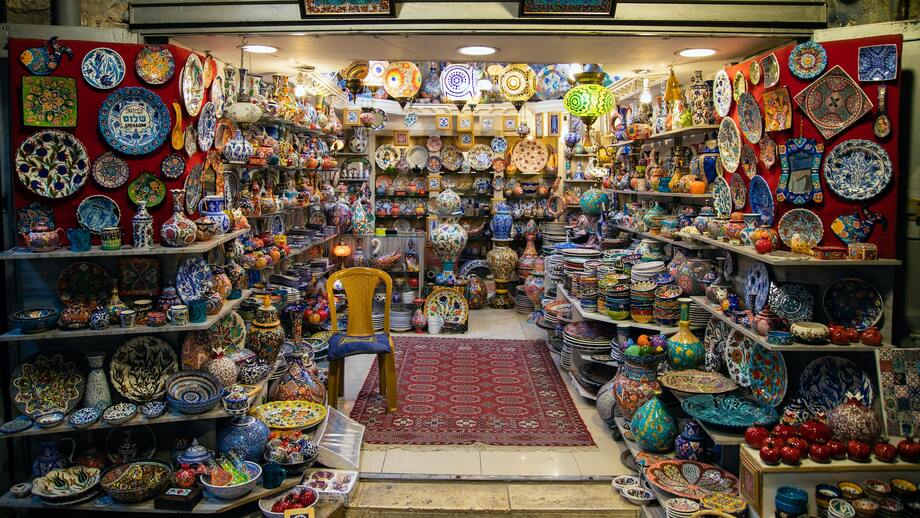 The Dubai Souks are a shopper's paradise. You can find everything from traditional handicrafts to knock-off designer bags. Just be careful not to blow your entire budget in the first hour. Some of our favorite souks include the Gold Souk, the Spice Souk, and the Textile Souk. But really, you can't go wrong with any of them. Just be sure to bargain hard – that's how they do things in Dubai.
4. Take Dhow Dinner Cruise at Dubai Creek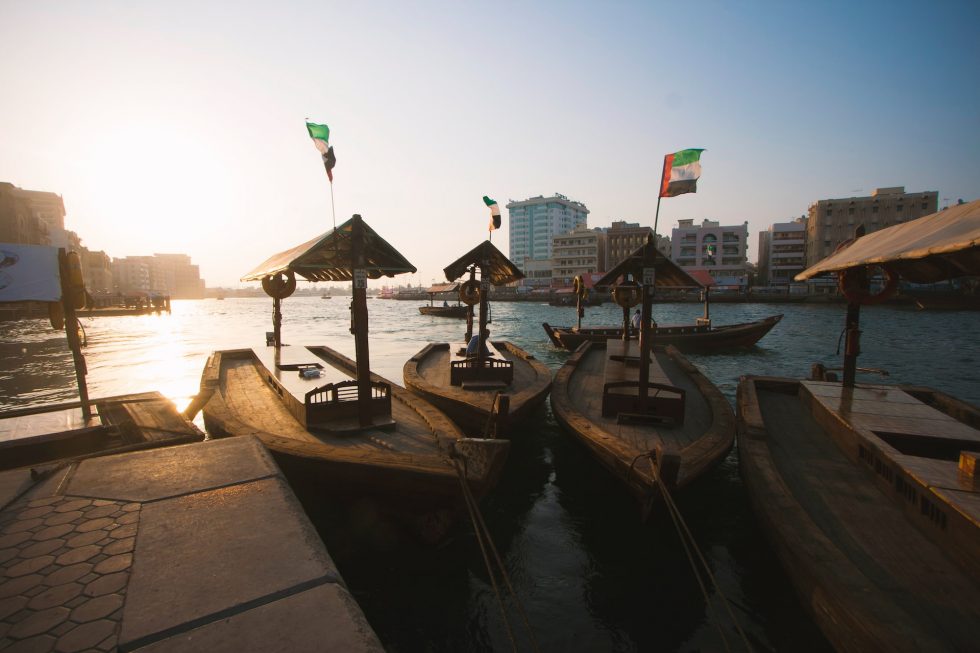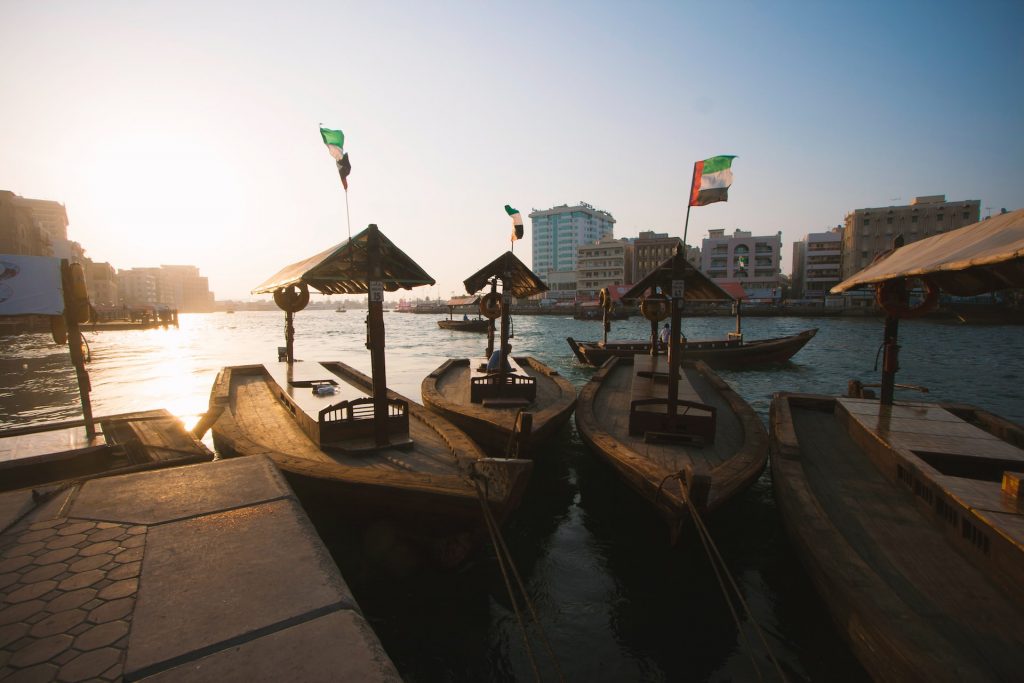 Book Dhow Dinner Cruise Dubai Creek tickets
Take on the challenge of seeing a whole different side of Dubai while saving money at the same time? Challenge accepted! Have you ever thought about taking a dhow Dinner cruise?
Take a 2-hour classy dinner cruise in the Venetian-styled canal at Dubai Creek. You will be served a wide array of international cuisine as you enjoy the views of glittering skyscrapers along the creek.
The cruise is priced at 50 Dihrams per person.You'll get to enjoy beautiful views of the skyline as you dine in style. Just be sure to book in advance to secure your spot! Now that's what we call a bargain.
5. Visiting the Miracle Garden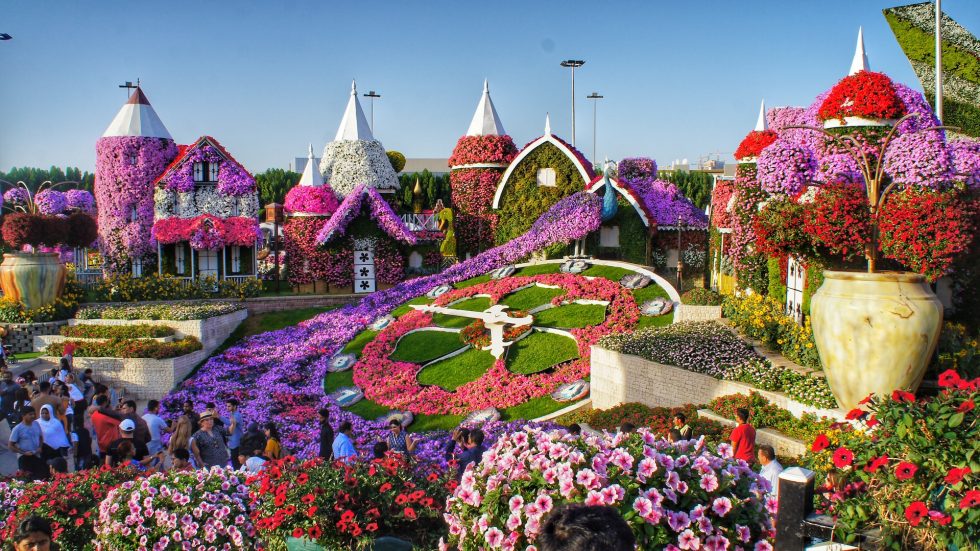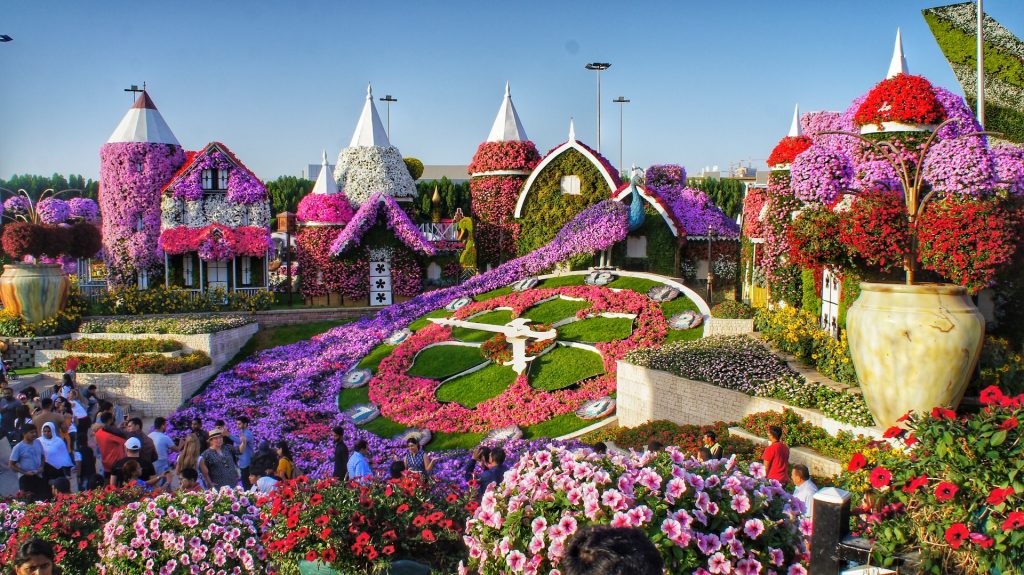 Book Dubai Miracle Garden tickets
Who said you need to break the bank in order to enjoy Dubai? If you want something a bit more picturesque, then a visit to one of Dubai's most exquisite attractions – the Miracle Garden – is a must. This spectacular garden features over 45 million flowers in vibrant colors, shapes and sizes that span over 72,000 square meters!
And the best part? It'll only cost you 99 dirhams for a full day of iconic floral photography. As if this wasn't enough, you can even purchase special souvenir ornaments featuring its famous floral sculptures, as well as snacks and refreshments throughout the park. All this without busting your budget!
Related Article: Romance is in the air: things to do in Dubai & Abu Dhabi for under 100 dirhams
6. Visit Dubai Garden Glow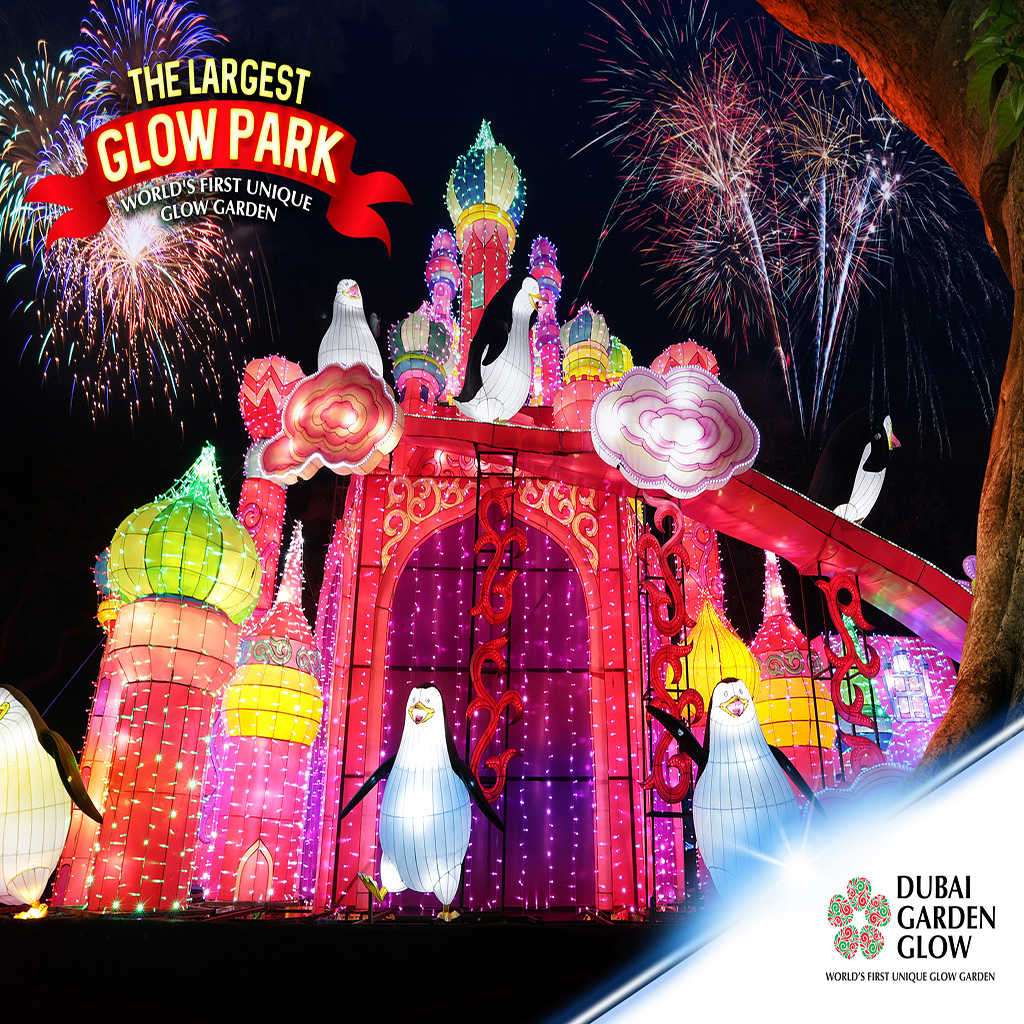 Book Dubai Garden Glow tickets
Dubai Garden Glow is a one-of-a-kind themed garden with over 50 million energy-saving LED lights. It is located in Zabeel Park and covers an area of over 120,000 square meters. The Garden features six different themes: Dinosaur Park, Glow Park, Mirror Maze, Wax Museum, Kid's Zone, and the Garden of Arabesque.
Dubai Garden Glow is open all year round from 10am to 10pm, with a special extended timings during Ramadan. Admission is AED 60 for adults and AED 30 for children.
7. Interact with Dolphins at Dolphin Bay in Atlantis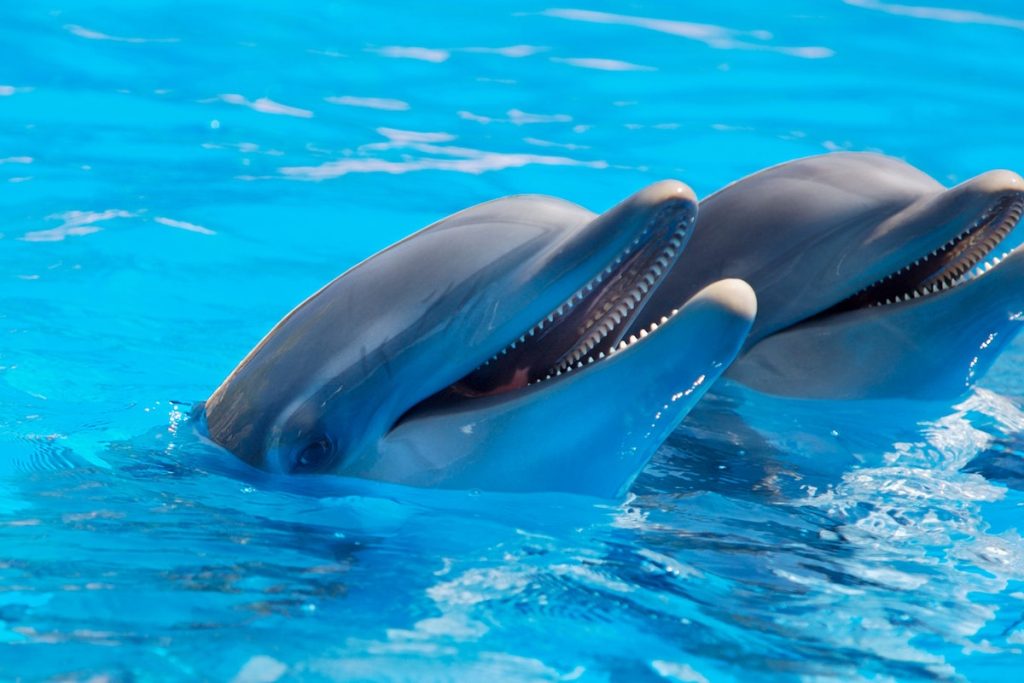 The Indo-Pacific bottlenose dolphins at Atlantis are a must-see for any trip to Dubai. With their variety of programs, you can get an up-close and personal look at these beautiful creatures. Our goal is to create a life-long appreciation for marine life in our guests, and to encourage them to take action to protect nature. Book one of our amazing bucket-list activities today to complete your Aqua-venture experience in Dubai!
Related Article:Speed into the exciting Ferrari World Abu Dhabi
8. Enjoy the 360 panoramic view dinning at Flying Cup Dubai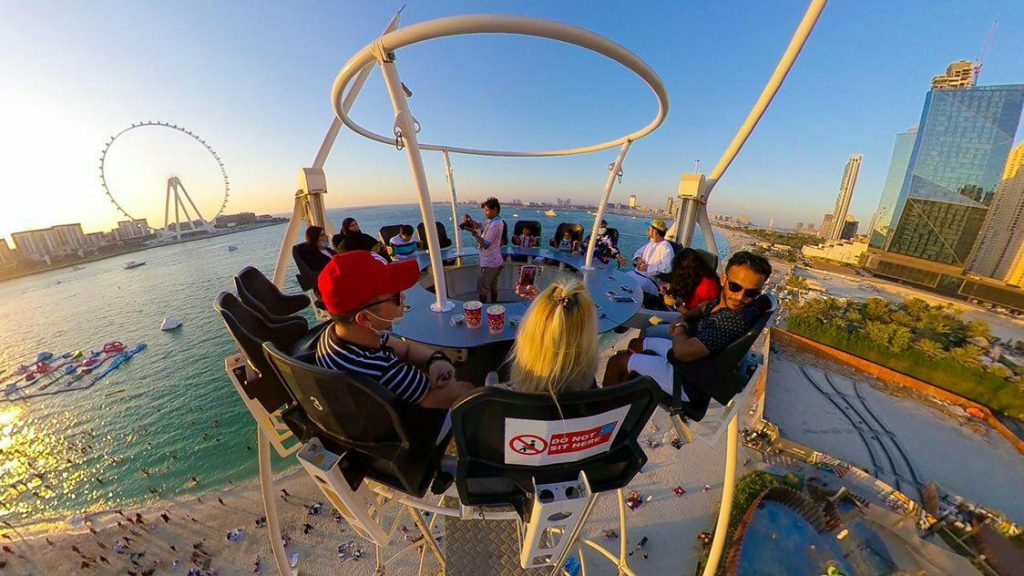 Flying Cup Dubai offers a unique 360-degree panoramic view of the cityscape while you dine. Enjoy the views of Palm Jumeirah, Ain Dubai, Dubai Marina, Burj Al Arab, and more. while you savor our international cuisine. The Flying Cup is a great choice for a romantic dinner, a family outing, or a night out with friends.
9. Witness the world in a park with Global Village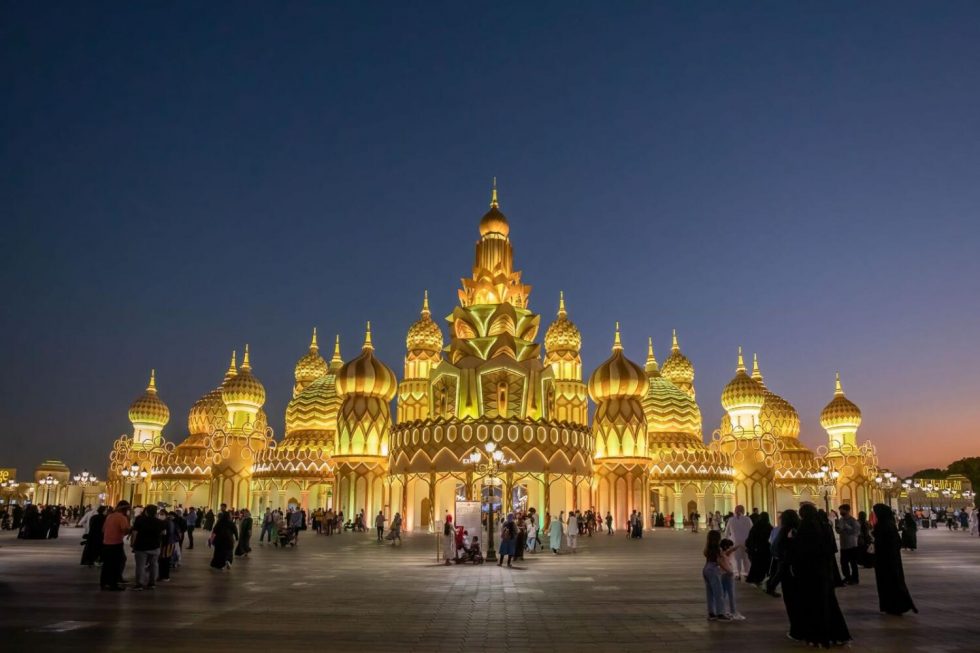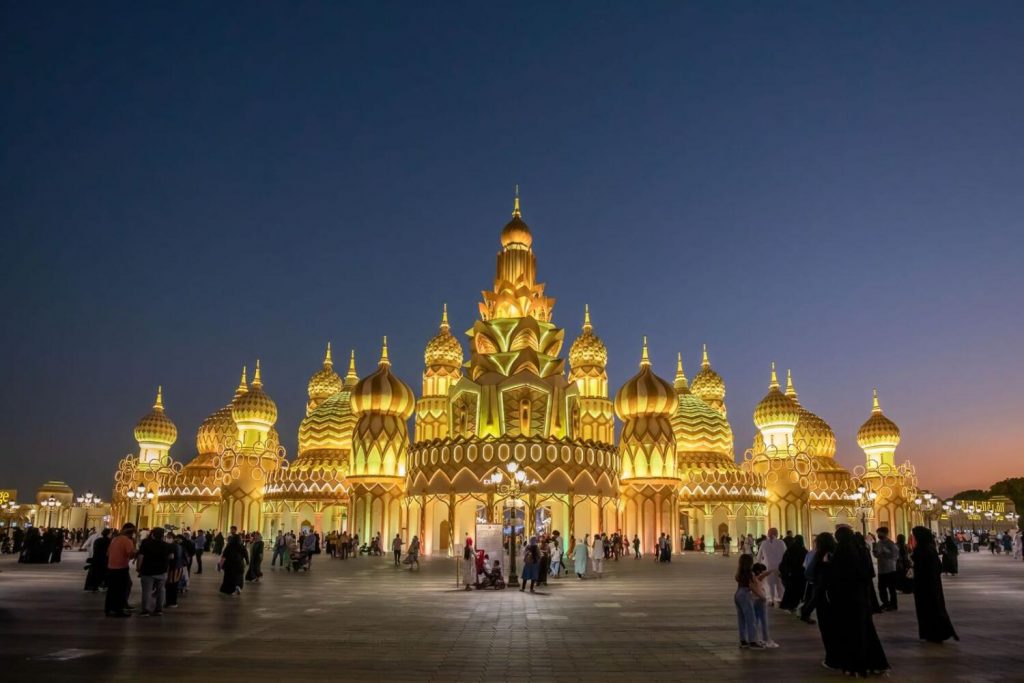 Global Village Dubai is a seasonal cultural extravaganza that is held annually in the United Arab Emirates. It is the world's largest tourism, leisure, shopping, and entertainment destination. It features pavilions from over 75 countries, with each pavilion showcasing the culture and products of its respective country. The destination also offers a variety of attractions, such as rides, shows, and performances that are sure to delight visitors of all ages. Additionally, Global Village Dubai is home to over 50 restaurants, offering a variety of international cuisines.
Related Article:Here's why Infinity des Lumières Dubai is the most impressive digital art center
10. Enter in the world of illusion with Museum of Illusions Dubai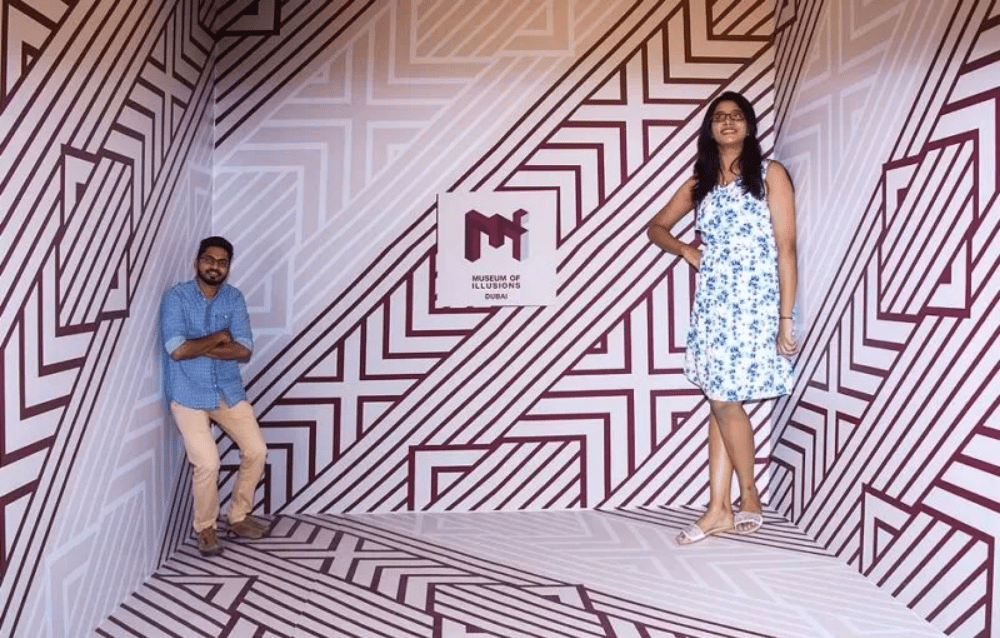 Book Museum of Illusions Dubai tickets
The Museum of Illusions Dubai is the perfect place for a fun and educational day out. With over 60 exhibits featuring holograms, optical illusions, and immersive rooms, there's something for everyone. Test your sense of balance in our Vortex Tunnel, release your inner Einstein with our Dilemma games, and be confounded by the laws of gravity and size ratio perception through our interactive Ames and Tilted rooms. You won't believe your eyes! Thanks for everything, MoI Dubai!
11. Experience the greatest panoramic views of Dubai city with Sky Views Dubai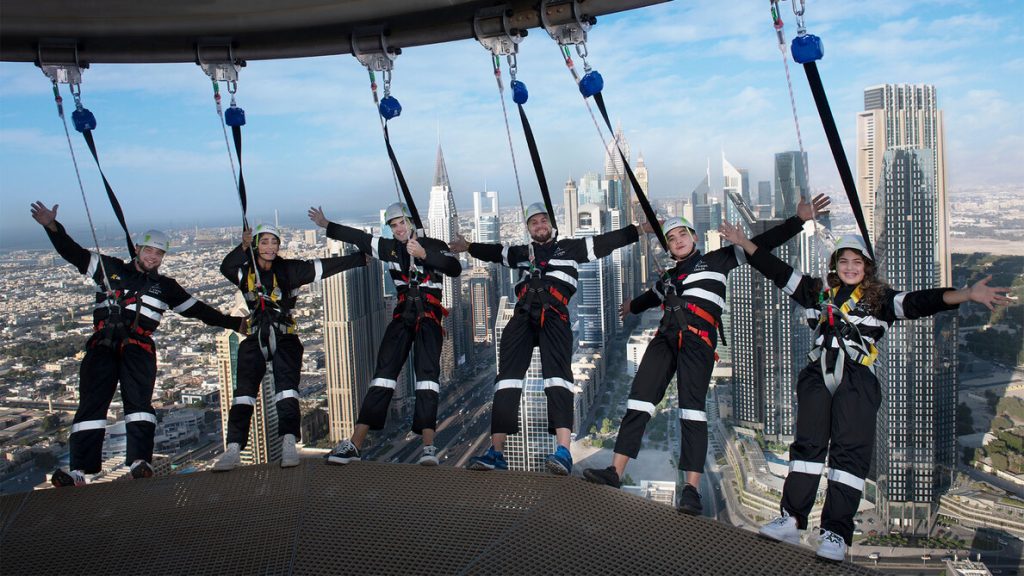 Sky Views Observatory is Dubai's latest and most innovative destination, offering unrivaled views of the city scape from the Burj Khalifa to the Palm Jumeirah. Sky Views Observatory is the perfect place for adrenaline junkies and thrill seekers. For the first time in the region, they offer unique experiences like the outdoor glass slide and the Edge Walk. With sweeping views of Burj Khalifa, Sky Views Observatory is a must-see destination for anyone visiting Dubai. Conveniently located near Sheikh Zayed Road and The Dubai Mall, it's easy to get to and offers a perfect combination of luxury, leisure, and adventure.
The infamous Instagramable Glass slide and Edge Walk are all under 100 AED making them the hot spot for things to do in Dubai under 100 Dirhams!
12. Visit Dubai Butterfly Garden
Book Dubai Buuterfly Garden tickets
The Dubai Butterfly Garden is a butterfly park located in Dubailand area. It is the world's largest covered butterfly park and features over 15,000 butterflies of over 50 different species. The park also features a butterfly museum, a butterfly-themed café, and a butterfly-themed gift shop. The park's climate-controlled environment provides the perfect habitat for butterflies to thrive. Visitors can observe the butterflies as they flutter around the lush foliage, and can even take part in guided tours of the park.
Related Article: Swim with Piranhas and dance to thunderstorms at The Green Planet Dubai
13. Explore Middle East's first ice lounge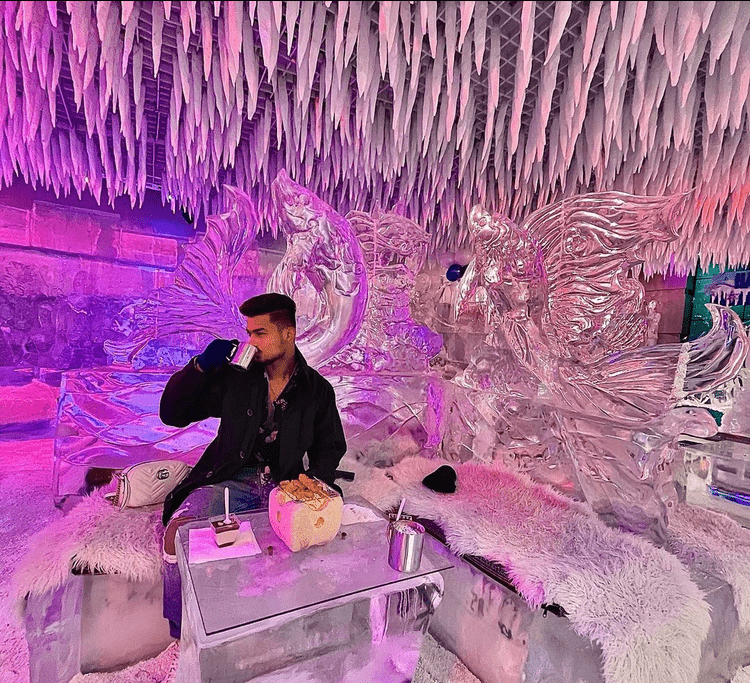 Book Chillout Ice Lounge tickets
The Chillout Ice Lounge is the first of its kind in the Middle East, and it offers visitors a truly unique experience. The lounge is made entirely of ice, from the walls to the furniture, and it is kept at a freezing temperature of -6 degrees Celsius.
Despite the cold temperature, the Chillout Ice Lounge is a warm and welcoming place, and it is the perfect place to enjoy a drink with friends or to meet new people. The lounge also offers a variety of ice-themed activities, such as ice sculpting and ice skating, which make it the perfect place to spend a day or evening.
If you're looking for a truly unique and unforgettable experience, be sure to check out the Chillout Ice Lounge.
14. Explore Dubai Frame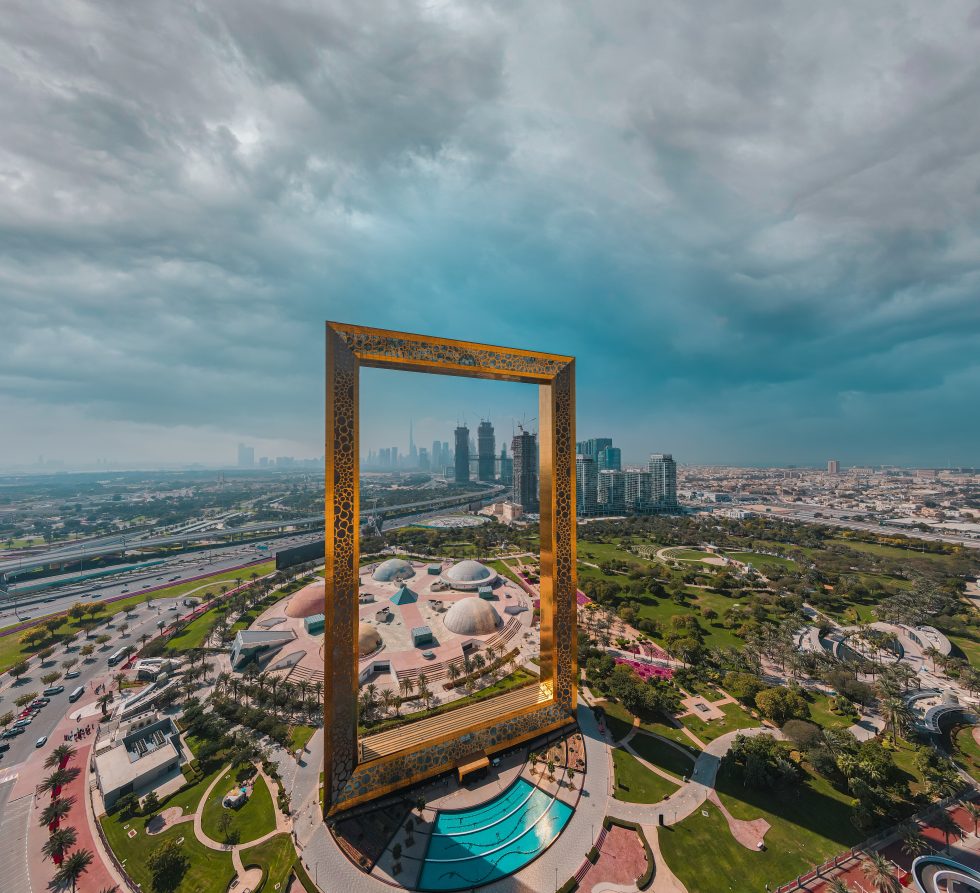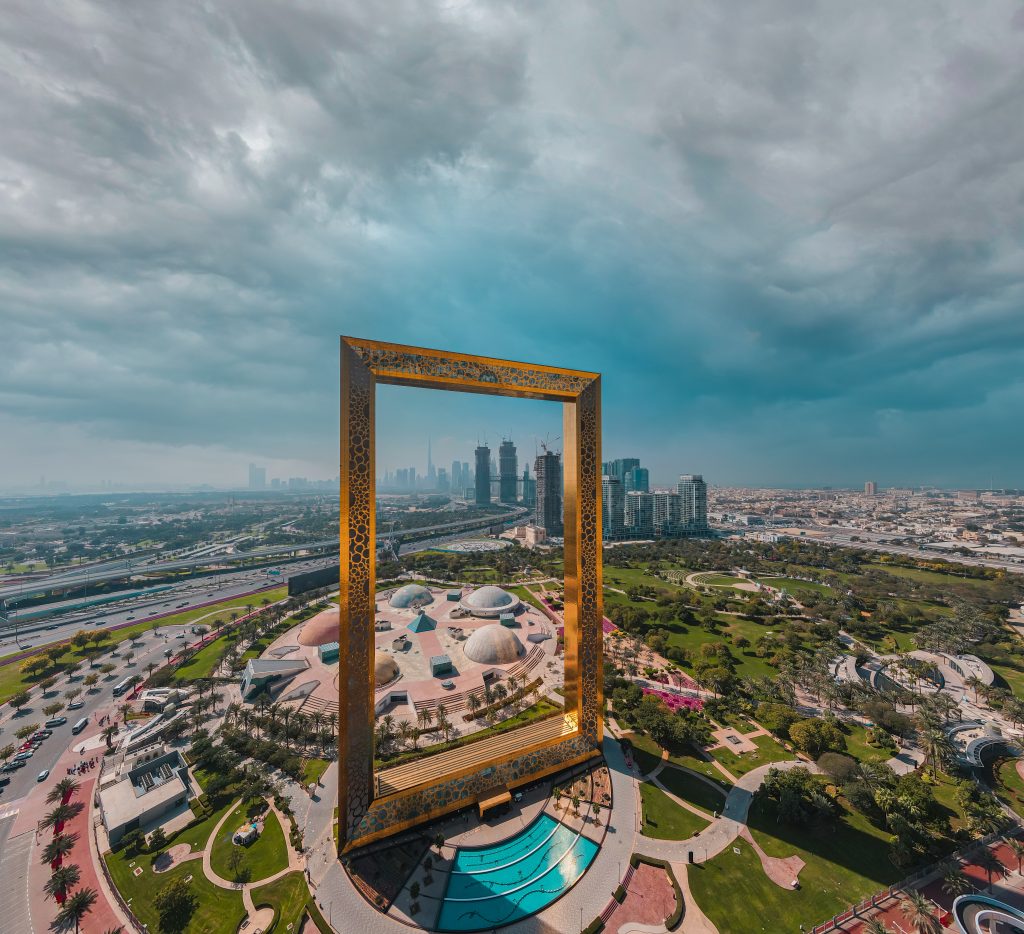 Dubai Frame is one of the most popular tourist attractions in Dubai. It is a 150-meter tall structure that offers visitors a panoramic view of the city. The frame is located in Zabeel Park and it costs 100 Dihrams for adults and 50 Dihrams for children It was designed to be an iconic landmark that symbolizes the connection between the city's past and present. It is also the world's largest picture frame, and its two towers are connected by a 93-metre-long bridge. The frame is made of steel and glass, and it provides stunning views of the city's skyline. The frame is also a popular tourist attraction, and visitors can take a tour of the frame and the park.
If you're looking for things to do in Dubai under 100 Dihrams, then a visit to Dubai Frame is a must. The views from the top are simply stunning and it's a great way to get a sense of the scale of the city. Even if you're not a fan of heights, the views from the ground level are still worth checking out.
15. Exploring Al Fahidi Historical District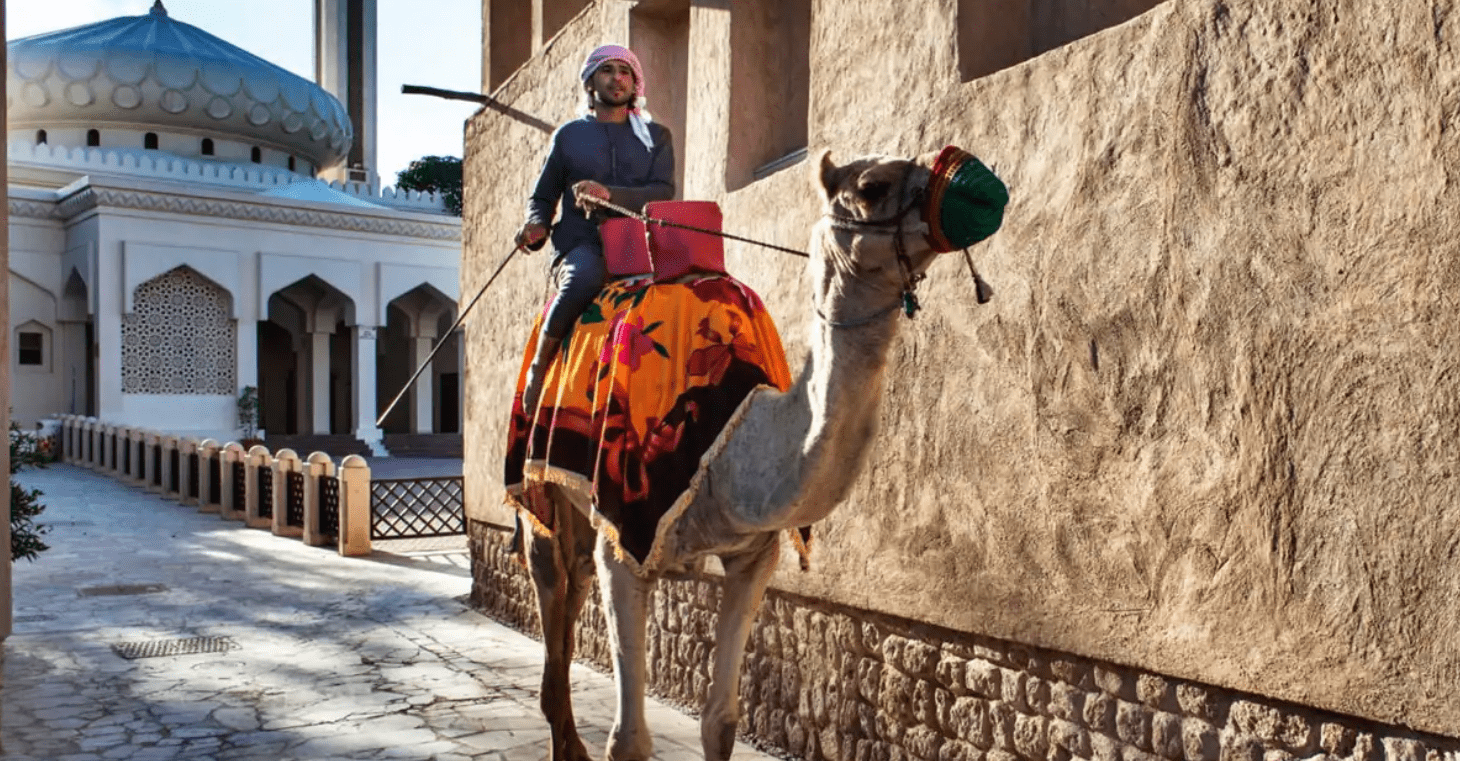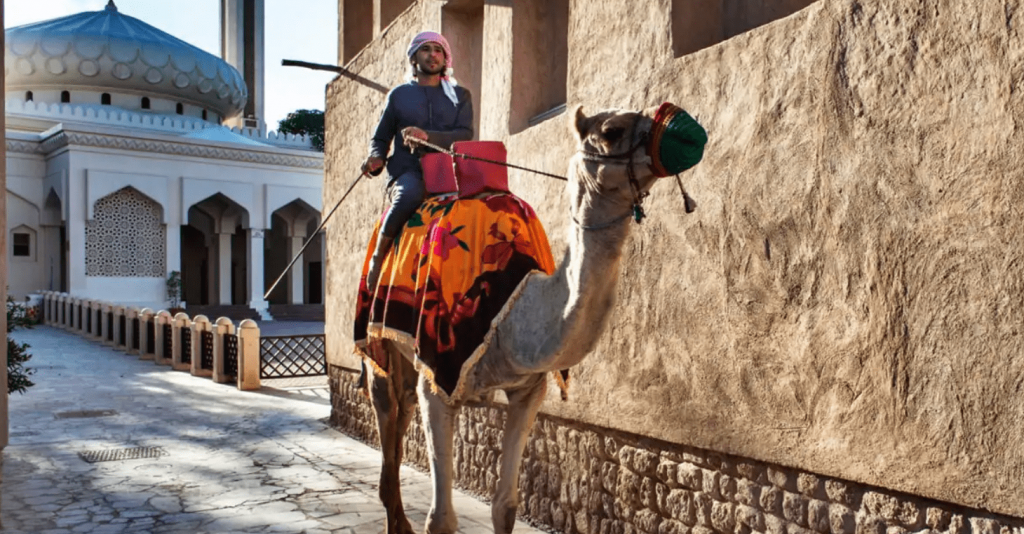 If you're feeling brave, why not take on the challenge of seeing Dubai for less than 100 dirhams? We know it sounds impossible but trust us, it can be done. One of the best ways to do that is to explore the Al Fahidi Historical District. Its many lanes are brimming with ancient culture, boasting buildings that have stood for centuries.
Just wandering around and soaking in all of the history will cost you nothing (which is great when trying to save money), but if you're looking to spend a bit more on a cultural experience then why not check out some of the traditional markets or take part in an immersive tour run by one of the local organizations? Best of all, most events and activities in the area are free or will cost you less than 100 dirhams!
Related Article: Best places to experience wildlife in UAE
You may be wondering, can you really do all that in under 100 dirhams? The answer is a resounding yes! With a little creativity and a lot of gusto, you can see and do everything Dubai has to offer—and save a little money along the way. So what are you waiting for? Start planning your trip now!