Travel, Eat, Sleep, Repeat! That's the mantra needed to soak in as much Dubai as possible. When the time is limited your itinerary should be strategic. To help with that, we provide you with a list of things to do during your 48-hour in Dubai stay planned to the nitty gritty. So, get your most comfortable shoes on, and let the exploring begin!
The first step in planning the perfect trip is to choose the right attractions and activities. That's when TicketsToDo comes into play! Your online ticket booking portal has the best things to do in any city worldwide!
Planning your trip to Dubai for 48 hours or less
Day 1- Morning
1. Start your day with a Pakistani breakfast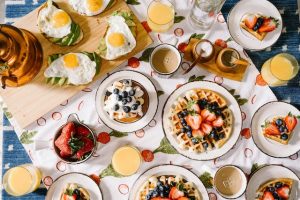 Time: 8:00 AM – 10:00 AM
You can't go anywhere if you're hungry! To avoid this, the first and most important thing to do when beginning your 2-day trip is to get those nutrients right. This strategic route begins at The Dubai Frame in Zabeel Park. As a result, we must look for breakfast options nearby. We found 3 of the most famous breakfast options near the Frame, THE SUM OF US, the B&B Cafe & Restaurant, and the Des Pardes Restaurant.
2. Dubai Frame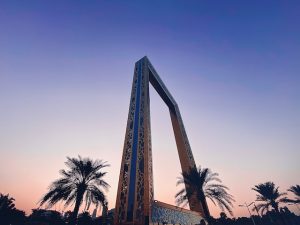 Time: 10:00 AM – 12: PM
With only 48 hours to spare, you'll need to make sure you hit all the key attractions. Here's a quick guide on how to make the most of your time in Dubai, starting with a morning at the Dubai Frame. The Dubai Frame is one of the city's most iconic landmarks. Standing 150 meters tall, it offers stunning views of the cityscape. You can catch a glimpse of the city's historical landmarks and modern skyline. Make sure to snap some pictures while you're there!
After a nice Pakistani breakfast you can visit the Dubai Frame as early as possible. It opens at 9:00 AM so you'll have plenty of time left if you have covered this attraction. With all the pictures and goofing around will roughly take 1-2 hours!
3. Burj Khalifa
Time: 12: 00 PM – 2:00 PM
Since Dubai Frame and Burj Khalifa are roughly 9-12 minutes away depending on the route, you add a visit to the world-famous Burj Khalifa on the same day.
The Burj Khalifa is the tallest building in the world, and it offers incredible views of the city from the top. If you want to make the most of your time, we recommend going early in the morning to avoid crowds. You can also purchase a skip-the-line ticket in advance to make things even easier. The prime hours to the Burj Khalifa observatory deck are around 4:00-5:00 PM, visiting this attraction early with help you skip 30 to an hour-long queue.
After spending some time at the Burj Khalifa, head to the Dubai Mall for shopping and sightseeing. Wrap up your first half of the 48 hours in Dubai trip with a delicious lunch at one of Dubai's many fine restaurants.
Related Article: Exclusive: A complete guide to activities and attractions open in Dubai
Day 1- Evening
4. Lunch at Dubai Mall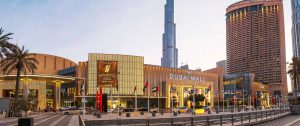 Time: 2:00 PM – 4:00 PM
For a delicious and filling lunch on your first day in Dubai, the Dubai Mall is the perfect spot. With over 200 food and beverage outlets to choose from, you're sure to find something to your taste. From international cuisine to fast food and everything in between, the Dubai Mall has it all. And if you're looking for a place to sit down and relax after a busy morning of shopping, the food court offers plenty of seating and is the perfect place to people-watch. The top-rated restaurants include The Cheesecake Factor, Texas Roadhouse, GIA, Social House, Bebabel, New Shanghai Restaurant, and many more.
After lunch, explore the rest of the Dubai Mall, or take a walk outside to see the impressive Dubai Fountain. In the evening, head over to Jumeirah Beach for a sunset stroll.
5. Dubai Aquarium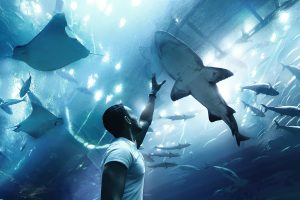 Time: 4:00PM – 5:30PM
The next top on our list of 48 hours in Dubai is Dubai Aquarium. The Dubai Aquarium & Underwater Zoo is home to over 400 sharks and rays, making it the perfect place to catch a glimpse of these amazing creatures. The Aquarium also features an underwater tunnel, which provides visitors with a rare and up-close look at the underwater world.
Head over to Jumeirah Beach for a refreshing swim or stroll along the water. Then, if you're up for it, take a ride on the Dubai Ferris Wheel also known as Ain Dubai for more stunning views of the city.
Related article: Best places to experience wildlife in UAE
6. Jumeirah Beach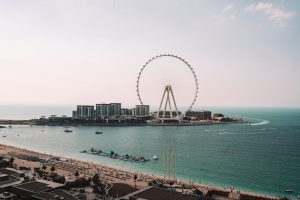 Time: 5:30PM – 8:00PM
Now, we are coming to the end of the day. To make the most of your time, what better way to do that than by spending your evening at the beautiful Jumeirah Beach? Jumeirah Beach is one of the most popular tourist destinations in Dubai. It's well known for its stunning white sand beaches, crystal clear waters, and breathtaking views. There are also plenty of activities to keep you busy, from swimming and sunbathing to parasailing and jet skiing.
7. Dinner at Flying Cup Dubai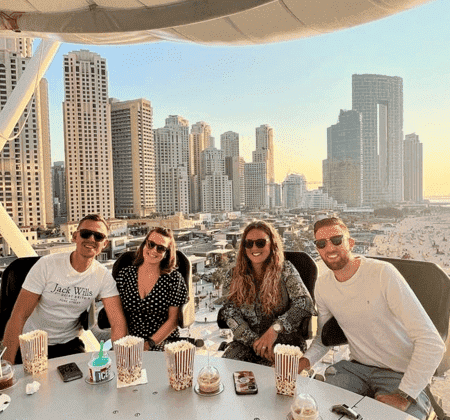 There's one more activity left to try. End our 48 hours on the Dubai trip with a scenic dinner at Flying Cup Dubai. Flying Cup Dubai will send you off on your journey with a dining experience like no other – at 40 meters high! You and your guests will be seated in a large cup that will slowly rotate as you enjoy your meal, giving you a 360-degree view of Dubai. This is the perfect way to end your 24 hours in Dubai and make sure you leave with lasting memories.
Related article: 10 fun summer activities for kids that will keep them entertained
Day 2- Morning
8. Dubai Miracle Garden and Butterfly Garden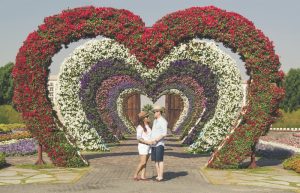 Book your Dubai Miracle Garden tickets
Time: 9:00 AM – 12:00 AM
After a full day of exploring Dubai on Day 1, you'll want to make the most of your remaining time in the city. After breakfast at your hotel, head over to the Dubai Miracle Garden (DMG). It is located in Dubailand and is one of the largest natural flower gardens in the world. With over 150 million flowers, the DMG spans over 72,000 square meters. The Dubai Miracle Garden is open from 9 AM to 9 PM, but we recommend going in the morning to avoid the heat.
Once you're done at the DMG, head to the Dubai Butterfly Garden which is situated within the Miracle Garden and is just a few minutes away from the main entrance.
Related Article: Romance is in the air: things to do in Dubai & Abu Dhabi for under 100 dirhams
Day 2 – Afternoon
Time: 12: 00 PM – 6:00 PM
Day 2 is the perfect opportunity to see some of Dubai's most iconic attractions, including the Palm Jumeirah, the Skydive at the Palm Drop Zone, and the Flyboarding.
9. Must visit Palm Jumeirah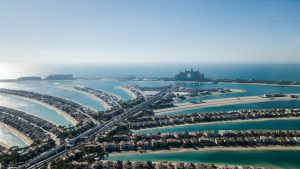 The view at Palm Jumeirah tickets
If you're looking for breathtaking views, head to the Palm Jumeirah. This man-made island is home to some of the most luxurious hotels and resorts in the world, as well as a number of world-class restaurants and shops. Take a leisurely stroll along the boardwalk, or take a dip in the pool at one of the many hotels.
9. 48 hours of adrenaline rush!
For an adrenaline-pumping experience, Skydive at the Palm Drop Zone. This is one of the most popular skydiving spots in the world, and it's easy to see why. The views of the Palm Jumeirah and the Dubai skyline are unrivaled. If you're feeling brave, you can even try flyboarding.
If you want to get out on the water, HERO OdySEA Self-Drive Boat Tour is the perfect activity. This tour allows you to explore the Arabian Gulf at your own pace, and you'll get to see some of Dubai's most beautiful coastline.
Day 2- Evening
10. Dining at Palm Jumeirah

From waterfront restaurants to rooftop cafes, there are plenty of options to choose from. And, of course, you'll be able to enjoy the stunning views of the Palm Jumeirah while you eat. Some of the best restaurants include Ibn AlBahr, KOKO BAY, Club Vista Mare, SUSHISAMBA Dubai, Praia Dubai Beach, Jones the Grocer The Palm, and more.
So, whether you're looking for a romantic spot for a date or a place to enjoy a meal with friends, be sure to check out the best places to lunch at Palm Jumeirah in Dubai. You won't be disappointed!
Related Article: Best Places For Birthday Celebrations In Dubai
So there you have it! A jam-packed 48 hours in Dubai. We hope you enjoy it! For more fun things to do in Dubai or anywhere in the world visit TicketsToDo. Your online ticket booking portal for activities, attractions, tours, experiences and more.