As Valentine's Day approaches, there are some truly romantic locations to visit in the UAE to celebrate with your special one. Here are 8 things to do in Dubai for under 100 dirhams you and your loved one can enjoy, from museums to gardens. These spots are perfect for those looking to explore the city's culture in 2022, or just make memories with the special person in their life. Hope you enjoy the list!

A special Valentine's Day offer awaits! TicketToDo is offering a Free Expo 2020 ticket on every UAE attraction booking with a minimum spend of AED 200 on its online platform. Get the best offers on Dubai attractions such as Burj Khalifa, Dubai Miracle Garden, Ferrari World, Desert Safari with dune bashing, Dinner Cruise in Dubai, and many more.
Romantic things to do in Abu Dhabi

under 100 AED
1. Dubai Miracle Garden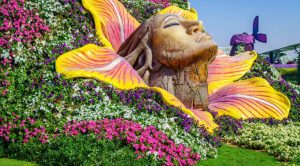 For those who are looking for Valentine's Day must-visit UAE attractions offers under 100 AED, Miracle Garden Dubai is the perfect destination. This 72,000-sq-m paradise is home to more than 150 million flowers in full bloom! Dubai Miracle Garden, a unique blend of horticulture and architecture, is an all-year-round indoor park as well as a floral oasis. It has been designed to give visitors a heavenly experience with more than 40 different varieties of plants and flowers including some rare species. The garden's design comprises 12 different theme areas in the form of islands, where each one is dedicated to representing the essence of the magic that happens when water meets land.
2. Expo 2020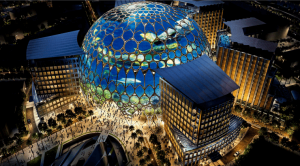 At World Expo 2020 the celebration of love is huge! This year, Expo 2020 will feature the celebration of love in all its forms, from Love for friends and family to Love for our planet & love for humanity. Visit the World Expo 2020 for its special Valentine's Day event and join the celebration of a universal language that ties us all together!
Celebrate love by booking tickets to any UAE attractions with a minimum spend of AED200 and get a free Expo 2020 ticket from TicketsToDo!
Related Article: Virtual Expo 2020: Watch events, entertainment & more come to life
3. Dubai Garden Glow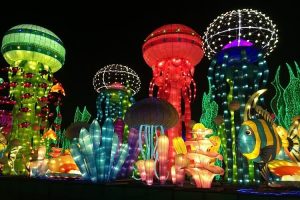 This Valentine's Day, why not give your loved one a memory that will last forever. Don't just take them to the nearest restaurant or movie theatre and call it a day. Take them to Dubai Garden Glow a unique theme park that lights up the world with sparkling colors and unforgettable art! When talking about things to do in Dubai for under 100 dirhams, it's impossible not to mention Dubai Garden Glow is a festival of lights, music, and color that celebrates love, life, and happiness. The park takes you on a journey through four different gardens with each theme representing the beauty of nature in its own way: from Glow Park to the Art Park. Hands down the UAE attractions under 100 AED you should look out for!
4. Louvre Museum Abu Dhabi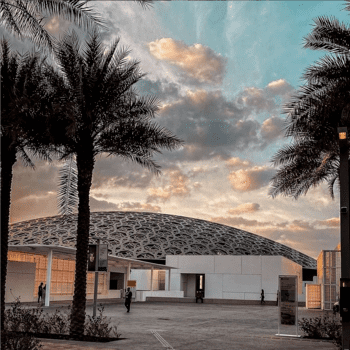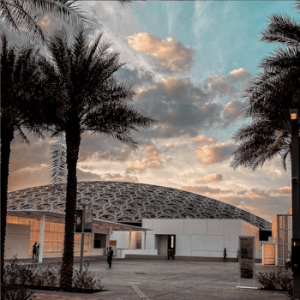 The Louvre Abu Dhabi is one of the most ambitious projects in the region. It will be an iconic destination for art and culture, as well as a center for dialogue and debate. The museum showcases more than 600 works from around the world, including paintings, sculptures, and archaeological artifacts that span over 6 millennia. It is also home to works of art by some of the most celebrated artists in history, including Pablo Picasso. This museum is a must-visit if you are looking to spend quality time with an art lover.
5. The View at Palm Jumeirah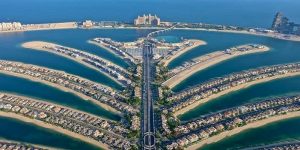 The View at The Palm Jumeirah Tickets
The Palm Jumeirah Dubai is one of the most popular and affordable attractions in UAE. It offers a breathtaking view of the city from a height of 240 m. The View at The Palm is located on the top floor of The Palm Jumeirah, which makes it one of the best attractions in Dubai. The View gives you a 360-degree view of Dubai's skyline and lets you see for miles into the distance. You can see for miles into the distance and get a breathtaking view of Dubai's skyline. It is an attraction that will give you an unforgettable experience that's under 100 AED!
Related Article: Best travel & dining destinations in the UAE for a romantic getaway on Valentine's Day
6. Dhow Cruise Dinner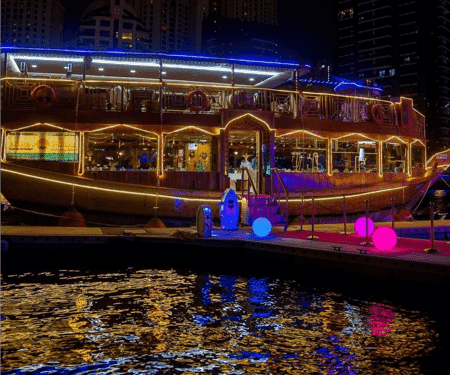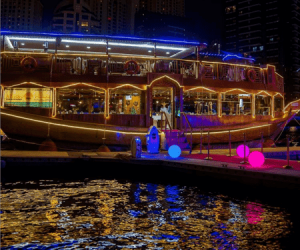 For romantic things to do in Abu Dhabi, you can't go wrong with a dinner cruise. It's the perfect way to spend time with your loved ones and have fun and one of the hot-selling UAE attractions under 100 AED. The Dhow Cruise is an experience that will leave you in awe. You'll be treated to a 2-hour dinner cruise that will take you through the Venetian-styled canal of Dubai Marina. The food is delicious and the staff are friendly and attentive – it's an experience worth every penny! A dinner cruise is one of the best ways to enjoy Valentine's Day with your loved ones! You can be sure that they will love this experience as much as you do!
7. Dubai Butterfly Garden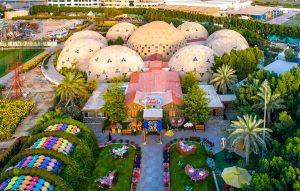 Dubai Butterfly Garden tickets
The magic in Dubai never fades. What to make Valentine's Day experience truly magical? Visit the Dubai Butterfly Garden a unique conceptual garden that aims to bring the natural experience of being in a butterfly sanctuary indoors. The attraction offers a lot of activities for visitors to enjoy, including an outdoor picnic area, a butterfly walkway that allows visitors to get up close and personal with butterflies. Fun Fact: It is the world's largest covered butterfly garden in the entire Middle East.
8. Dubai Frame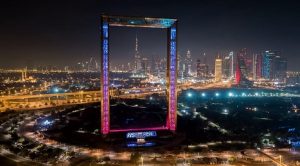 If you are looking for UAE attractions offers, Dubai Frame is the perfect UAE attraction under 100 AED to visit. Located in Zabeel Park, the attraction was built and designed by Rotterdam-based architect Fernando Donis. Dubai Frame is a unique 150-meter tall structure that will offer views of the city's skyline and Dubai Creek.
Related Article: Valentine's Day attractions in Dubai: 10 unique places to celebrate your love
The takeaway
If you are looking for an interesting, romantic way to spend your Valentine's day in UAE, then these things to do in Dubai for under 100 dirhams are a perfect choice. The weather is still pleasant and warm enough to enjoy a day out in the sun. Enjoy your time together! Hope you enjoy these attractions and don't forget to book your tickets from TicketsToDo today.