When it comes to art, people's perspectives differ greatly. What one person finds incredible and awe-inspiring, another may find dull and boring. However, there is no doubt about the impressiveness of digital art. When you walk into Infinity des Lumières in Dubai, you are immediately immersed in a world of vibrant colors, lifelike images, and mesmerizing sounds. This immersive virtual world has been open to the public at The Dubai Mall since 2021.
From holographic projections to immersive virtual reality, it's a haven for anyone who loves art. Get to explore the infinity of the cosmos, feel Dubai and venture into the future of art by booking your Infinity des Lumières tickets with TicketsToDo.
Book your Infinity des Lumières tickets here
Infinity des Lumières Dubai: A Fusion of Art and Technology
What is Digital art? How is it the new progressive wave of the future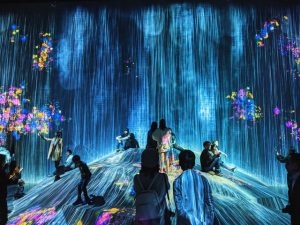 There is no doubt that the digital age has had a profound impact on nearly every aspect of our lives. This is especially true when it comes to the arts, which have transformed dramatically in recent years thanks to digital advancements. So what exactly is digital art? In simplest terms, it can be defined as artwork that is either partially or wholly created using digital tools and technologies. This can encompass a wide range of mediums, from traditional 2D artworks that are scanned and digitized to 3D sculptures. It can be created by using a computer to manipulate images and videos, or it can be made through more traditional methods such as drawing and painting, but using a computer to do so.
Related Article: Best places to appreciate art in UAE: From digital to art museums
What is Infinity des Lumières?
Completely mesmerizing, Infinity des Lumières is a digital art center in Dubai that aims to change the way we perceive art. See popular artworks come to life through high-definition video projections and screen displays. Experience a piece of the future at this gallery in the city. Opened in 2021, it has a projectable surface of 3,300 meters square, 58 speakers, and 130 projectors transmitting 3,000 moving images. The art comes to life as a fascinating fusion of color and light, sound and rhythm, animation, and movement. Visiting Infinity des Lumières Dubai is an absolute wonder. You won't regret it, we promise!
Related Article: The Best Museums In Doha And What Makes Them Worth Visiting
What makes Infinity des Lumières Dubai special?
While most museums and art galleries are still trying to catch up to the digital age, Infinity des Lumières Dubai is leading the way with its innovative approach to displaying art. Using the latest LED and projection technology, Infinity des Lumières Dubai is able to create truly immersive experiences that transport visitors to another world. Whether it's a classic painting that comes to life or a new work of art created entirely from light, there's something for everyone at Infinity des Lumières Dubai.
Wait, what's more? The museum is constantly changing and evolving, with new exhibits and installations being added all the time. So, if you're looking for a truly unique experience, there's no better place to visit than Infinity des Lumières Dubai.
Related Article: Swim with Piranhas and dance to thunderstorms at The Green Planet Dubai
Top Exhibitions at Infinity des Lumières
Future Now: Art of the future, in the city of the future
The Infinity des Lumières gallery presents two exhibitions for the digital art of the future – DESTINATION COSMOS- The Ultimate Challenge, and DUBAI DATA. These exhibitions are cutting-edge and innovative, and offer visitors an immersive experience. If you are interested in art and technology, or simply curious about what the future may hold, these exhibitions are a must-see.
1. Cosmos: Feel the infinite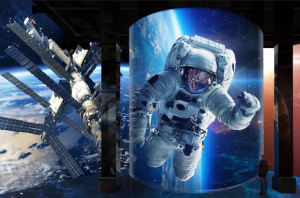 Cosmos, FEEL THE INFINITE is a tribute to UAE's space services and exploration. It highlights humanity's fascination with exploring the cosmos, inspired by the UAE's ambitious roadmap to the stars. The exhibition features infinity lights in honor of the UAE's significant space achievements. These accomplishments include sending the first Emirati astronaut into space in 2019 and the successful launch of the UAE-built Hope Mars probe in February 2021.
2. Dubai Data: Feel the city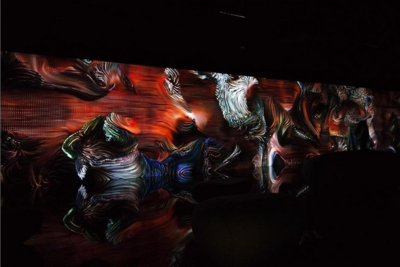 FEEL THE FUTURE_NOW gives you the essence of Dubai powered by AI. This groundbreaking data painting experience was developed exclusively for Infinity des Lumières by the world-renowned Ouchhh studio. Featuring Dubai data, this temporal and spatial experience is groundbreaking in redefining art through knowledge, innovation, and multi-sensory immersion.
Related Article: 10 fun summer activities for kids that will keep them entertained
From the jaw-dropping displays to the world-renowned artists, it's no wonder Infinity des Lumières Dubai is the most impressive digital art center. This is a must-see for anyone who loves art. With TicketsToDo, you can book your tickets in advance so you don't miss a single thing about this amazing destination.