As we get older, the Fear of Missing Out (FOMO) starts to set in. We start to think about all of the things we haven't done and all of the places we haven't seen. Suddenly, our bucket lists get a lot longer and a lot more ambitious. We seek out new experiences and new thrills in an attempt to recapture that sense of wonder we once had. And we all are guilty of doing that! In this article, we give you 10 reasons you should use TicketsToDo to over that Fear of Missing Out!
If you're looking for a hassle-free way to book to activities, attractions, weekend tours and more for top cities like Dubai, Doha, Bali, London, Singapore and more, look no further than TicketsToDo. Our easy-to-use platform makes booking your trip a breeze, and our competitive rates are hard to beat.
Book your tickets with TicketsToDo
The Ultimate Guide to Planning Your Next Vacation with TicketsToDo
What is TicketsToDo?

TicketsToDo is a company that offers affordable packages to a variety of destinations, because we know that traveling should not be an exclusive privilege. We believe that everyone should have the chance to visit amazing places and enjoy amazing experiences. We are excited to see so many destinations on our website! From beach and ski trips city tours, active excursions, luxurious escapes, and safaris we have the best list to Things to do for any city!
How TicketsToDo can help you save on your next vacation.
1. We always have the best prices
Ticketstodo.com is a one stop shop for all your travel needs providing you with the best possible rates for all attractions, activities and tours. Our goal is to make travel pocket-friendly for everyone and our tickets will guarantee you the best price possible at all times. Make sure to check out our website for prices, complete list of attractions, activities and tours in your area, as well as rating for each seller on our site.
2. You can choose from tours or book individual attractions
Looking for something fun to do? TicketsToDo has you covered! We offer a wide variety of tours and attractions that are sure to please everyone in your group. Whether you're looking for a guided tour of a historic city or a high-flying adventure, we have something for you. And if you can't find what you're looking for, we also offer custom bookings so you can create your own perfect day.
Browse our selection of tours and book the one that best suits your needs. Or, if you prefer, you can choose an individual attraction instead. Whichever option you choose, we guarantee you'll have a great time!
Related Article: Your ultimate guide to spending summer in London and Paris
3. The activities and attractions help you plan your dream vacation
When it comes to planning your dream vacation, there's no shortage of activities and attractions to keep you busy. And with TicketsToDo, you can find everything you need to make it a reality. From booking your travel and accommodation to finding the best things to do at your destination, we've got you covered. And our platform makes it easy to search and compare different options so you can find the perfect fit for your trip. So whether you're looking for adventure, relaxation, or something in between, we can help you plan the vacation of your dreams.
4. Get activities and tours for all the top cities in the world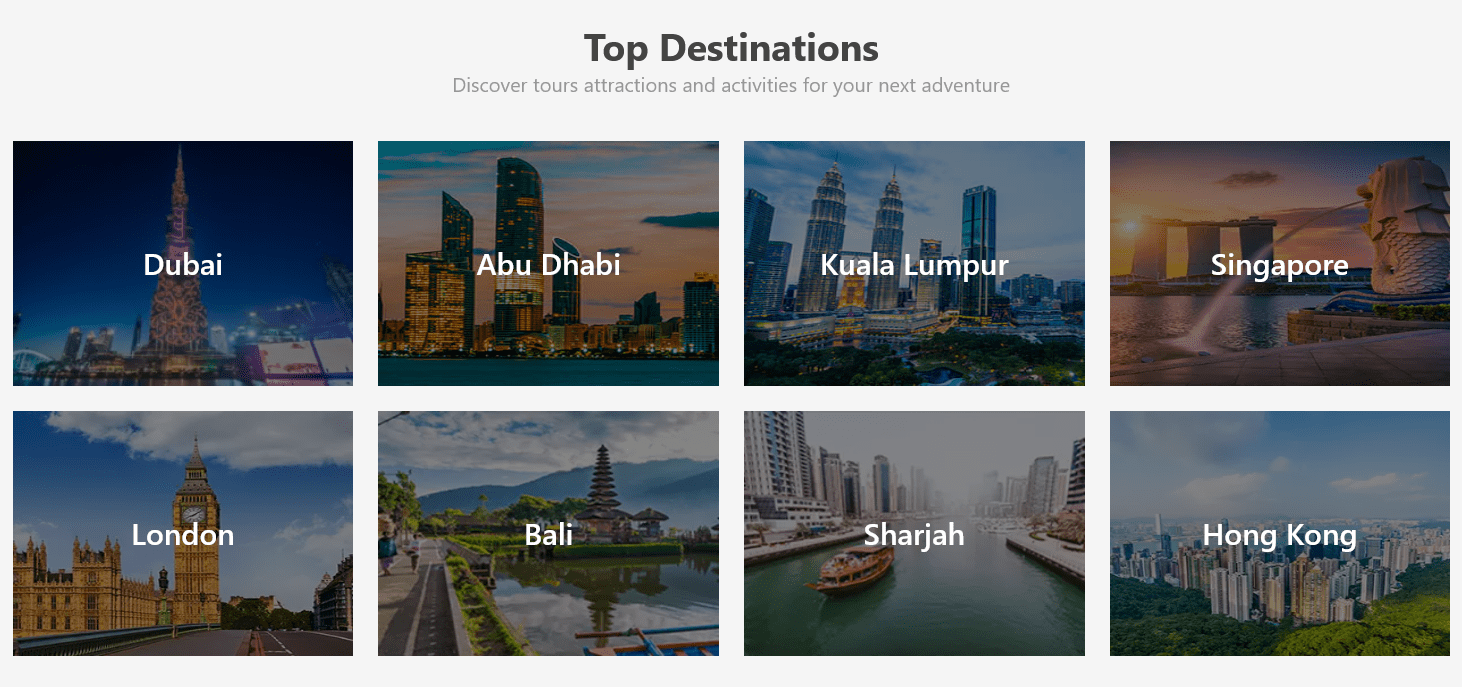 With so many amazing cities to see in the world, it can be hard to narrow down where to go on your next vacation. But if you're looking for some of the best cities for travelers, you can't go wrong with Dubai, Singapore, London, or Hong Kong. Each of these cities has something unique to offer, and TicketsToDo has activities and tours for all of them! From exploring the world's tallest building in Dubai to taking in the stunning views of Hong Kong from Victoria Peak, there's something for everyone. So why not start planning your next adventure today? TicketsToDo has all the information you need to make your trip a success!
Related Article: 10 best attractions in Singapore for solo travelers
5. We have a mobile app that makes booking travel on the go easy
There are a ton of people put off by the price, paper tickets and minuscule screens on attractions and tours search engines. The new TicketsToDo app tells you when your favorite activities are going on sale, notifies you as soon as seat prices drop! The new app is coasting through screens like these with a fluidity seldom seen in offline mobile apps (or most software at all). Worth noting among TicketsToDo features is its support for instant booking facilities that make the purchase experience even more smooth.
6. We offer 24/7 customer support
TicketsToDo is more than your average travel website. We love to make travel planning a breeze. Our friendly team always has a smile on their face, which is reason enough to enjoy working with them. But if that's not enough – we also have an attentive customer service support center open 24/7 offering live chat and expert graphics designer to help you make the right choice! Use Cases includes, user-friendly Customer Service, friendly Visitor Chat, response in seconds, instead of minutes or hours and more.
Related Article: Here's why Infinity des Lumières Dubai is the most impressive digital art center
7. Pre-booking tickets to avoid long queues
If you're planning on doing any traveling in the near future, then you know how important it is to avoid long queues at the activities or other attractions. Luckily, TicketsToDo can help you out by pre-booking your tickets in advance. This way, you can relax and enjoy your trip without having to worry about waiting in line.
8. Kid and family friendly activities
Did you know that many well-known attractions are no longer the best activity options for kids? They have themed videos, video games and arcades.
TicketsToDo looks at more than just adult activities when they work with clients. We don't always think of these destinations in terms of what is current, still relevant and attractive to kids and parents in the way we do with concerts or sports events, but TicketsToDo does!
Related Article: 10 fun summer activities for kids that will keep them entertained
9. From adventure seekers to nature lover, we have something for everyone.
TicketsToDo is a website that provides information on activities and attractions in Dubai, and other parts of the world. These range from sporting activities like kayaking and skyboarding, to attractions like the Ferrari World, Museum of the Future, etc. They offer a variety of different things to do across various levels of ease so there should be something for you whether you are looking for an activity just for the afternoon or something a little more challenging. The website offers detailed information about the place as well as cost, duration and level of difficulty so that you can make an informed decision before choosing an activity for your day.
10. And finally saves you from the Fear of Missing Out
Well, fear no more! TicketsToDo has got you covered with the best set of activities and attractions. From world-renowned museums to thrilling theme parks, we have something for everyone. With our easy-to-use website, you can book tickets to your favorite activities and attractions in just a few clicks. And to top it off, we offer great discounts on many of our tickets, so you can save big while you enjoy the best that life has to offer.
So if you're ever feeling lost or bored, don't worry. TicketsToDo has you covered. We'll help you find the perfect activity to make your day (or night) even better.
Related Article: Free things to do in Doha: 10 fun activities that won't break the bank
In conclusion, there are many good reasons to use TicketsToDo to book your next vacation. TicketsToDo offers great discounts on activities, attractions and tour tickets, and it is a convenient way to get all your tickets in one place. TicketsToDo also offers a best price guarantee, so you can be sure you're getting the best deal on your vacation.