Not all of us are lucky enough to live in a place where we can walk out our front door and go hiking, biking, or swimming whenever we want. If you're itching for a change of scenery and want to pack your bags, and explore the outskirts of Doha. Here's your sign! We've listed down 7 great weekend getaways from Doha worth all the buzz.
Whether you're looking for a relaxing beach escape or an adventure-filled trip, there's something for everyone. So pack your bags and get ready for an amazing weekend away. Book your tickets to more adventures and thrills with TicketsToDo.
Best weekend getaways from Doha: The ultimate checklist
1. Inland Sea or Khor Al Adaid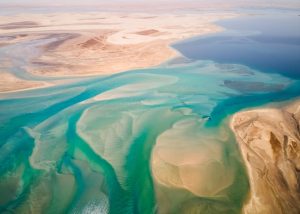 Where: About 78 km away from Doha, located in the southeast of Qatar.
Khor Al Adaid, also known as the Inland Sea, is a spectacular natural wonder located in southeast Qatar. Formed over time by the erosion of mountains and rocks, this vast desert basin stretches for miles with crystal-clear blue waters. It's a great place to enjoy a weekend getaway from Doha, and there's plenty to do and see there. You can go swimming, fishing, camping, hiking, or simply relax and take in the peaceful scenery. Khor Al Adaid is set against a stunning backdrop of sand dunes, making it a truly unique and picturesque destination. It's the perfect place to relax and get away from it all. The Inland Sea is a great place to unwind, escape the hustle and bustle of everyday life, and just enjoy the peace and quiet.
Related Article: Your detailed guide to Qatar public transit for an easy navigation
2. Al Shamal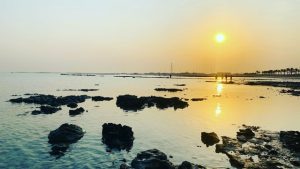 Where: About 104 km away from Doha, located in the northwest of Qatar.
The phrase "Al Shamal" is an Arabic word that means "north." To the south, it's bounded by Al Khor, while to the north it's encircled by an old fortress city. Al Shamal is home to a number of famous landmarks, including a number of forts that offer a glimpse into the area's history. The Al Zubarah Fort and Museum, a UNESCO World Heritage site, is a well-known spot for learning about the reign of Sheikh Abdullah Bin Jassim Al-Thani. Other notable attractions in Al Shamal include Al-Rekayat Fort, Al Thaghab Fort, Al Ghariya, and Al Jumail.
Related Article: Free things to do in Doha: 10 fun activities that won't break the bank
3. Al-Wakrah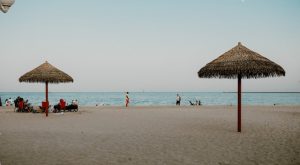 Where: About 14 km away from Doha
Al Wakrah is a city in Qatar that has grown in both size and importance. The city was first established as a fishing village and eventually grew into the main seaport of Qatar. Al Wakrah has a population of around 500,000 people which makes it one of the largest cities in the country. The village remained low-key until oil was discovered which caused it grow rapidly. Tourists come to Al Wakrah to shop at its many malls, historic monuments, and museums while locals enjoy the food from its many restaurants and cafes.
Related Article: 10 of the best restaurants in Qatar every foodie should visit
4. Al Jumail Village Qatar's Ghost Town
Where: About 117 km from Doha, located in the northeast of Qatar.
If you love exploring unconventional places then you might consider visiting Qatar's Ghost Town. This 19th-century pearling and fishing village was abandoned before Qatar's economic boom. Many have called it a ghost town, and that is what it has become. The Al Jumail village was inhabited by pearl divers and fishermen who took advantage of the nearby sea to earn a living. The houses that make up the village and other structures are in ruins now but the mosque with its minaret still stands tall. The Alkubaisi tribe was the last to inhabit the village before it was abandoned. Today, the village is a popular spot for photographers and history buffs alike. If you're looking for a truly unique experience, then be sure to check out Qatar's Ghost Town: Al Jumail Village.
Related Article: From museums to desert activities, here are the top 10 things to do in Qatar
5. Al-Zubara Fort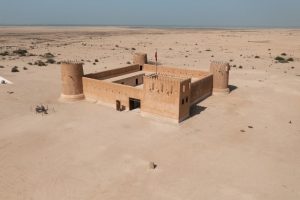 Where: About 105 km from Doha, located in the northwest of Qatar
Al Zubarah is a UNESCO World Heritage Site and one of Qatar's most important historical landmarks. The 20th-century fort was built by Sheikh Abdullah bin Jassim Al Thani in 1938 and is a well-preserved example of traditional Qatari architecture. Visitors to Al Zubarah can learn about the site's history and see some of the original features, such as the watchtowers and defensive walls. It is the youngest and most prominent feature of the Al Zubarah walled coastal town. The fort is adjacent to the walled coastal town of Al Zubarah, which has been inhabited since at least 1000 BC.
6. Al Jassasiya Rock Carvings
Where: About 88 km from Doha.
The history of Al Jassasiya starts with the first carvings around 3,000 years ago, which is where the tradition of carving on rock surfaces originated. The site is divided into 4 sections: the Western Hill, Eastern Hill, Central Hill, and Southern Section. The most impressive and unique aspect of Al Jassasiya is the sheer number of carved images. There are 874 carvings in total! These carvings were discovered around 1957 and stretch across an area 700 meters wide. The carvings are deeply rooted in Qatari history. Dating back as far as prehistory, with various shapes, including rosettes, fish, ostriches, and cup marks.
It is speculated that these rock carvings may depict the genealogy of the tribe that lived there or reflect the life or death of a member of that tribe. However, we do not know for sure and it is likely that these symbols will remain a mystery forever.
7. Sealine Beach

Where: 48 km away from Doha.
Looking to escape the city this weekend? Head to Sealine Beach, just 48 km from Doha. This beautiful stretch of beach is perfect for a relaxing weekend getaway. There's plenty to do at Sealine Beach, from swimming and sunbathing to windsurfing and camel riding. And when you need a break from the sun, there are plenty of beachside cafes and restaurants to enjoy. In addition to this, it is also home to more than 10 types of corals that are classified as threatened species and are endangered by global warming.
Related Article: Best beaches in Qatar that you should definitely visit
Weekend getaways are the perfect way to escape the city and relax. This article provides a list of great weekend getaways from Doha that are worth the trip. From historical villages to beach towns, there is something for everyone. So pack your bags and get ready to explore some of Qatar's best-kept secrets. Check out TicketsToDo for some recreational activities in Qatar and other places in the middle east.