FIFA World Cup 2022 is taking place in one of the great countries of the Middle East i.e. Qatar. Are you are planning to travel all the way and watch it live from a different country altogether? Naturally,  there must be a lot of questions on your mind (especially about the Qatar public transit).  2022 FIFA World Cup is set to take place in the Lusail Iconic Stadium, Qatar from 21 November to 18 December. It's going to be one of the most sought-after and grand affairs. That is because it is the first  World Cup to be ever witnessed by an Arab Country, so if you are a football fan and are traveling to Qatar, TicketsToDo has you covered.
Find all the information you need about how to get around in Qatar. So, sit back and get your reading glasses on. as we are specifically giving you a walk-through on Qatar's Public Transit information.
Facts About Qatar Public Transit
Qatar isn't the first country that comes to mind when you think about taking the train. It's an oil-producing country in the center of the Persian Gulf. Despite Qatar's reputation as a driving paradise, local officials are working to develop a high-quality public transportation system that includes buses, trams, and metro trains. Whether you're riding a bus in Doha or a tram in Lusail, Qatar's public transportation system is sure to provide you with a variety of options for your daily commute.
Cars rule Doha and the rest of the country. Everyone drives here. But public transportation is surely available in the shape of buses and a spanking new Doha Metro system. Still, taxis are the most convenient way to get around and ensure that you reach exactly where you want to go when it is too hot to walk.
Modes Of Public Transit In Qatar
On Riding buses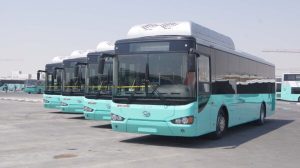 The state-owned Mowasalat Karwa, which also operates taxis, runs all of the buses. There is a rather substantial bus network that covers all of Doha and the rest of Qatar. Buses are air-conditioned and run every day between 5 a.m. and midnight. Be mindful of the shortened timetables on Fridays and Saturdays during the Qatari weekend.
The Karwa Smartcard is the ideal way to pay for bus travels because bus drivers are not supposed to sell you a ticket and instead charge you a 'lost card fee' of 10 Qatari riyal. Instead, purchase a smartcard at the airport, where numerous machines are available at the arrivals area. Within Doha's municipal borders, a bus ticket costs 3 to 4 Qatari riyal, whereas outside of Doha, it costs 4 to 9 Qatari riyal.
More about Karwa Smartcard
The Karwa Smartcard machines only accept cash and Qatari riyal notes in denominations of 1, 5, 10, 50, and 100 riyals. Smartcards come in a variety of designs:
Card is limited to ten Qatari riyals and is usable for two trips within 24 hours.

Classic Card (30 Qatari riyal) comes with a credit of 20 Qatari riyal and can be reloaded for long-term or frequent use.

Unlimited Card (20 Qatari riyal), usable for any number of travels within a 24-hour period.

Before boarding the bus, the card must be tapped, and it must also be tapped when exiting.

Please keep in mind that the bus's front seats are normally allocated for mothers and children.
The metro system in Doha also has two bus networks: metro link and metro express. A total of 19 metro link lines operate seven days a week. The buses are completely free. Metro express, on the other hand, is more of a ride-sharing service. You can even download the metro express app, which is available for Android and iOS. It allows travelers to book a ride in combination with their Doha Metro ride. Metro express service is available from six Red Line stations:
Al Qassar 

DECC 

Katara 

Legtaifiya

Qatar University

West Bay 
You might be interested in: Qatar travel plan, a 10 day itinerary for that perfect travel plan
2. How to ride the Doha Metro?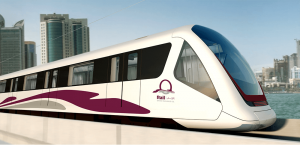 The Doha Metro is entirely automatic and driverless, It has three lines: Red, Gold, and Green, and is expected to be fully operational in time for the FIFA World Cup 2022. The Metro will feature 37 stations and traverse 46.6 miles (75 kilometers) of rail. On the Red Line, between Al Wakhra in the south of Doha and Al Qasser in the north, a preview service has begun on weekdays, Sunday to Thursday,  (Leaving the weekends). Trains operate every six minutes between the hours of 8 a.m. and 11 p.m. 
On the metro, there are three classes: one carriage for Gold (16 seats) and Family Class (26 seats). Also, there are two wagons for Standard Class (88 seats). Now each one comes with its own payment structure:
A single Standard Class ticket costs QAR2.

In Standard Class, an unlimited day pass is QAR6.

A single Gold Class ticket costs QAR10, while a day pass costs QAR30.

Family Class tickets are the same as Standard Class tickets, however they are only available to women with children.

Prices may change at any time.

Tickets are available at each station's machines, and re-chargeable cards are in the works.
Featured Article: Safety and laws in Qatar: traveler's guide on the do's & dont's
3. On Taking Taxis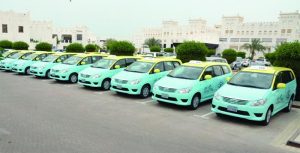 Karwa, Uber, and Careem are the three types of taxis available in Qatar.  One can only use the Uber and Careem applications to hail a car.  You can call the quintessential turquoise Karwa taxis at taxi ranks, on the street, or through the Karwa app.
Taxis come in a variety of sizes, so if you need one for someone with limited mobility, please call +974 4458 8888. The Karwa taxi's are one of the most popular modes of public transit in Qatar.
The Karwa taxis run a meter and charge a rate per kilometer. Of course, there is the exception of a standard hailing fee of 20 Qatari riyal from the airport. For everywhere else, the standard hailing price is 4 Qatari riyal.
1.6 Qatari riyals per kilometer within Doha between 5 a.m. and 9 p.m

1.9 Qatari riyals per kilometer within Doha between 9 p.m. and 5 a.m

1.9 Qatari riyals per kilometer outside of Doha, day and night

There is an 8 Qatari riyal per 15 minute waiting rate

The cheapest taxi cost in Qatar is ten Qatari riyals

Careem and Uber cabs both have apps that allow you to book, check fares, and monitor cars, and both accept cashless payments ahead of time.
4. How to use the Lusail tram in Qatar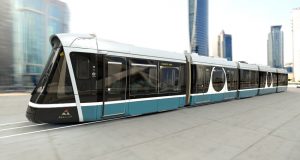 The Lusail Tram networks started running its preview service on January 1, 2022, after months of anticipation. If you're taking the Doha Metro, Legtaifiya station is a convenient transfer point for the Lusail Tram.
You can also use the metro express to and from the Lusail Tram stops that are now operational. The free ride-sharing service connects nearby communities to the public transit system, and you may reserve a seat in the branded Mercedes Vito vans via the metro express Doha app on demand.
The Lusail Tram runs between 6 a.m. and 11 p.m. from Saturday to Wednesday; 6 a.m. to midnight on Thursdays; and 2 p.m. to midnight on Fridays, within regular Doha Metro hours. During operating hours, the Lusail Tram has a five-minute break between services. The Ministry of Transport has yet to announce when the tram service will be fully operating but it will be later this year before the FIFA World Cup takes place.
Last but not the least,
5. Disability accessible public transit in Qatar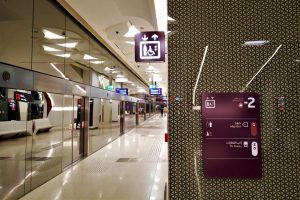 Despite the fact that the country's metro network still smells like a new train, public transportation in Qatar is uneven. The Doha Metro has spacious stations with fully accessible platforms so in this context, feeder services such as metro link buses are being improved. Qatar Rail intends all metro link buses to have fully operational wheelchair ramps along with  low-floor access by early 2021. Metro express, on the other hand, employs vans rather than buses, therefore people with mobility challenges can only ride metro express provided their wheelchair is accessible.
Qatar, as a signatory to the Convention on the Rights of Persons with Disabilities, has made rapid progress in making public transportation accessible to everyone. Accessible All Doha Metro stations are rated as fully accessible by Qatar, with the exception of information for impaired travelers on the website. Qatari taxi firms like the state-owned Karwa have wheelchair accessible vehicles but  must be reserved in advance over the phone.
We hope this blog has helped you answer all the queries you had in your mind regarding the public transit and getting around Qatar. TicketsToDo strives to bring forth the best travel related content and information to its readers, check out our website to get the best travel deals and offers today.
If you are someone from the Middle East and love shopping, then CouponBot is for you. A Chrome extension that automatically helps you get the best deals from top brands like Namshi, Noon, AliExpress &  more including TicketsToDo.