Famous for its scenic natural beauty, historical landmarks and rolling sand dunes, Qatar is fast developing to become one of the most popular tourist destinations. This peninsular Arab country boasts of a variety of terrain that allows it to offer an array of different varieties and attractions all across the region. Not only this, but Qatar is a destination much sought-after by visitors, especially this year since it is hosting the FIFA World Cup 2022. If Qatar is on your bucket list for this year, these are the top 10 places to visit in Qatar, you absolutely should not miss out on!
For hassle-free bookings, get your tickets to all the exciting attractions & places all over the world from TIcketsToDo.
Top 10 Things To Do In Qatar
1. Al Zubarah Fort
Qatar is pretty famous for its historical landmarks and monuments. The Al Zubarah Fort is one of them and a must-visit for all tourists and first-timers. It was built in 1938 to serve as a coast guard station. This military fortress was later renovated into a museum that now displays various works of art and archaeological findings. It is located in the municipality of Madinat ash Shamal in Qatar and one can reach the fort on camelback since it is in a secluded area. It is one of the largest and best-preserved examples of the 18th-19th century social and economic history of the region.
2. The National Museum of Qatar
The National Museum of Qatar was opened to the public on 28 March 2019 and is located in Doha, Qatar. This museum is dedicated to bringing to light the stories of Qatar and the people there. Inspired by the desert rose crystal found in Qatar, the infrastructure resembles the same. The design is so intricate, it looks like a live origami piece. The heart of the Qatari national identity, Sheikh Abdullah bin Jassim Al Thani's Palace, is also located within the museum's site. This vibrant place is a must-visit for those who want to understand and learn about the culture and heritage of Qatar.
3. Souq Waqif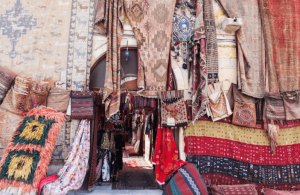 Bringing back souvenirs from any new place we visit is a must! Souq Waqif is a marketplace located in the center of Doha where you can find varieties of traditional garments, jewelry, spices, handicrafts and more. This is more of an important landmark since it is a heritage market, with the original building dating back to the 20th century. The souq is located near the metro, so traveling there is not a problem. In addition, the place also has a number of boutique hotels, shops and restaurants, making it all convenient for tourists and visitors.
4. KidZania Doha

This one is all about playful learning and exclusively for the kids. If you are traveling with your family and are looking for a place to entertain your little ones, this is it! KidZania offers a number of interactive games and attractions, and kids are allowed to role-play adult jobs and even earn money! They can try out different professions like being a doctor, pilot, artist chef and many more. So don't miss out on the opportunity to take your little ones here for a fun outing. Moreover, kids can enjoy a full learning experience as they play, work and earn in an interactive and safe environment with activities.
5. The Museum of Islamic Art
The Museum of Islamic Art is another must-visit museum in the region. It is located on one end of the seven-kilometer-long (4.3 mi) Corniche in Doha, Qatar. It was built on an island off an artificial peninsula that projects near the traditional dhow harbor. This museum is renowned for its vast collection of Islamic art that spans 1300 years and more. Its collection includes many prized examples of Arabic calligraphy, ceramics, glass, ivory, jewelry, early Islamic books, metalwork, miniatures, textiles, and woodwork. The western and northern facades of this structure are marked by the Qatari harbor.
6. Inland Sea Beach
Any trip to Qatar cannot be complete without visiting Inland Sea Beach. This is a sea inlet of the Persian Gulf along the border between Qatar and Saudi Arabia. The water is saltier compared to the nearby gulf due to low rainfall and high temperatures. The entire place is surrounded by huge rolling sand dunes and makes for an ideal place for beach lovers. You can play in the sand before a swim in the blue waters of the inlet. Navigation is not very difficult as you can drive on paved roads across rolling dunes and salt flats.
7. The Doha Desert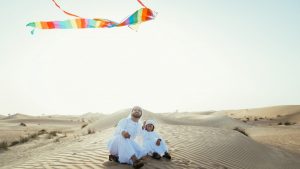 From camel riding to jeep safaris, the Doha desert offers ample activities for visitors to have an enjoyable time. This should definitely be a part of your Qatar tour. The desert charm is sure to leave you in awe. While camel rides are increasingly popular and a fun way to explore the desert, there are other activities as well. For those who love adventure and adrenaline rushes, you can also engage in various activities. For example, you can go sandboarding, dune bashing and on roller coaster rides if you want some pump. Meanwhile, you can relax at the Bedouin camps, stargazing and listening to local music after a long, tiring day.
Related Article: Best Stargazing Sites in the UAE
8. State Grand Mosque
This is one of the largest mosques in the entire country, and a stunning one too. It was opened in 2011 and has been renamed after the Muslim scholar, preacher and theologian, Imam Muhammad ibn Abd al-Wahhab. This national mosque stands on top of a hill and is located in the Jubailat district of Doha, just south of the Corniche. The mosque houses three libraries, along with separate prayer and ablution halls for men and women. They also have special halls for Quran memorization and can hold over 30,000 worshippers. The graceful design of this magnificent structure is a fine example of intricate Islamic architecture, and certainly a fine sight to anyone who visits this holy place.
9. Doha Corniche
This waterfront promenade is certainly one of the best places to visit in Qatar. The Doha Corniche extends seven kilometers along the bay and is a popular spot for leisure and entertainment. Many of Doha's famous landmarks are found in the Corniche including the Museum of Islamic art amongst others. The Doha Corniche is a beautiful place to spend time whether you want to take a stroll or visit attractions close by. In addition, annual celebrations of national holidays such as Qatar National Day and National Sports Day are conducted here. So if you happen to be there around that time, you can witness a variety of themed events and firework shows.
10. Hop-On Hop-Off Bus
This is one activity you should certainly try out. The Hop-On Hop-Off Doha Bus tour offers you to see iconic landmarks and the impressive skyline of the region. Moreover, you can explore the city at your own convenience without any restrictions. During the day, you can go sightseeing and at night, experience the nightlife of the cities with your flexibility in schedules. There are also other options like the Panoramic City Tour, City Tour by night. These come with dinner rides, Haf and Full day desert safari rides and so many more.
So pack your bags, book your tickets, and enjoy once-in-a-lifetime experiences in this beautiful country by the bay. Don't forget to carry all your travel essentials! Save on them with coupon codes.