It's the month of love, and a perfect time to whisk your other half away for a romantic getaway. Around this time every year, Dubai receives a large number of tourists who want to spend Valentine's Day on a lavish scale. With fine dining, starry skies, deserts, and balmy nights, there is no shortage of enjoyment for any couple. Whether you're already married or going through the process of finding a partner, TicketsToDo has listed 10 unique Valentine's Day attractions in Dubai that will help make your day memorable. From a day at a lounge made up of ice to a mesmerizing evening at a fully immersive digital art center, we've got something for everyone!
The season of love is fast approaching, and it's time to book your tickets for some special attractions. TicketToDo.com is an online platform that allows you to find and buy tickets for different events and activities in your city.
Perfect Valentine's Day Attractions In Dubai
1. A 'Starry' Date at Infinity des Lumières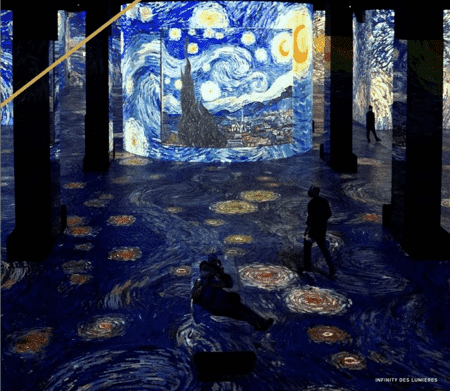 Book Infinity des Lumières tickets
What makes a perfect date? Sure, a nice expensive fine dining would do the thing. But when it comes to making memories it's the simple things that matter. Like you remembering your significant other is a sucker for art and culture. In that case, the Infinity des Lumières Dubai is the perfect Valentine's Day attraction for you. Infinity des Lumières Dubai, located at Level 2, The Dubai Mall is a fully immersive digital art center with 3 breathtaking exhibitions Van Gogh, Dreamed Japan & Verse!
2. CÉ LA VI Dubai
When: 14 February, 7:00 pm – 3:00 am
Where: CÉ LA VI Dubai, Restaurant
Price: AED 1,000 per person for indoor seating AED 1,500 per person for outdoor seating
For bookings: [email protected] | +971 4 582 6111
Romance can be found in the most unexpected of places. This Valentine's Day, why not make your way to the ultimate location for romance, CÉ LA VI Dubai? It is a luxury restaurant with an ambiance that will make you feel like royalty. The food is exquisite and the cocktails are to die for. You can enjoy a romantic rendezvous at this venue with your loved one, family, or friends. Indulge in gastronomy excellence curated by chef Executive Chef Howard Ko.
Related Article: Singles' Day Special: 10 best things to do in Dubai for solo travelers
3. Romantic Date on a Yacht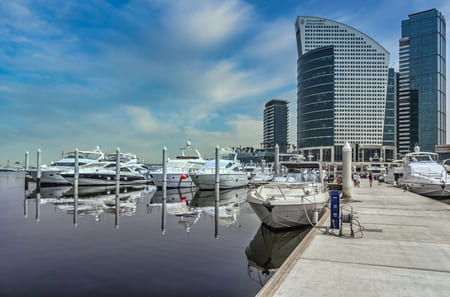 One of the most popular attractions in Dubai is a yacht cruise on the Arabian Gulf. You can have a perfect Valentine's Day date on a yacht and book your tickets from TicketToDo.com! You can choose from luxurious yachts with all amenities including free Wi-Fi and entertainment, to romantic dinner packages on board. Add some charming moments to your honeymoon by booking a romantic dinner on a yacht for this year's Valentine's Day.
4. Dhow Cruise Dinner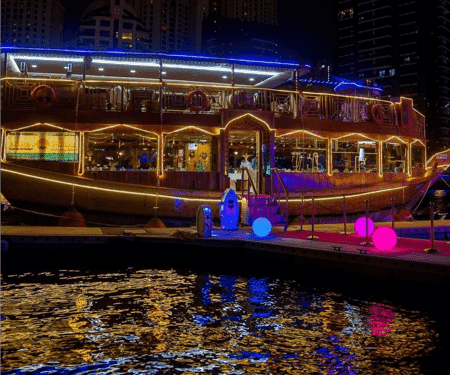 Book Dhow Cruise Dinner tickets
Imagine a romantic evening cruise on the Arabian Sea with a delicious and sumptuous dinner, accompanied by traditional dances. The Dhow Cruise Dinner is no doubt one of the top Valentine's Day attractions in Dubai. Enjoy the sights of Dubai Marina on board dhow, an Arabic traditional wooden boat complete with cushioned seating and traditional Arabic decor. "Dhow Cruise Dinner" will take you on a journey through the Dubai Marina, from one end to another; from Jumeirah 3 Palm Island all the way to The World Islands.
You Might Be Interested In: 22 Places in UAE You Must Visit in 2022
5. Chilly Date at Chillout Ice Lounge Dubai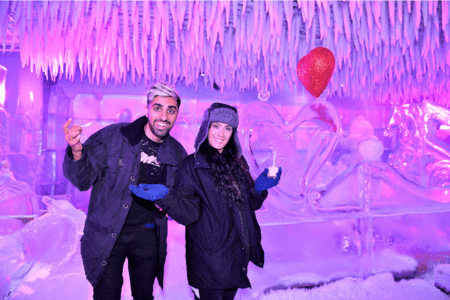 The idea of going to an ice lounge might seem a little bit strange. The thought of walking into a freezing cold room can be enough to send most of us running. So, is it worth braving the cold? The unique concept of Chillout Ice Lounge will give you an opportunity to experience Dubai's hottest winter escape like never before. This frosty haven will provide you with a variety of services including beverages, music and entertainment, ice sculptures where you can make your own miniature! So this Valentine's Day be brave and experience a chilly date making miniature ice sculptures of the two of you!
6. Dine in the Sky: Ain Dubai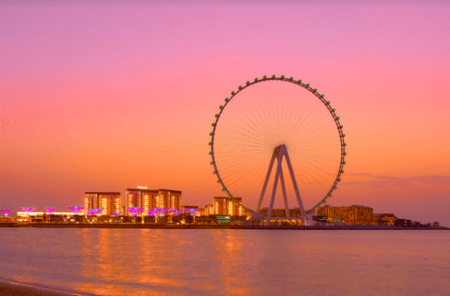 Dubai is the land of every time lavish and extraordinary. So why select for just a generic date this Valentine's Day! Take things up a notch by making your date out of this world – 250m in the sky! Book a private cabin at Ain Dubai and share a romantic dinner on the 250 meters high platform while watching the sunset over the earth will make this experience last forever.
7. Dubai Aquarium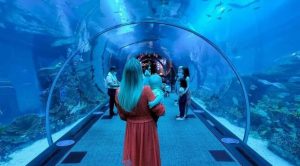 Does your partner love aquatic life? The Dubai Aquarium is a popular attraction for lovers of all ages. The aquarium has an incredible array of marine life from the Red Sea and the Indian Ocean. Visitors can see a variety of sea creatures including sharks, stingrays, jellyfish, and more. They can also take a walk through the underwater tunnel to get up close to many types of fish. The aquarium has an interactive touch-pool that lets visitors touch some of the creatures they might see in the main tank as well as feed them with food pellets.
8. Dine with a 360 view of JBR: Flying Cup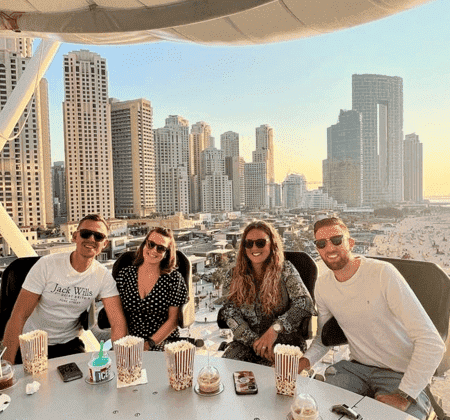 Imagine dining in the sky with a 360-degree panoramic view of Palm Jumeirah, Dubai, Burj Al Arab, Blue Water Island, Ain of Dubai, and more. The mesmerizing experience can be experienced at Flying Cup located at the Beach, JBR (next to Roxy Cinema). This Valentine's Day dine-in style at the only revolving restaurant in Dubai on top of the Palm Jumeirah. A place where you can enjoy the mesmerizing view of sunset and sunrise over Dubai Marina.
9. Expo 2020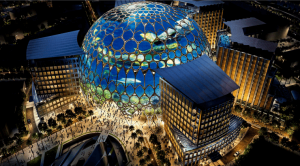 Love is the engine of the world. It is not a feeling or an emotion but pure energy that connects us all together, it is what brings people together and keeps them strong. At World Expo 2020, the celebration of love is dynamic, from Love for friends and family to Love for our planet & Love for humanity. Join Expo 2020's special Valentine's Day event from 17:00 – 18:30 & 20:30 – 22:00 at Dubai Millennium Amphitheatre. In times when technology and the fast pace of life make it easy to forget the simple things in life, we can still remember to stop and smell the roses with our loved ones.
Related Article: Get the best out of your one day Expo 2020 ticket
10. A Fun Evening robbing a bank at Escape Hunt Dubai

This season of love why not gift your partner the best present of all – an experience! Spend this Valentine's Day at Escape Hunt Dubai, the first escape room in Dubai that has raised the bar with its captivating storylines, immersive props, and puzzles. The venue has been designed with immersive themes and innovative technology to give players the experience of being part of their favorite movie or TV show. Escape Hunt Dubai offers five different escape rooms that are all connected by one mystery story. Bonus point- it's your only chance to rob a bank with your partner in crime!
You don't want to miss out on any of these amazing experiences! Plan something out of the box this Valentine's Day and surprise your significant other with a unique memory that will be cherished for years to come. From icy dates at Chillout Ice Lounge to robbing a bank with your partner we hope these suggestions help!
The above attractions are sure to make this Valentine's a one to remember. TicketsToDo has tickets available for all the attractions mentioned above and more. For a complete list of the current inventory, visit the website today.
Related Article:100 exciting things to do in Dubai: Explore the best in the city