Located in Doha, the 3-2-1 Qatar Olympic & Sports museum tells the story of Qatar's involvement in the Olympic movement. From its first participation in the Games in 1968 to its hosting of the 2022 FIFA World Cup. The museum also showcases the country's rich sporting heritage, with exhibits on traditional sports such as camel racing and falconry.
Doha is a fascinating city with a lot to offer tourists, from its rich culture and history to its modern architecture and luxury hotels. If you're considering visiting Doha, check out our list of the best things to do in the city! Check out TicketsToDo for some inspiration.
Exploring 3-2-1 Qatar Olympic And Sports Museum
About the Museum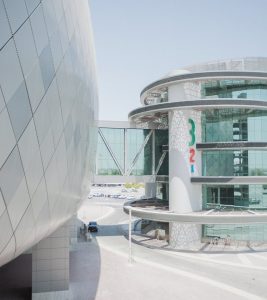 The museum recently opened its doors to the public, providing a look into the country's rich sports history. Not to mention, it is a member of the Qatar Museums and Olympic Museum Network, which currently unites 22 Olympic museums worldwide. It covers three floors and covers a wide range of topics. From Qatar's early sporting history to its more recent successes on the international stage. The first floor covers the history of Qatar's Olympic and Asian Games teams. The second floor looks at Qatar's development as a sporting nation, and the third floor is dedicated to the 2022 FIFA World Cup.
As well as being a treasure trove of information, the QOSM is also a visually stunning building. Designed by Spanish architect Joan Sibina and is approximately 19,000 square meters making it one of the largest of its kind. With 5 spiraled access attached to the building inspired by the Olympic rings that glow blue, yellow, white, green, and red at night. The museum is an iconic example of contemporary architecture and is well worth a visit even if you're not a sports fan!
Related Article: A Comprehensive Guide to Qatar: All You Need to Know
Exhibits to look out for at the 3-2-1 Qatar Olympic And Sports Museum
3-2-1 Qatar Olympic & Sports Museum will be hosting an exhibition of the 'World of Football' from 2 October 2022 – 1 April 2023. This is a collaborative effort between FIFA Museum, Supreme Committee for Delivery & Legacy, and more. The exhibition will display some of the most iconic moments from past World Cup competitions. It is expected to cover a wide range of topics; including how football was first played, its impact on society, the evolution of players' clothes and equipment, and predictions for future developments in technology and the game itself.
What's on display and what to expect at the museum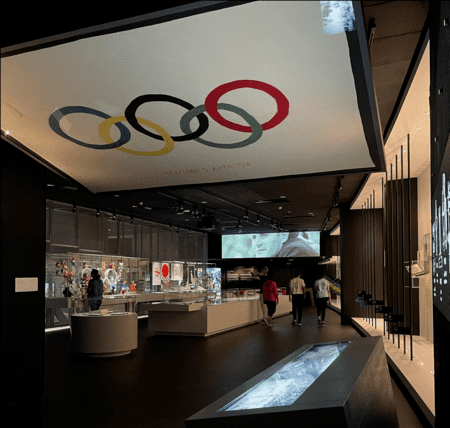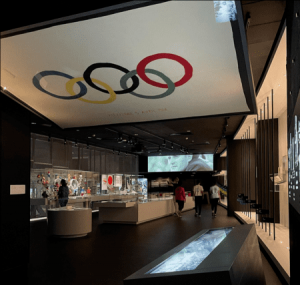 The museum is divided into seven sections, beginning with a history of the sport from the eighth century B.C. to the present day.
For example, there's a virtual archery setup where you can practice shooting arrows like an ancient Greek. A reconstructed Roman racing chariot, a penny-farthing bicycle from 1882, and wooden clubs for pahlevani are among the other highlights.
The 'Hall of Athletes' at the museum features 90 trailblazers, each with their display case and sporting mementos. From Bruce Lee, Michael Jordan, Pelé, Brady, Bolt, Taiho Koki, Antoine Albeau, and more.
'The 'Activation Zone' includes 18 interactive stations that assess one's physical literacy across five key pillars:
Fortitude, vitality, collaboration, control, and quickness (reactions and speed) are all important qualities.
The 'Flame installation', which houses a collection of Olympic torches from 1928 is the best part. The torches are suspended in cylindrical tubes and encased in glass throughout the room.
The 'Activation zone' will get your body moving. A wide range of activities, challenges, and games are suitable for people of all ages.
The museum takes visitors on a chronological tour of sports history before introducing them to everything Olympic in the 'A Global History of Sport' section.
Related Article: A glimpse into the newly-built world cup stadiums in Qatar for FIFA 2022
3-2-1 Gift shop is the perfect place to shop for Olympic souvenirs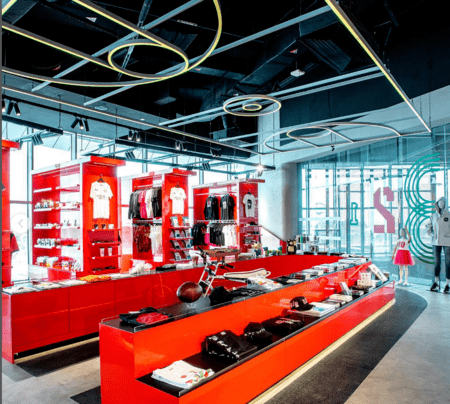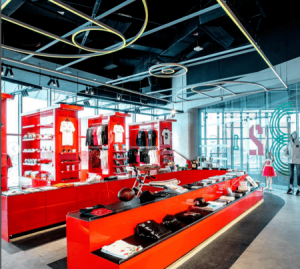 The 3-2-1 Gift Shop sells a wide range of sports-themed clothing, games, books, accessories, toys, and memorabilia. Exclusive FIFA World Cup and Doha Asian Games merchandise are also available at the museum.
Related Article: Top Qatar souvenirs you can buy to remember your trip
Do you need a quick snack and a drink?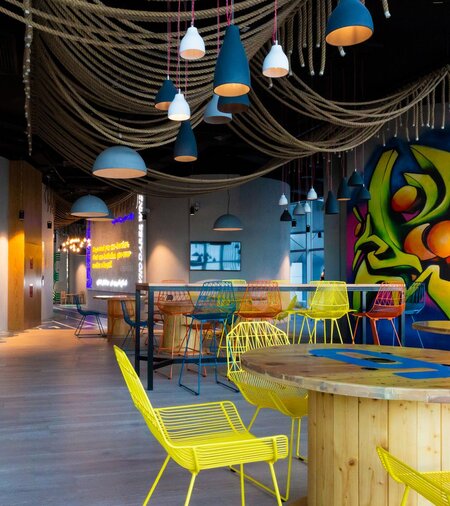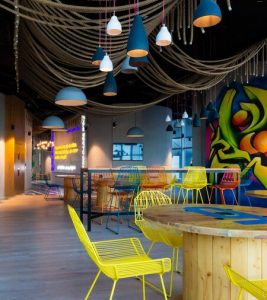 3-2-1 Café is conveniently located on the third floor of the QOSM. It focuses on healthy food and drinks options to fuel visitors' enjoyment of the galleries.
Related Article: The perfect camping experience without going anywhere far
Museums and cultural institutions allow visitors to learn about new cultures and topics. Learn all about the other best museums in Doha that showcase the best of Qatar's heritage and offer. By showcasing carefully curated collections and exhibitions ranging from ancient artifacts to modern art.