Traveling will slowly but surely resume in the days to come. So don't give up on that bucket list of yours and keep adding places you want to visit. If Sharjah is one of those places on your list, you definitely have to go to these places in the city.
TicketsToDo presents to you, places in Sharjah that you can visit and get enthralled exploring this city's culture, archaeology, and adventure.
What to do in Sharjah?
Sharjah Museum of Islamic Civilization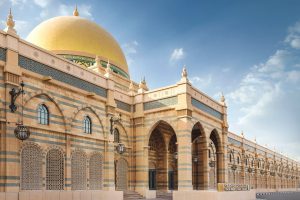 Opened in 2008, the Sharjah Museum of Islamic Civilization covers Islamic culture, with more than 5,000 artifacts from the Islamic world. It is located in the Heart of Sharjah along the Al-Majarrah Waterfront and is unique for being the first of its kind in the United Arab Emirates. The museum boasts a collection of Islamic arts and culture that exceed five thousand distinct pieces collected from various parts of the Islamic world. This very collection is displayed according to their time periods in six distinct galleries. This museum is definitely a must-visit place in Sharjah where you can learn about the magnificent Islamic history, discoveries, culture, art, and sciences.
Sharjah Classic Cars Museum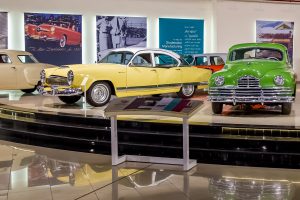 If you've always been a fan of motorization, the Sharjah Classic Cars Museum is the place for you to be at. Showcasing rare cars from the 20th Century, this entire place is surrounded by many classics. Including Rolls Royce, Ford, and Mercedes, this museum has over 100 different cars restored from all over the world. Opened in 2008, you will find here, numerous models of old classic cars, which are no longer produced. Besides cars, this place even has classic motorcycles and scooters. It is separated into five different sections, and each collection showcases a different historical point of time in automotive history. Don't forget to check out the oldest car in the entire museum— the 1915 Dodge, an absolute classic!
Sharjah Art Museum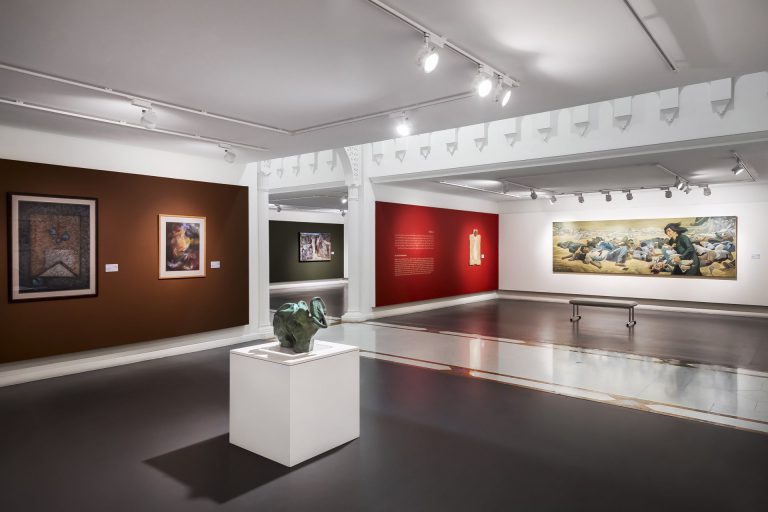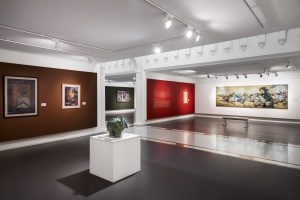 This state-of-the-art facility was opened in 1997 and features a permanent collection, as well as a program of temporary exhibits. The Sharjah Art Museum is one of the largest art museums in the United Arab Emirates. The permanent collection includes valuable artwork from the collections of Sheikh Dr. Sultan bin Mohammed Al Qassimi. With 72 galleries spread over three floors, this must-visit place in Sharjah focuses on works by Arab artists from throughout the Arab world. What's more, the contemporary section showcases more than 300 works by local, Arab, and foreign artists.
Also, check out these amazing museums in Dubai if you are in the city.
Sharjah Aquarium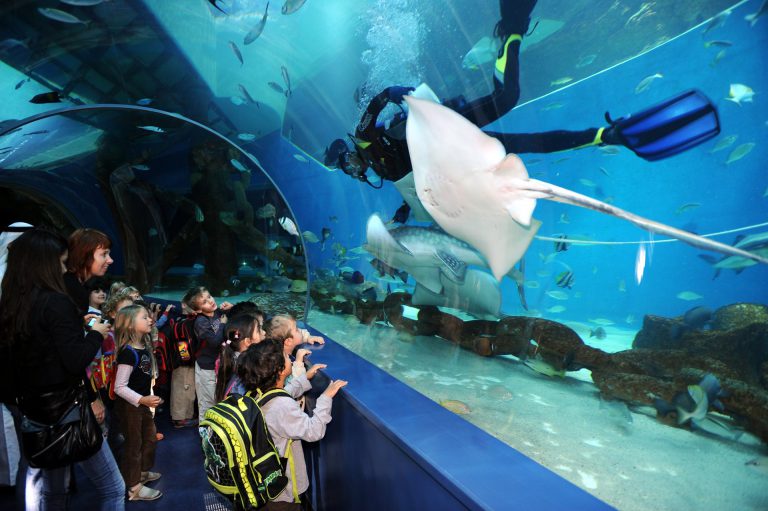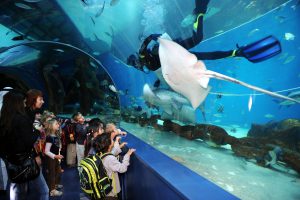 Opened in 2008, the Sharjah Aquarium sheds light on the lively, mysterious, and colorful world of the deep sea. Covering an area of 6500 m², it is the first and largest government educational center in the UAE and consists of two floors embracing 21 aquariums and filled with 1.8 million liters of water. Don't miss out on this must-visit place in Sharjah as it reveals almost 100 incredible species, including the amusing clownfish, delicate seahorses, moray eels, sea rays, and reef sharks.
The highlight of this aquarium is its turtle rehabilitation program, where sick/injured sea turtles are rehabilitated before being released back into their natural habitat. Thus, it helps in raising public awareness of the importance of preserving marine ecosystems and their wonderful creatures.
Al Montazah Parks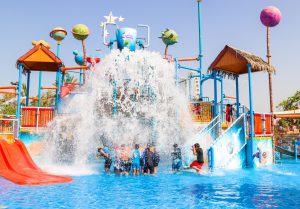 A must-visit amusement and water park in Sharjah is one of the newest family entertainment destinations. Al Montazah Parks have two exciting parks within its walls – Island of Legends and Pearls Kingdom. The parks are spread over 126,000 square meters and welcome you with two unforgettable experiences for the whole family to enjoy. The highlights of this place include exciting water rides like The King's Palace, Mystery River, Flying Carpet, Sea of Treasures, and more. You can also go on a time travel journey that lets you experience the magic, mysteries, and marvels of the 18th century across 9 countries.
More things to see in Sharjah
Al Noor Mosque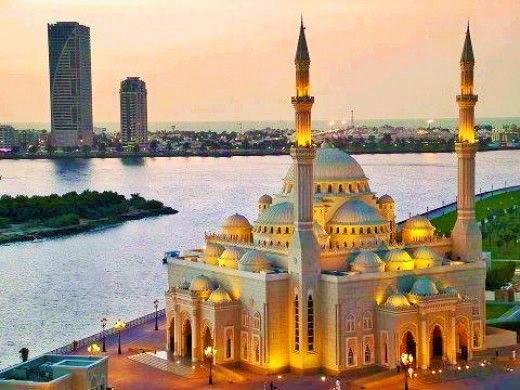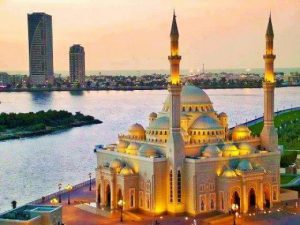 Another must-visit place in Sharjah, this mosque was built in 2005 and is a modern modeled on classical Ottoman style, with slender, pointed minarets, typical of Ottoman mosque architecture. Located on the Khaled lagoon at the Buhaira Corniche, this is the only mosque in Sharjah that is open to non-Muslims. These visitors are allowed to visit the mosque on a tour that takes place every Monday at 10 am. The tour also includes a discussion on Islamic and Emirati history, culture, and traditions. An interesting fact about this mosque is that in 2014, it set a Guinness World Record for the "World's largest wooden charity box" for their Ramadan donation campaign.
Al Noor Island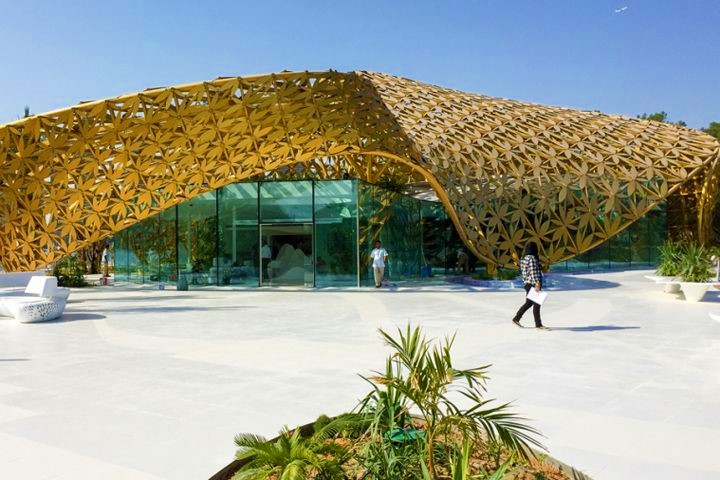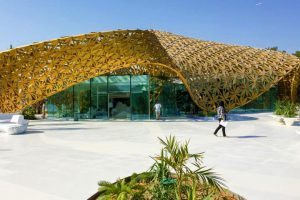 If you are looking to spend some peaceful moments in a calmer environment, you must visit the public park on Khalid Lagoon that can be accessed by a bridge from the central city's Corniche Street. With art and nature blended perfectly into its design, the island also features gardens scattered with modern art sculptures and installations, created by some of the world's most renowned artists. It also includes a literature pavilion, playground, café, and many more. The highlight of this island is the Butterfly House which houses approximately 500 species of butterflies.
On a side note, while it must be exciting to think of the idea of traveling again, do not forget these travel essentials. Also, now that Dubai is welcoming tourists from July 7, 2020, here's a complete guide to activities and attractions open in Dubai.
To avoid the hassle of standing in queues, book your tickets from TicketsToDo.com. Apply the promo codes and coupon codes to avail special discount on the ticket.
If you are planning to travel anytime soon, you avoid the hassle of standing in queues by booking your tickets from TicketsToDo.com. Apply the promo codes and coupon codes to avail of special discounts on the tickets from VoucherCodesUAE. 
Keep in touch with us on [email protected] and follow us on our Social Media channels to share your experience.