The World's largest natural flower garden is awaiting your arrival! Plan your best trip to Dubai Miracle Garden with us as your travel partner for the reopening in November 2021. Get insider tips, answers to your every query, and book your tickets from the comfort of your home.
With TicketsToDo, you can discover activities and get travel tips from travel experts. Make your journey as smooth as possible with detailed itineraries. For today, we have compiled everything you need to know before booking your Dubai Miracle Garden Tickets, for your visit to this beautiful masterpiece.
What you should know before you visit Dubai Miracle Garden
As one of the most instagrammable places in Dubai, this garden must make it to your gram. Take out your notebook and let's get started with everything you need to know before you visit the beautiful garden. From ticket pricing to insider tips, three Guinness world records, and 150 million flowers there is so much to cover, let's go!
What exactly is Miracle Garden Dubai?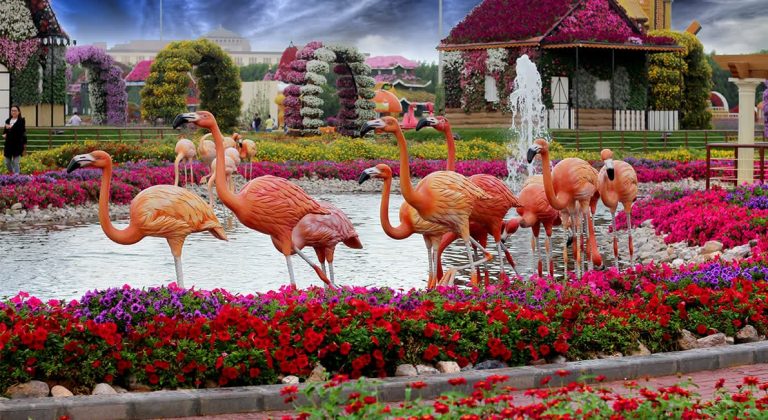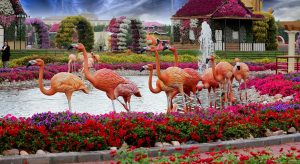 As mentioned in the name, it is a miracle in itself. Being the largest natural flower garden in the world, with 150 million flowers and more than 120 different varieties, there isn't anything like it anywhere else in the world.
2021 was the tenth season for this 72,000 square meters flower park. The park has gone through numerous modifications and attractions for visitors from all around the world. To name a few:
The Amphitheatre is revamped into an observatory for the panoramic view of the garden. You can also enjoy live entertainment.
The Heart Passage is the beautiful archway of flowers in the shape of a heart. Must be a beautiful walk and mesmerizing pictures.
Disney area: The entire area is dedicated to Disney, the sculptures of Minnie and Mickey will greet you at the very entrance.
Nighttime spectacles: the experience when you visit the garden at night time is nothing less than magical. The large sculptures are entangled beautifully with twinkling lights, making the flowers glow!
The walking track, just 400m long is filled with street performers and floral parades.
Visit the nearby Butterfly Garden: The garden contains nine domes with 10,000 live species of butterflies.
Timings to keep in mind and best time to visit
The best time to visit the city's centerpiece would be from November to Mid-may. Flowers are in full bloom and bring out the beauty of the carefully sculpted floral structures and archways.
The timings to visit Miracle garden Dubai are as follows:
Monday – 09:00 AM to 09:00 PM
Tuesday – 09:00 AM to 09:00 PM
Wednesday – 09:00 AM to 09:00 PM
Thursday – 09:00 AM to 09:00 PM
Friday – 09:00 AM to 11:00 PM
Saturday – 09:00 AM to 11:00 PM
Sunday – 09:00 AM to 09:00 PM
How to reach Dubai Miracle Garden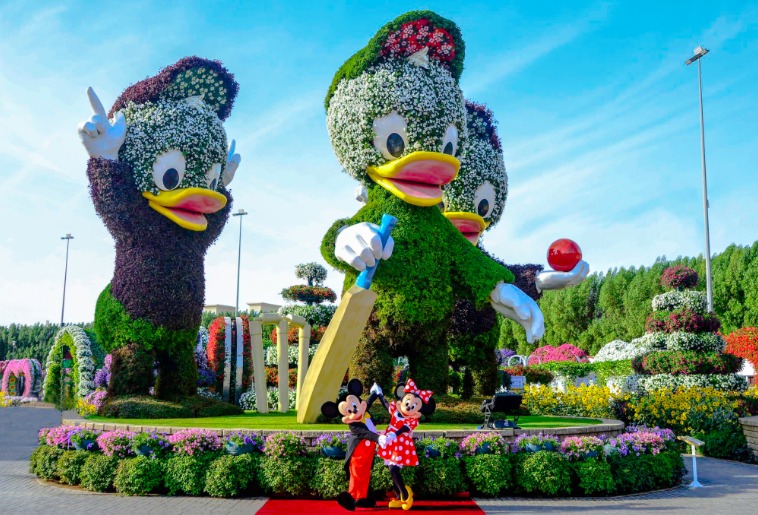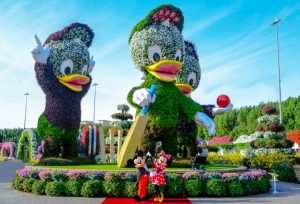 Location: Al Barsha South Third, Dubailand, Dubai, UAE
The attraction is closed at the moment, but the grand reopening is set for November 2021. The best way would be to drive, as there is plenty of parking space for you. Here are the best ways to reach Dubai Miracle Garden using public transport:
You can take the Dubai metro and ride the red line. Get down at the Mall of the Emirates.
You can the bus Route 105 to DMC or take Bus F30 via Arabian Ranches then get down at Saheel Fate 2 bus stop. The buses run Sunday to Thursday from 2 pm to 8 pm, and on Friday and Saturday from noon until 10 pm.
Just walk a little or take a taxi: it will take approximately 5 mins.
Here's a detailed route guide to the Miracle Garden Dubai.
Tickets and Pricing
You can book your tickets from TicketsToDo at AED 53 per person.  Kids under three are free.
What's unique about Dubai Miracle Garden?
A garden with 150 million flowers is unique in itself. Launched on Valentines's day in 2013, it already holds three Guinness World Records to add the cherry on top.
An 18 meter tall floral Mickey Mouse, yes that's what we said! It was the first Disney character floral display in the Middle East, making it the World's Largest Topiary Structure in February 2018. The structure features 100,000 flowers and weighs almost 35 tonnes.
The largest vertical garden is also an addition made in 2013, to add the Guinness world record.
Lastly, the World's largest Floral Sculpture, the Emirates Airbus A380 display in 2016.
Plan your every trip with us!
If you are planning to travel anytime soon, you can avoid the hassle of standing in queues by booking your tickets from TicketsToDo.com. Discover beautiful attractions, great places, and local insights. making that budget come true while planning your trip? Apply the promo codes and coupon codes to avail of special discounts on the tickets from VoucherCodesUAE.
Keep in touch with us on [email protected] and follow us on our Social Media channels to share your experience. You can also subscribe to our newsletter and check out the best places for your next trip.