Whether you love spicy Indian street food or prefer steaming hot Chinese dumplings, you can taste the world in Dubai. But do you wonder what traditional Emirati food is? Don't worry, most food lovers traveling to Dubai are asking the same question. So, we're here to guide you through some of the must-try foods in Dubai and where to find them.
Things you should know about Dubai's Food
The list of must-try food to try in Dubai can remind you of a feast worthy of royals. Dubai's traditional cuisine is a mix of the Bedouin desert lifestyle and the coastal lifestyle. The staple meats are chicken and lamb. When you're out in the desert you can also relish some rare meats such as that of camel and Houbara bustards. If you're a seafood lover, head to the coastal region of Jumeirah and you'll be spoiled with a variety of seafood. We all know that rice has become a staple in Dubai, but did you know that it was introduced by merchants from neighboring countries? Food is a great way to share culture with one another, and Dubai is no exception.
15 must-try cuisine in Dubai
Gahwah-Arabic Coffee and dates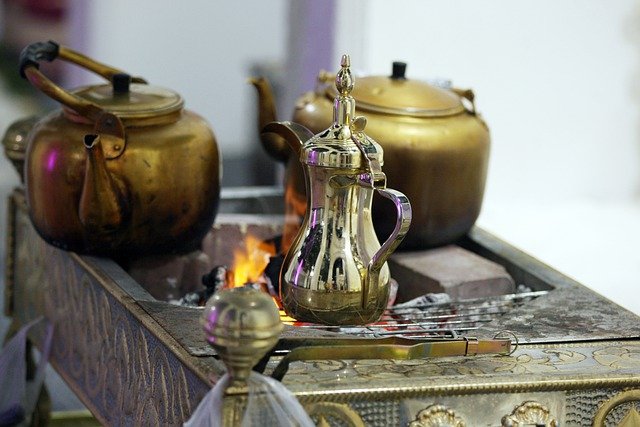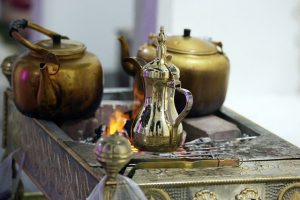 What about Emirati cuisine? Heading as a guest to an Middle Eastern home?  You are sure to be welcomed with a cup of Gahwah. This Arabic-style coffee with a Yemeni origin quickly spread to other Arabian countries in the 15th century.  Gahwah is an important element of Arabic culture and represents generosity and the welcome nature of the hosts.  The beverage is brewed in the traditional coffee pot known as the dallah and it's aroma is that of saffron or cardamom. You will also get to try Dubai's famous dates as an accompaniment to this aromatic coffee.
Where to eat: Ghawa Gahwa Cafe, Dubai
Chebab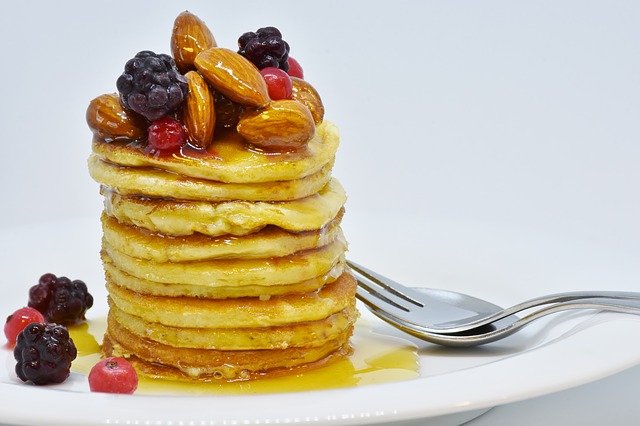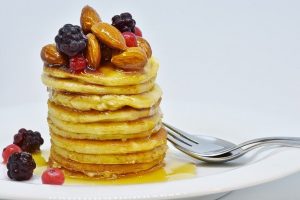 If you're a breakfast person, you will love Chebabs. Cheb means "to flip" in Arabic, and that's exactly how you prepare these pancakes. This Dubai traditional food breakfast item closely resembles fluffy American pancakes and even the Moroccan Baghrir.  Flour, yeast, butter, and eggs go into making a good Chebab. A dollop of cream cheese known as chami tops off this Dubai-style pancake. All you need to do is drizzle it with honey or date syrup and you can enjoy your Chebabs as a sweet treat.
Where to eat: Sikka CAfe, City Walk
Baleelat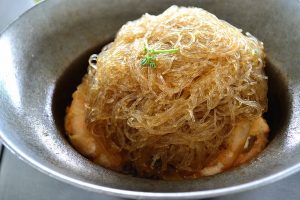 What to eat Dubai? The baleelat is another famous breakfast food item from Dubai that has origins in the Arabic Peninsula. This unique sweet and savory dish is a combination of vermicelli noodles and omelet and may have an influence of the nomadic Bedouin lifestyle. The vermicelli has a rich flavor of sugar, cinnamon, rose water, and saffron.  On top rests the thinnest layer of omelet. Baleelat is also an important dessert at celebrations in Dubai and is usually eaten as the first meal during Eid-ul-Fitr.
Where to eat: Al Fanar, Dubai City Festival
Reqaq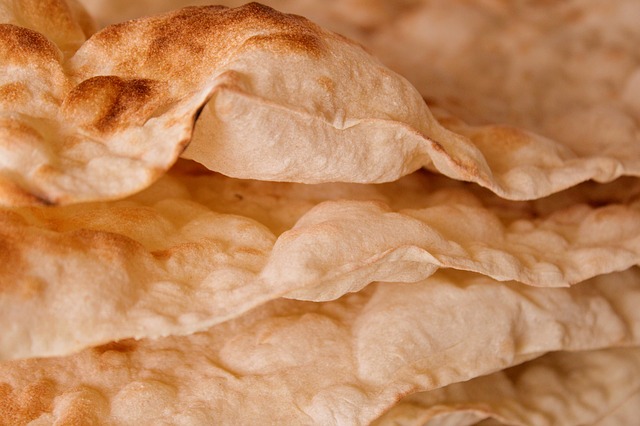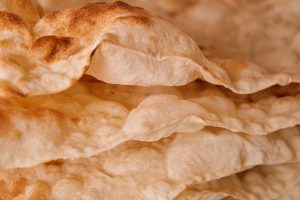 Reqaqs are traditional flatbreads from Dubai with an Iranian origin.  Locals love reqaqs and these flat breads have quickly become a favorite among tourists as well. The texture of this Emirati traditional food – flatbread is thin and crisp, so many compare it to the South-Indian Dosa. Unlike a dosa, reqaq is made from sticky whole wheat flour dough. You can season the flatbreads with fish sauce and cheese, for a delectable must-try local food in Dubai.
Where to eat: Al Labeeb Grocery, Jumeirah
Dango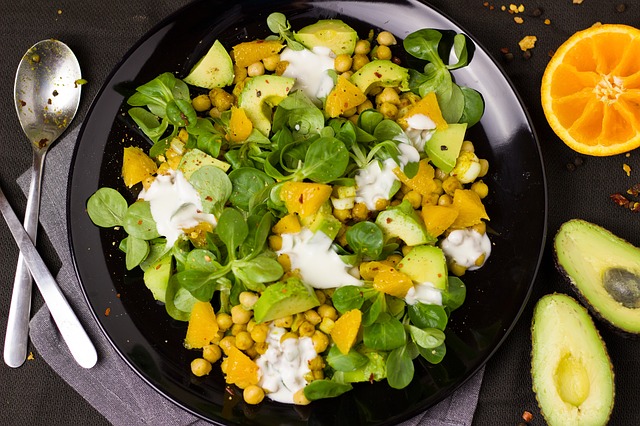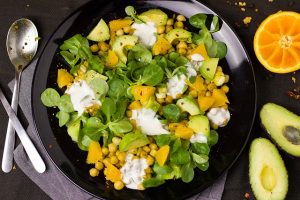 We all know that hummus is a Middle-Eastern staple and it is available at almost every corner in the UAE. But did you know about the Dango? This Emirati take on hummus involves boiled chickpeas seasoned with basic spices. This spicy snack is light on the stomach and a must-try vegan Emirati cuisine Dubai.
Where to eat: Arabian Tea House , Al Seef
Thereed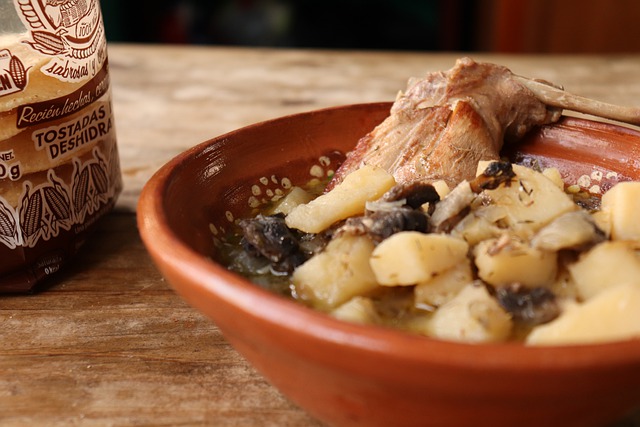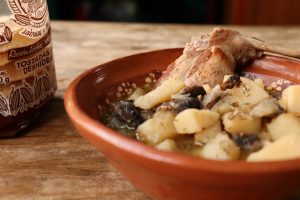 Thereed is a meat stew mix with potatoes and flatbread.  This must-try food consists of a meat broth that is similar to the Moroccan tagine.  Lamb meat together with large chunks of potatoes boil together until tender. You can enjoy this meat stew for lunch with a bite of reqaq, the Emirati flatbread.
 Where to eat: Seven Sands,  Jumeirah Beach Residence (JBR)
Madhrouba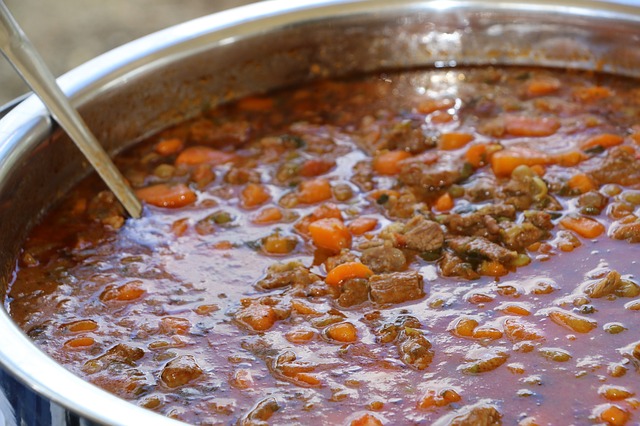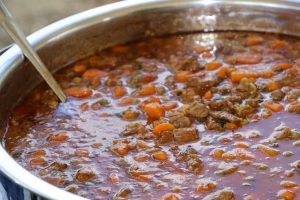 Madhrouba means "beaten" in Arabic. This simple dish has origins in the minimalist tribal lifestyle of the Bedouins, and is a must-try lunch item in the UAE.  It is prepared by literally beating chicken with grains. Madhrouba's consistency is similar to a porridge, so it is easily digestible and equally delectable. A pinch of turmeric adds that extra oomph!
Where to eat: Siraj, Souk Al Bahar
  Al Harees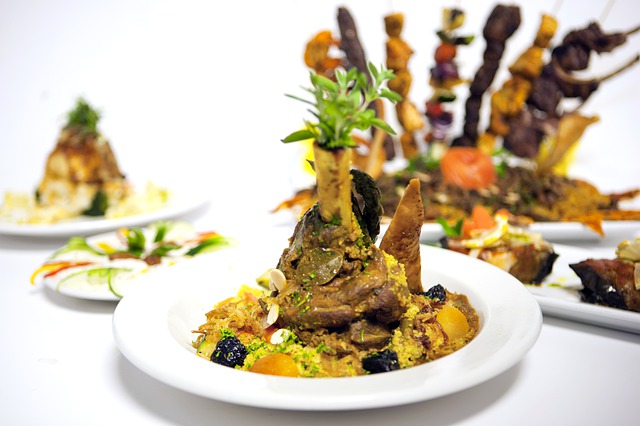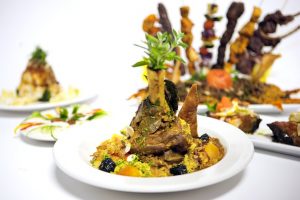 Al Harees is a festival essential among Emirati cuisine. Wheat and meat turn into a thick porridge as it boils on low flame. Cooking Al Harees is surely time-consuming but its complex taste is definitely worth the wait. The porridge is then doused in melted ghee and is sure to lend you a rich eating experience.
Where to eat: Khaneen Restaurant, Al Safa
Machboos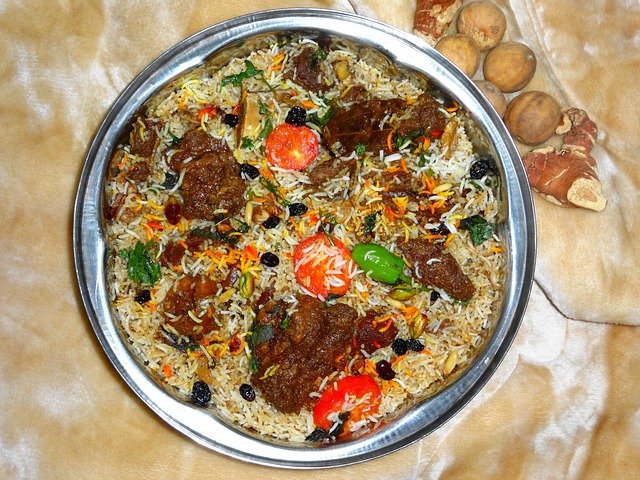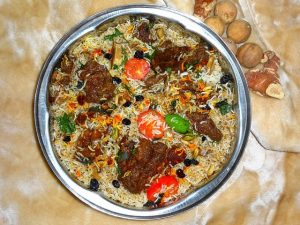 Machboos is the highlight of all festival Dubai traditional food.  It is an Emirati-style biryani consisting of rice and fish and may be a dish that was brought into the island by Persian traders. An elaborate array of spices like cardamom, cinnamon, lemon rinds, cloves, and saffron go into making this dish explosively flavorful. Recently, variants like Lamb Machboos and Shrimp Majboos are popular choices among food lovers traveling to Dubai.
Where to eat: Barjeel Al Arab, Al Ghubaiba Rd
Jasheed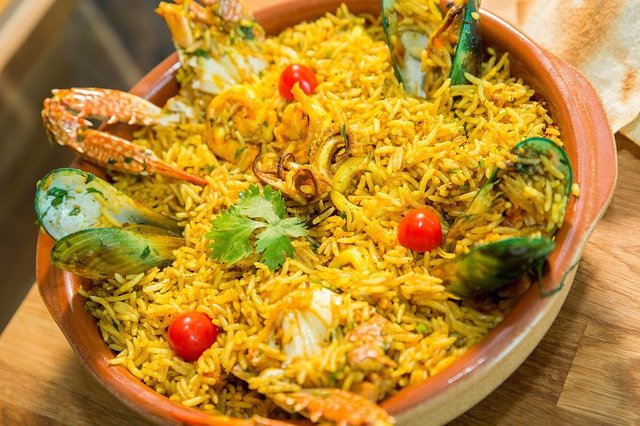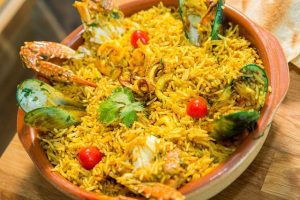 Jasheed is a gob-smacking food from coastal Dubai. Flavorful rice boasts toppings of small spicy sharks from the Arabian waters. The dish is garnished with dry lemons, ginger, and garlic, making it a must-try spicy Emirati food in Dubai.
Where to eat:  Al Jaboot Restaurant, Al Souq Mall, Jumeirah Beach Road
Saloona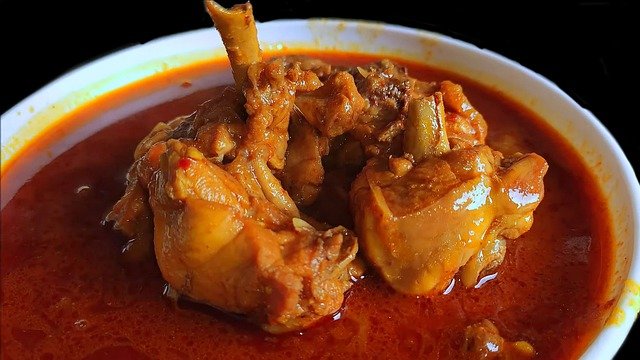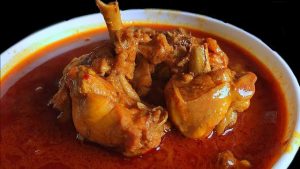 Saloona is a rich meat curry originating in Dubai.  The chicken is seasoned with the best spices, while the gravy is concocted from a lot of onions, ginger, and garlic. You can enjoy Saloona for lunch with a steaming hot plate of white rice.
Where to eat: Siraj Restaurant, Souk Al Bahar, Downtown Dubai
Luqaimat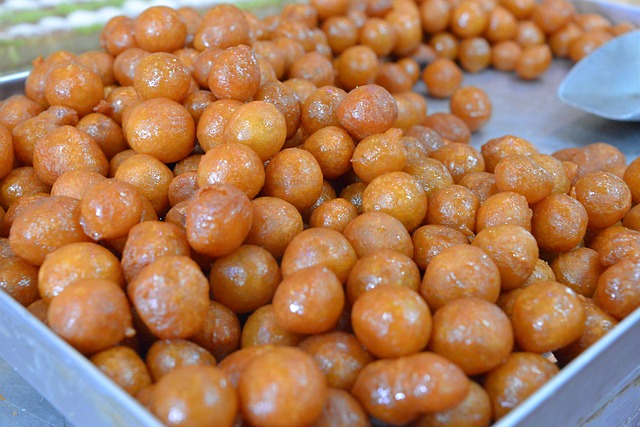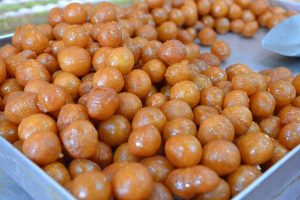 You cannot miss the Luqaimat when you think of Emirati food. Dubai's number one must-try dessert is a deep-fried doughnut made from flour, yeast, milk powder, and sugar. Cardamom and saffron adds a distinct taste to these little dumplings. Luqaimats are then drizzled with a generous helping of palm date syrup and sesame seeds.
 Where to eat: Milas Restaurant at the Dubai Mall
 Asida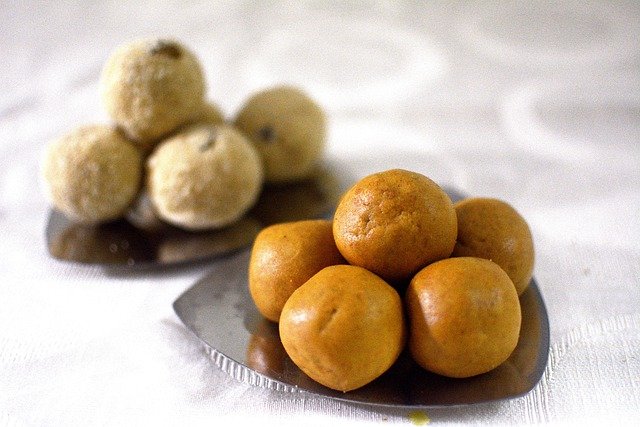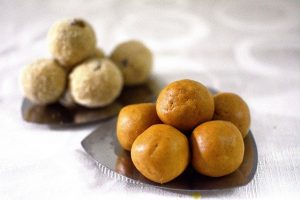 When in Dubai, you must experience the wholesomeness of Desert-inspired desserts. Asida is one such dessert made by cooking wheat flour into a lump. This simple dough ball bursts with butter and honey, making for a satisfying sweet treat.
Where to eat: Khau Galli, IBN Battuta Mall
Karak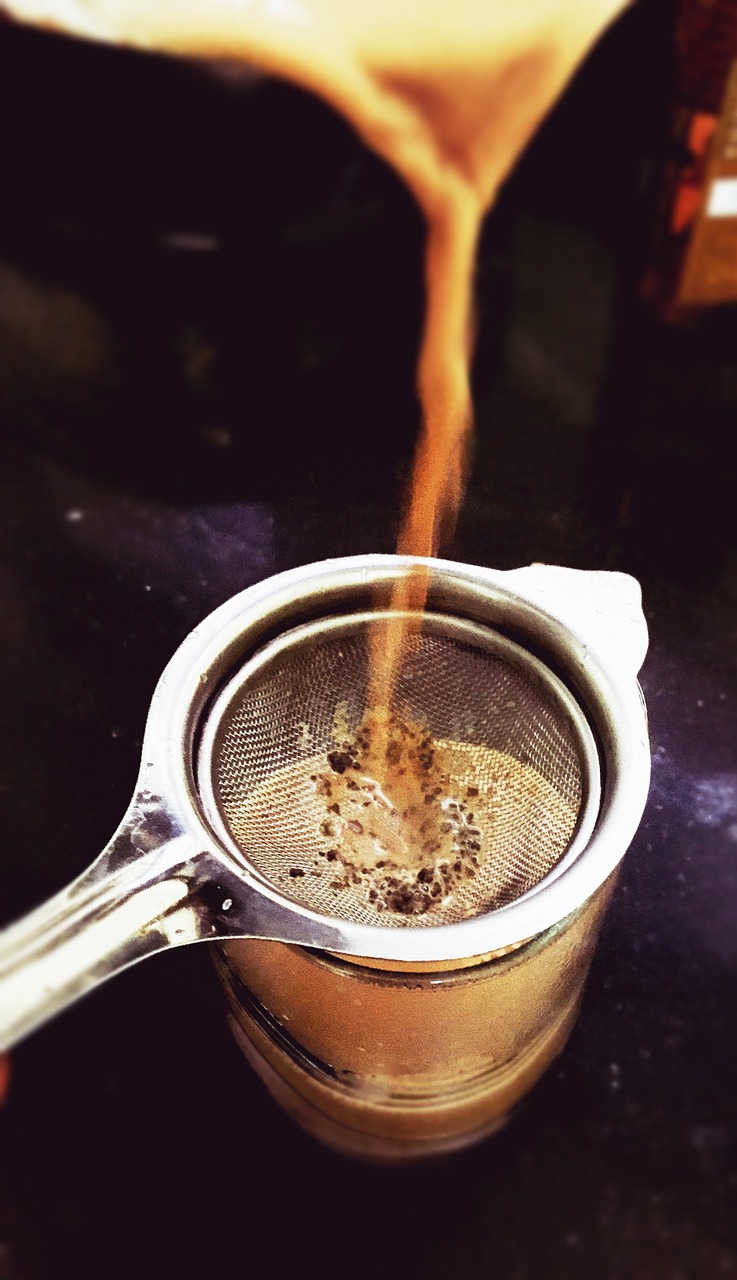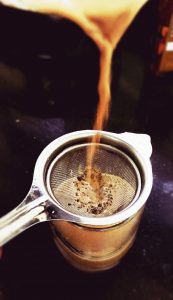 The word "Karak" literally translates to "strong" in Hindi. Rightly so, this beverage with an Indian-influence is a strong tea with sugar and a hint of rose water. You can find a cup of karak around many streets of Dubai. It instantly fills you with energy when you're out in the hot weather in Dubai. 
Where to eat: Karak Tea Dubai, Global Village
Mint Green Tea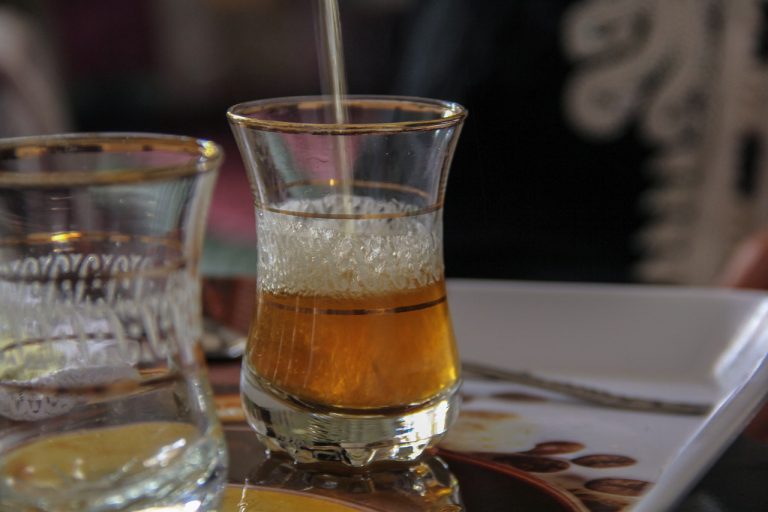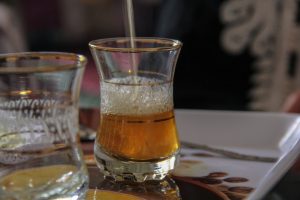 When you feast Emirati-style, it only makes sense to end the feast right. The correct way to end an Emirati meal is with a traditional brew of green tea. This fragrant green tea is infused with mint or cardamom. It not only tastes fresh but also aids digestion, so it makes for a holistic eating experience.
Where to eat: Arabian Tea House Restaurant & Cafe, Al Fahidi
 Bonus: Dubai Spice Souk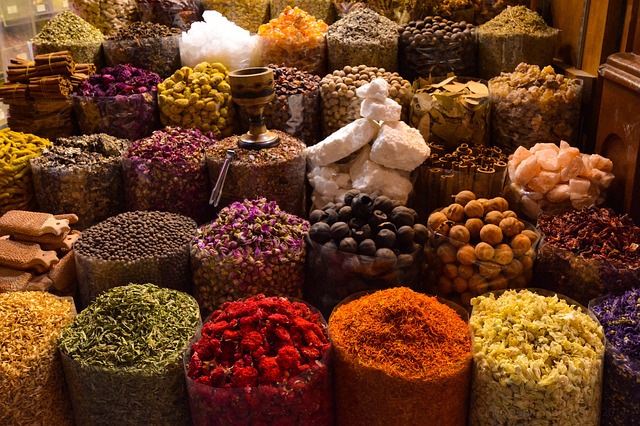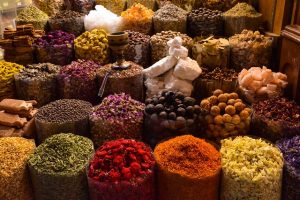 When you're in Dubai, you cannot miss out on ingredient-hunting at Dubai's famous spice souks. You can get your hands on some of Dubai's must-try spices such as rose petals, loomi, saffron, orange blossoms and so much more! Be sure to look up recipes for food to try in Dubai in your kitchen with your spice finds.
FAQs on Must-Try Foods in Dubai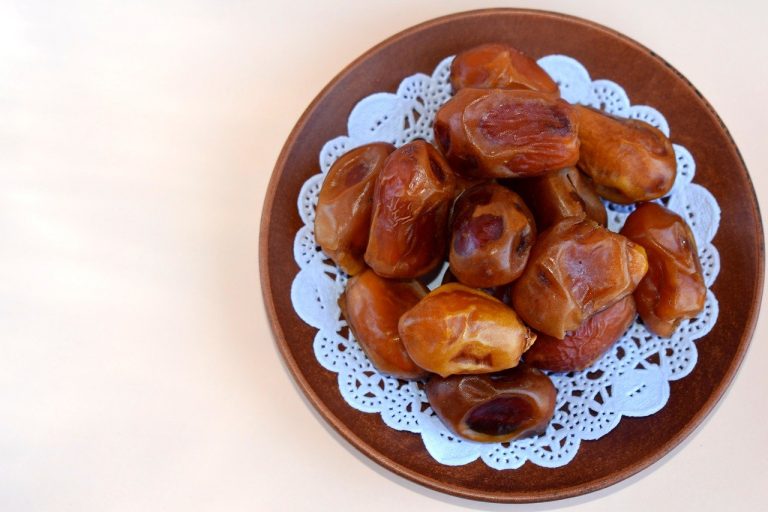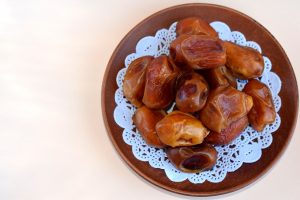 What to eat in Dubai?
Dubai is famous for meats such as lamb or camel, as well as rice dishes like Machboos. Fragrant desserts like luqaimat  are also a fan favorite. The list of traditional Emirati food is endless. Food in Dubai takes inspiration from multicultural elements in the cosmopolitan such as the Indian samboosa or the Persian Biryani.
Is Dubai expensive for food?
The price for food in Dubai varies according to your choice of meal.  You are sure to find food that suits every price range on the cosmopolitan island. Starting from budget-friendly street food the price may skyrocket at expensive gourmet joints at the Dubai Marina. The average price of food in Dubai for a full day is approximately AED 150.
What should I avoid in Dubai?
These are some things that you should avoid when eating in Dubai:
Avoid looking for pork. The Emiratis do not consume pork and the meat is rarely available.
Avoid going to the same old fast-food restaurants. Try out the variety of cuisine that Dubai has to offer.
Keep track of religious observances because eating in public is prohibited on such days.
The must-try foods in Dubai is a multifarious affair. The Middle-Eastern Island has a lot to offer to the world via its traditional food. Sure, the variety of non-vegetarian food is astounding. But vegetarian food in Dubai equally impressive! Traditional Emirati food uses the best vegetarian ingredients such as pomegranates, potatoes, and chickpeas.  Nowadays, there are many vegan restaurants serving the best of new-age vegan cuisine in Dubai. You can sure taste the world in Dubai, but make sure to take a big bite-size of Dubai with you!