Going vegan might be one of the most popular resolutions people make. Whether it is for religious, moral, or health reasons, veganism is now popularly practiced worldwide. If you're a vegan living in Dubai or planning to visit the city sometime sooner or later, you'd surely want to indulge in the region's best eateries serving plant-based meals. Doesn't matter what your reasons for practicing veganism are or whether you're a vegan or not, you definitely have to visit these top vegan eateries in the city.
TicketsToDo presents to you five of the best vegan eateries in Dubai.
Best vegan restaurants in Dubai
Veganity restaurant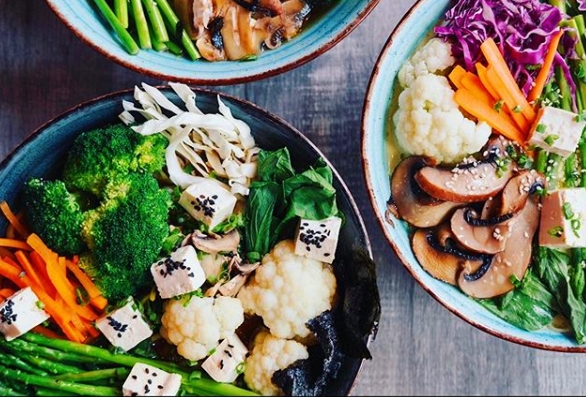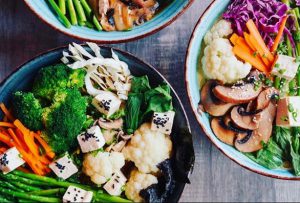 What could be a better way to start than by eating at the 'world's biggest vegan restaurant'? This restaurant offers ample seating space along with a mix of vegan dishes including many Arabic dishes. Don't miss out on enjoying healthy yet soulful gourmet food at Veganism. Located in the heart of the city, it offers more than 200 dishes from cuisines all over the world. The best part about this restaurant is that all of their dishes are 100 percent organic, GMO-free, preservative-free, and contain no artificial flavorings or colorings. Including plant-based alternatives for all non-veg food too, this place offers a variety of delicious delights like vegan fried 'chicken', jackfruit burgers, vegan scallops, vegan 'meatball' pasta, as well as a range of plant-based desserts.
Address: Veganity, Al Safa Street, Al Wasl, Dubai, United Arab Emirates.
Menagerie restaurant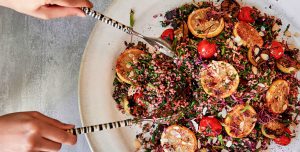 Offering mouth-watering treats from breakfast to lunch and dinner, Menagerie has an elaborate menu including vegan items. Their botanical-inspired eatery can easily make for a space that you can go to for a wholesome meal or pop by for an on-the-go snack. In their range of local, wholesome produce, you can expect to enjoy an array of protein-rich dishes, superfoods, and green salads. They also have vegan, raw, gluten, and dairy-free alternatives to non-veg dishes. Furthermore, you can look forward to sipping on an innovative selection of cold-pressed juices and herbal drinks in addition to classic coffee brews.
Address: Menagerie, Mirdif 35 Mall, Ground Level, Al Khawaneej, Dubai, United Arab Emirates.
Wild & The Moon restaurant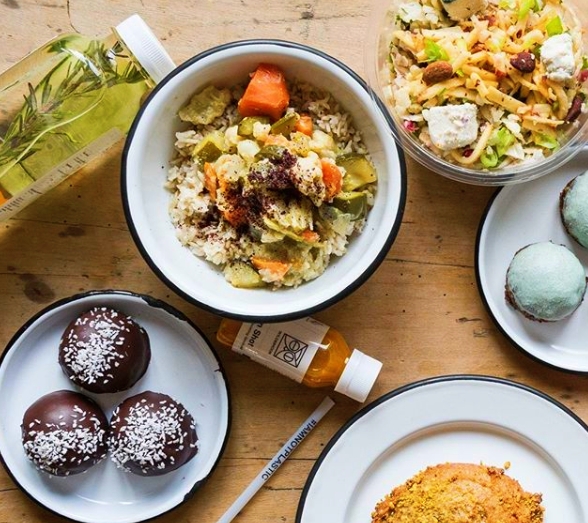 Offering delicious plant-based, organic food in a beautiful setting, Wild & The Moon is a part of a chain of plant-based restaurants from France. Everything on the menu is wild, local, gluten-free, ethically-sourced, seasonal, and of course, plant-based. All of their ingredients are 100% organic and the juices are unpasteurized so as to preserve their natural nutritive power. The team at this eatery follows a simple philosophy when it comes to food— it should be good for you, good for the planet, and delicious. Wild & The Moon also offers a wide variety of alcohol-free drinks, organic cold-pressed juices, smoothies, teas, other soft drinks as well as specialty coffees made with alternative dairy-free milk only.
Address: Wild & the Moon, Alserkal Avenue, Street 8, H-77, Dubai, United Arab Emirates.
Where you can also eat vegan in Dubai?
Little Erth by NABZ&G restaurant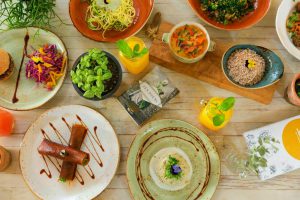 With a holistic approach to eating and a focus on vegetarian, vegan, and raw cuisine, Little Erth by NABZ&G offers a menu bursting with healthy, wholesome food that nourishes from the inside out. They aim at bringing focus, balance, and energy into the lives of the visitors and believe that this connection can happen when people consume wholesome foods that are full of Earth's positive energy. This cozy restaurant was created for this very purpose— to help change people's perception of and relationship with food.
The variety of hues, textures, flavors, aesthetics, and aromas that they bring to the table are all filled with the goodness of the Earth. Moreover, all meals are prepared from scratch using fresh, quality ingredients free from preservatives, guaranteeing a truly nourishing experience with maximum flavor. From burgers and spring wraps to super salads, they have it all! Also, don't forget to indulge in guilt-free desserts and fresh beverages too.
Address: Mohammed Ibrahim Tower, Jumeirah Lakes Towers, JLT Cluster J, Dubai, United Arab Emirates.
Single Fin Café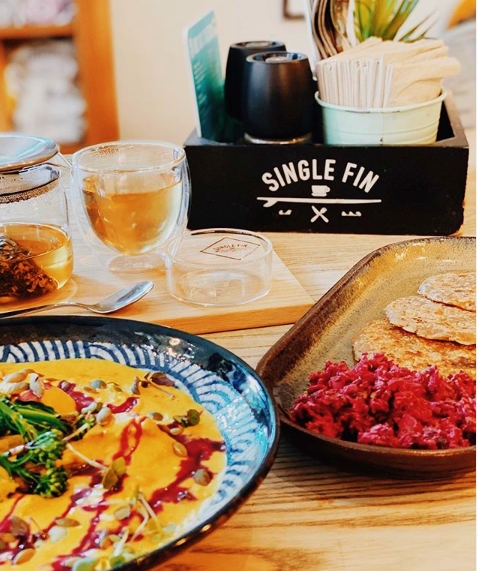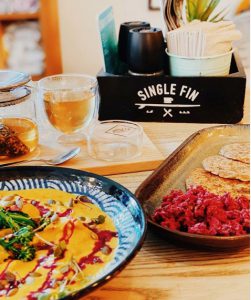 Serving breakfast, lunch, dinner, kids' meals, great coffee, and confidence that is all healthy and natural, Single Fin Café is a community hub and local eatery. Located in the Surf House Dubai, this café is all about serving the community with a healthy post-surf meal at an honest price. They also have Avantcha— an extensive range of single-origin teas, enriched classical blends, and exotic infusions that are sourced from the finest tea gardens around the world.
Besides all the soothing beverages like hot tea, iced tea, smoothies, cold drinks, and specialty coffees, Single Fin Café also offers a variety of vegan dishes. These include vegan burritos and tacos, avo toast, vegan Buddha bowls ( with cauliflower rice and edible flowers), waffles with berries, and many more— all loaded with superfoods and vegan protein. Don't miss the best vegan grilled-cheese sandwich you'll ever try.
Address: Single Fin Café, Jumeriah Beach Road, Dubai, United Arab Emirates.
Also while you're in the city, don't miss out on these other top restaurants in Dubai.
If you are planning to travel anytime soon, you avoid the hassle of standing in queues by booking your tickets from TicketsToDo.com. Apply the promo codes and coupon codes to avail of special discounts on the tickets from VoucherCodesUAE. 
Keep in touch with us on [email protected] and follow us on our Social Media channels to share your experience. Check here for the Covid-19 guidelines.