Dubai International Airport is a destination for all things big, busy, and luxurious! It is also one of the busiest airports in the world for international passenger traffic. With travel restrictions to Dubai Airport still being enforced, this is your guide to prepare for that post-pandemic supersized Dubai holiday.
Location: Al Garhoud district, 4.6 km east of Dubai
Code: The IATA code for Dubai Airport is DXB
Acreage: 7200 acres  
Phone number: +971 4 224 5555   
Here are the things that you should know before flying to Dubai
The Dubai International Airport (DXB))boasts of a larger-than-life infrastructure, top-notch services, and quality airlines. DXB records an average of 90 million passengers annually which makes it the busiest airport in the world. 
 Dubai Terminal 3 is the largest airport terminal, exclusively servicing Emirates and Flydubai.

Concourse A in Terminal 3 can handle 19 million passengers. 

 

There are three floors on terminal 1 with 60 carriers.

Terminal 1 connects to terminal 3 via an automated rail system and allows quick movement without passing through security twice.

Terminal 2 is located at the opposite end and is used for domestic travel to other Gulf countries (Bahrain, Saudi Arabia, Qatar, Oman, Kuwait, and the United Arab Emirates).

Be sure to look up your terminal beforehand if you've got a connecting flight. Also check in online before arriving at the airport so that you get more time to browse DXB's facilities.  
Dubai International Airport Map

Source: www.dubaimap360.com(Pinterest)
Here is your Guide to maneuver The Dubai Airport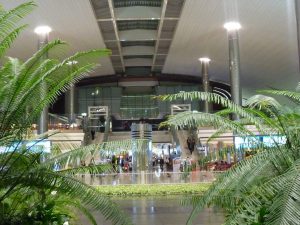 The airport's supersized infrastructure may confuse you. Worry not, this guide can help you understand how to go about when in Dubai. There are many help desks and staff available throughout the airport to guide you. 
An

Executive Terminal is located beside Terminal 2 and serves premium and executive travelers.
Concourse D connects to Terminal 1 and Terminal 3 is served by Concourse A, B, and C. Concourse D was completed in 2016 to manage the traffic from Concourse C.

Two parallel closely-spaced runways are present and improved for accommodating the Emirates Airbus A380.

There are 180 check-in counters, 72 immigration counters, and 14 baggage carousels in terminal 3 alone.
Operating Flights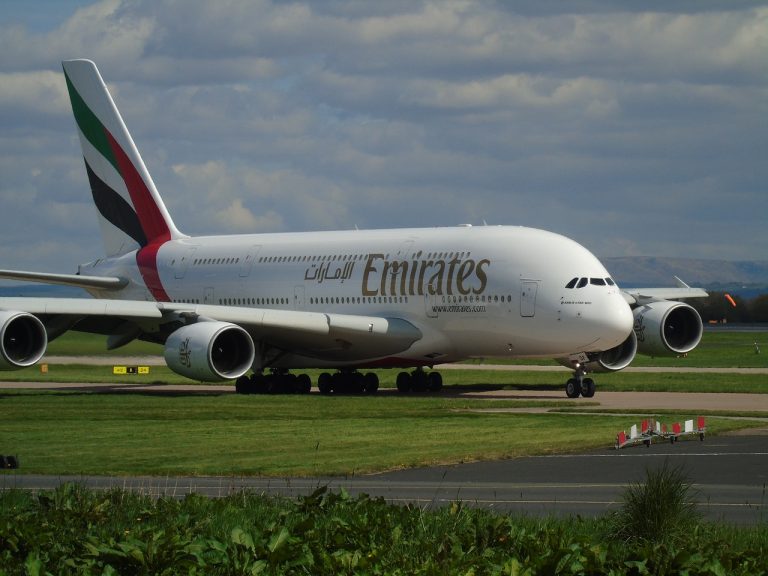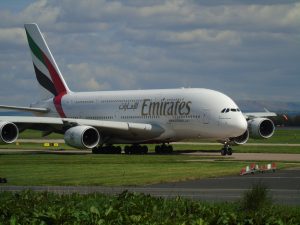 There are currently 140 airlines operating weekly flights to more than 270 destinations from Dubai. Emirates airlines and Flydubai airlines have their hubs at the Dubai International Airport. Along with that 7 cargo airlines operate through the airport. Passengers can easily track their flights for Dubai International Airport online.
Transport and Parking Facility
There are two types of parking lots located just before each terminal: Short term parking for 5 hours and long-term for more than 5 hours
The terminals provide parking facilities for both premium and economy classes. The economy parking is a 10-minute walk from the terminals
Airport bus shuttles take passengers from the parking lots to the terminal
The Dubai Metro is the easiest public transport facility to reach the airport
Lounges and Recreation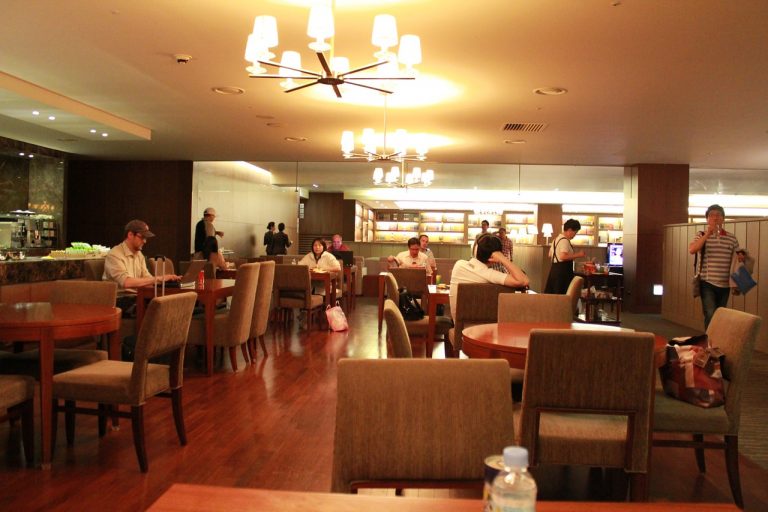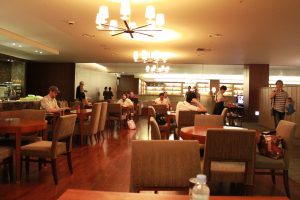 The airport in Dubai takes recreation quite seriously! There is a lounge to accommodate all kinds of pricing and facilities. Television and entertainment, swimming, gym, restaurants, and gaming facilities are only a few among the many recreation services available here! The airport boasts of 2 open gardens and 7 lounges! The lounges at Dubai airport are mostly spread across terminal 3:
Marhaba lounge

Paid lounge access.

First Class lounge.

Business Class lounge.

Worldwide lounges.

Partner lounges. 
The variety of food and drinks at the Dubai International Airport is mind-boggling. The range of restaurants includes stalwarts like Starbucks, Costa Coffee, Krispy Kreme, and Mcdonald's to the best of international cuisine at Le Pain Quotidien or Taste of India.
Where to Shop?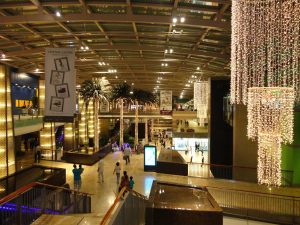 With a retail area of 26,000 m2, the Dubai Airport is a paradise for Duty-free shopping. You can indulge in the choicest brand outlets such as Chanel, L'Occitane, Bath and Body Works. Along with it, you can enjoy the famous Dubai gold shops and desserts at Terminal 1.  
Additional Services at DXB
Wifi and Charging points are available at all terminals
Leave your luggage facility is provided for passengers who wish to take a tour of the airport
Shower facilities are available at Terminal 3
Dubai Airport provides baby care rooms for parents traveling with toddlers
Prayer rooms are also provided at the airport
As much coveted as that holiday to Dubai seems, there are still some travel restrictions in Dubai that must be kept in mind.   
Here are some travel tips to help you make your next trip through DXB Hassle Free:
Consider booking your flights 6 months prior to flying as that will grant you better accessibility to the availability of ticket
DXB is the busiest airport in the world so always keep a map close to you
Dubai is one of the most popular tourist destinations in the world. Hotels here are usually packed throughout the year, so always book your hotel rooms in advance
Make sure to seek permission for taking photographs
Know and respect the laws of the UAE
Make sure to take your Covid-19 test and show your report at the airport
FAQs on Dubai International Airport
Why is the Dubai Airport so busy?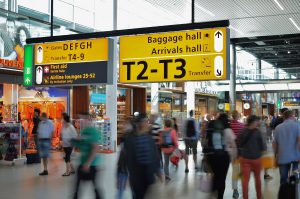 Dubai International Airport serves as the hub for the airline giant Emirates and government-operated airline Flydubai. Almost 90 million passengers transit via the airport annually. It has rightly earned the title of the busiest airport in the world for international passenger traffic. Not only is Dubai a tourist destination, but also the go-to stopover destination for many connecting flights. Additionally, it is the 7th busiest airport for cargo movement. 
Is Dubai allowing transit?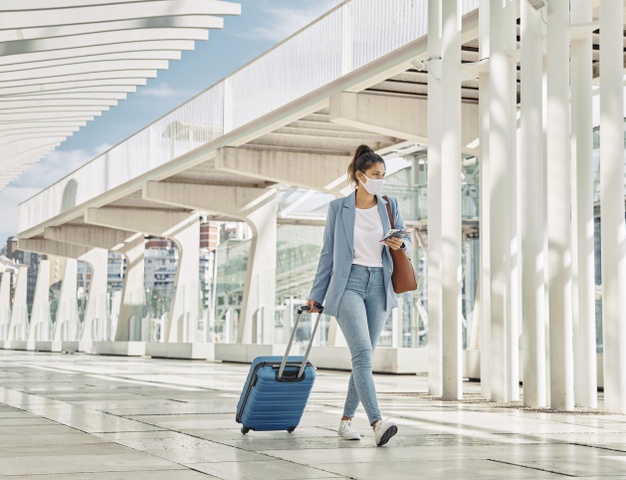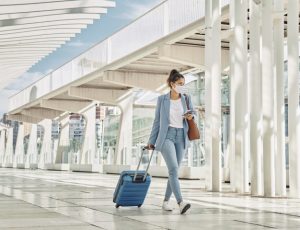 With the pandemic subsiding, Dubai International Airport opened for tourists. However, with a rise in coronavirus cases in the UAE, many countries have started halting flights to Dubai.
The following protocols are to be complied with when traveling to the UAE:
Present a negative PCR test report 

A mandatory home quarantine of 14-days for residents testing positive

Violation of home-quarantine rules could make you liable for a fine of AED 50,000
Are Dubai airport shops open?
The duty-free shopping center in Dubai International Airport remains open on arrival and departure 24 x 7! Due to the recent imposition of strict Covid-19 protocols, the shops may not be fully operational. You can find shops of every kind at DXB. Luxury brands like Chanel at Terminal 3 or Bvlgari at Terminal 1 are the ones to watch out for! Besides, the protocols issued by the UAE government are to be kept in mind:
Follow social distancing of 2-meter at all public places including the airport shops

Ensure sanitation and personal hygiene at all times

Masks and gloves to be compulsorily worn at all times 
What Is Restricted At Dubai International Airport?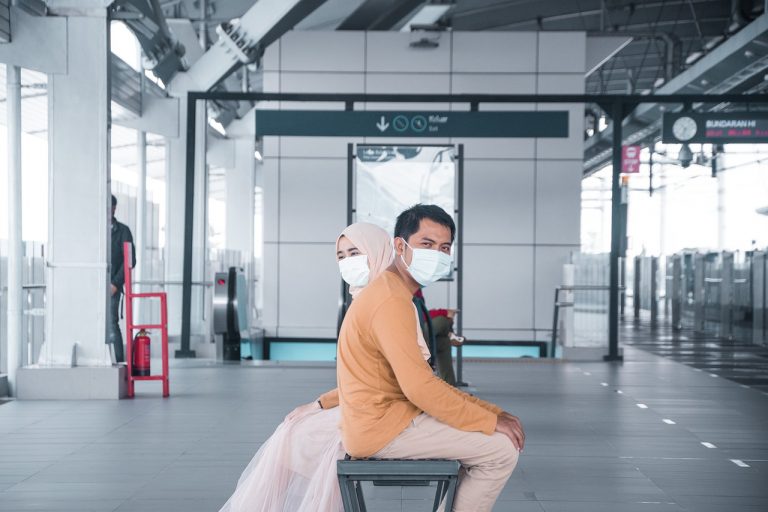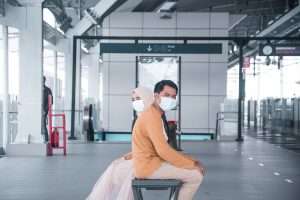 These are items that may cause travel restrictions to Dubai International Airport:
Sharp objects or swords, knives, blades

Scissors of all types

Grooming items like shaving kits, hair-removal kits up to 6 cm

Hammers, nails, drills, saws

Firearms or imitation firearms

Weaponry or ammunition, laser guns, flare guns

Ropes of all types

Tapes such as packing tape, bubble wraps

Measuring tapes

Martial art weapons of all types

Lighters or matches

Handcuffs

Walkie-talkie

Bats of all types

Electric cables
Conclusion
Once you've landed, the activities to do and places to visit that Dubai offers are limitless. Whether it's posing against the tall Burj Khalifa, or finding your adventure at the theme parks, TicketsToDo can guide you through it all.