One of the world's fastest-growing cities, Dubai, is always evolving, so there is no way you can have the same experience twice.
With over millions of daily visitors, Dubai International Airport reached its peak this summer when 16 million passengers were spotted at DXB. The soaring temperature could not keep tourists at bay, and as for the residents, everything gets renewed as soon as things start to look old.
Amazing activities to do in Dubai
Home to the world's tallest tower, Burj Khalifa, measuring 829.8 metres or 163 storeys, the city that went from a sleepy fishing community to become a global capital in a matter of decades, has also redefined the world's standard on hospitality, economy, technology and travel experience. From the world's first seven-star hotel, Burj Al Arab, to the tallest hotel, and residential building, the city has proven that there is nothing Dubai cannot do.
The recent introduction of liquor licenses has been revolutionary to tourists. The most populous city of UAE is doing slightly away with strict laws for a wholesome tourist experience but the city imbibed in its culture and heritage has retained itself distinct from other cities of the world.
In the midst of heightened skylines, skyscrapers and extending shorelines, expect to see a glimpse of old Dubai in historic districts including the Al Fahidi Neighbourhood. Whereas in activities to do, explore the city's culture in museums, bask in the luxury of star hotels, beat the heat at waterparks, and take your children out for a series of adventures the city offers.
Be it a layover, or a 96-hour visa or an entire vacation or a local experience, Dubai has something for everyone, all throughout the year. There are many things Dubai can do, but what it cannot do is, disappoint. Check out the new things to do in Dubai!
A modern twist on how to be closer to nature in Dubai
If you think the business hub of the Middle East is here to offer you only skyscrapers and a hustle and bustle of the metropolis, then you will be awe of the variety of things to do in the midst of nature. Activities that pull you closer to nature include exploring plants, beating the heat in water kingdoms, and understanding the underwater species.
Dubai Aquarium and Underwater Zoo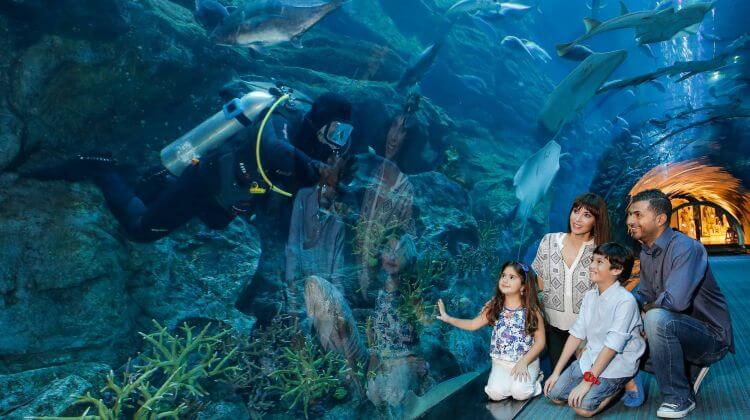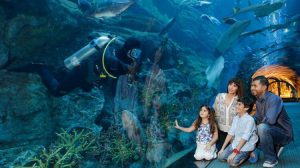 Voted the best aquarium in the world by CEOWORLD on July 2019, the reason why it surpassed global aquariums is because of its exceptional features such as a 270-degree acrylic walkthrough tunnel and the acrylic panel offering the spectacular view of the aquatic animals. A pure joy to visitors, Dubai Aquarium and Underwater Zoo is the largest and the most diverse aquarium in the world and is located in The Dubai Mall. Moreover, this aquarium also features a different zone for understanding global biodiversity in different ecological climates and offers a snorkeling experience as well as a shark dive.
Address: Dubai Aquarium and Underwater Zoo is located on the ground level of The Dubai Mall
Opening hours: Sunday to Wednesday- 10 am to 12 am and Thursday to Saturday- 10am to 1am
Get your tickets and more information about Dubai Aquarium and Underwater Zoo.
Dubai Dolphinarium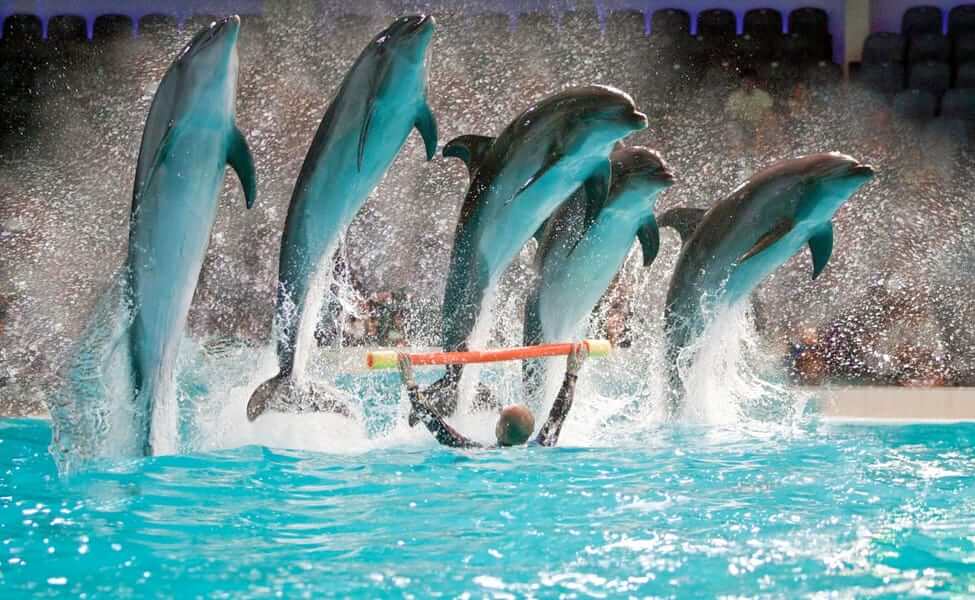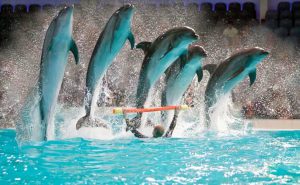 Bridging the gap between the world of humans and the dolphins, there is Dubai Dolphinarium, which gives you an opportunity to interact and learn about the friendliest mammal. The dolphinarium hosts three extravagant dolphin shows a day, where dolphins astound the audience with their intelligence and their tricks. With the poolside meet-and-greet, children and adults alike get to touch and play with the dolphins, while 'majestic dolphin swim' gives you a chance to truly connect with them. Located in Creek Park, this dolphinarium isn't just confined to dolphins, it is also home to UAE's only exotic bird-show with over 20 species of birds and parrots.
Address: Riyadh Street, Inside the Creek Park Gate 1
Opening hours: Monday to Saturday, 10 am to 7.30 pm
Get your tickets and more information about Dubai Dolphinarium.
The Green Planet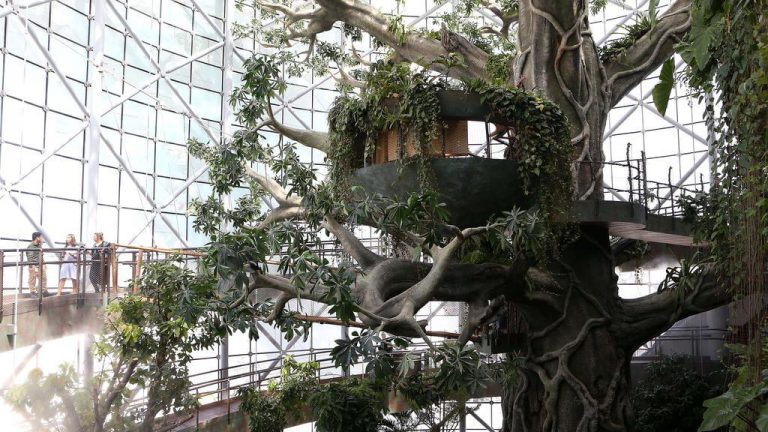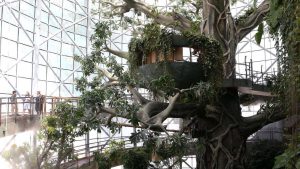 Dubai's very own tropical forest, The Green Planet, is home to over 3000 varieties of flora and fauna. The biodome, which is located in the City Walk, is the heart of the indoor forest and is home to sloths, piranhas, toucans from all over the world. The recent introduction is the Australian Walkabout which focuses on plants and animals found in Australia, so you'll spot a variety of lizards and cockatoos. Home to largest self-sustaining, indoor man-made tree, the objective of the place is to educate visitors about the role of tropical forests now and in the near future.
Address: City Walk – Al Wasl
Opening Hours: Green Planet Dubai is open all days of the week. The biodome is open from 10:00 am – 6:00 pm from Saturday-Wednesday and 10:00 am – 8:00 pm on Thursdays and Fridays.
Get your tickets and more information about The Green Planet
Dubai Garden Glow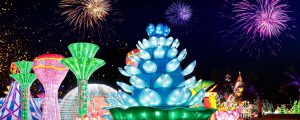 Going all green never looked as fabulous as Dubai Garden Glow made it look. Ever since its launch in 2015, Dubai Garden Glow has kept its priority to be all green and clean. The use of reusable fabrics to create outstanding art installations while powering the glow part of the garden with LEDs, the park has done its best to reduce the carbon footprint. Earlier this year, the theme for the fourth season was declared nature and there came the launch of the Art Park, a mini artistic forest made of repurposed materials such as metal frames and plastic bottles featuring wildlife and waterfalls. The sprawling 100 acres boasts over 500 varieties of pants and trees and is also home to Dinosaurs Park and Ice Park.
Address: Zabeel Park Gate 6 & 7, Zabeel Area
Opening Hours: The park will reopen in October and will operate 4 pm till 11 pm.
Get your tickets and more information about Dubai Garden Glow.
Embark on an adventure of your lifetime
At the Top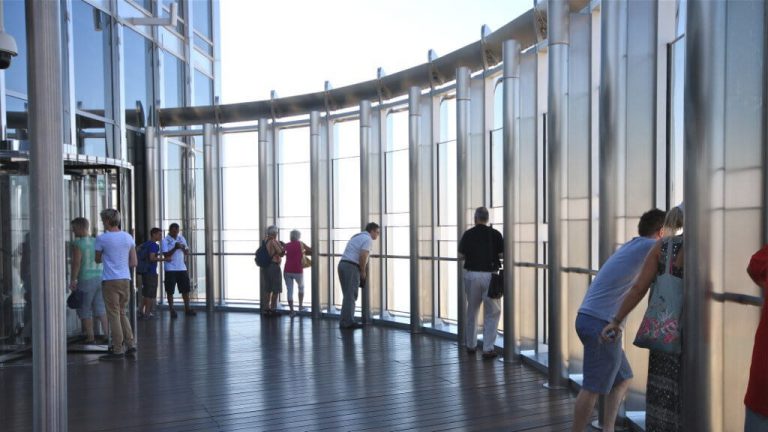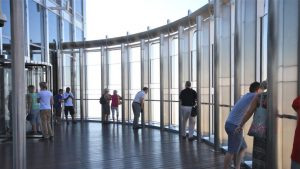 Let's begin the adventure right from the top. One of the most popular landmarks Dubai is known for is the mighty Burj Khalifa. Standing erect at 829.8 m, the spider lily-designed-building offers one of a kind experience as the highest observatory deck in the world. Not only do you see the entire city horizon from the Top, but also get to explore the stunning artworks and cruise inside the fastest elevator in the world. Scaling up to the level 124 and 125, has, however, never been cheaper than trying out the package option from Tickets To Do.
Address: Downtown Dubai, 1 Sheikh Mohammed bin Rashid Boulevard
Opening Hours: Open 24 hours
Balloon Adventures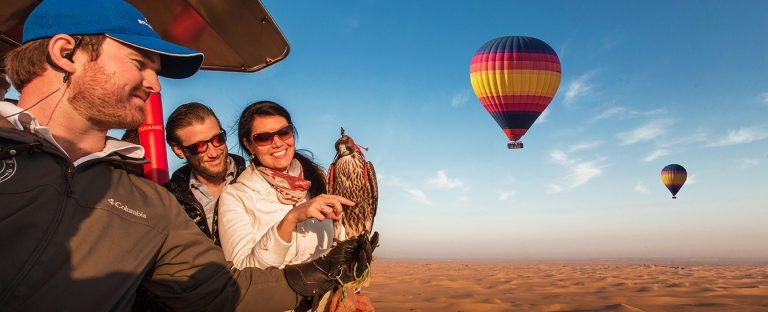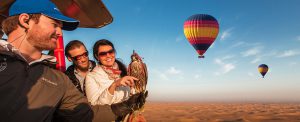 Want romance and adventure all at once? Then balloon adventure is your ideal destination. Soaring above the Dubai desert, you will not only feast your eyes to the 360 degree view but will also get an experience of a lifetime flying alongside Peregrine falcons. After soaking the morning sun and soaring alongside the fastest animal in the world, you can safely touch the ground from the sky, freshen up and relish a scrumptious romantic breakfast that includes salmon and caviar.
Address: Dubai Desert Aerial Tour, 1303 Control Tower, Motor City
Opening Hours: 5 am to 9 pm
More details about balloon adventure.
Hop On Hop Off Bus Tours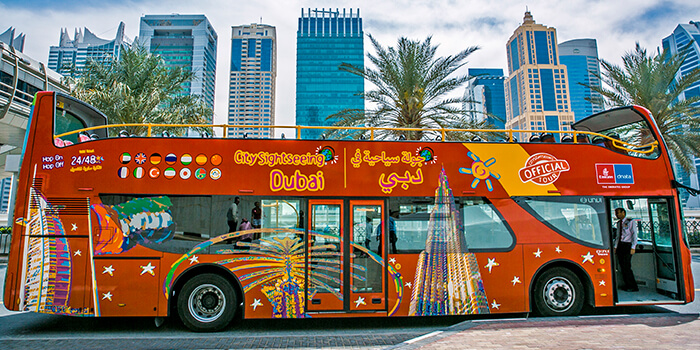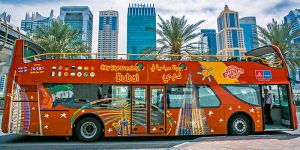 If you want to wear your tourist cap and explore the city then you are most welcome to try the 'hop on and hop off' bus tours. The options are endless, as you can choose from four routes with over 40 stops and 30-minutes frequency. The audio commentary on the bus is available in 13 languages so you easily vibe with the city. Get a tour pass and enjoy a complimentary dhow-cruise experience.
Address: Downtown Dubai, The Dubai Mall, Financial Centre Road, Dubai
Opening Hours: 24/7
For more details about hop on and hop off bus tours visit our website.
Yellow Boats Deep Sea Fishing Tours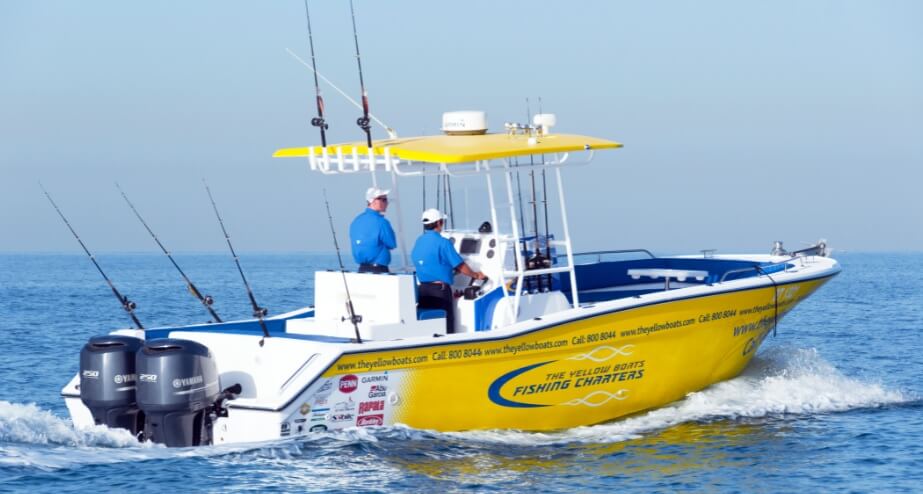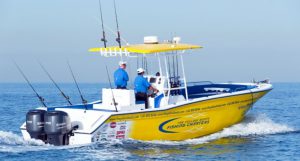 A fishing experience like no other, Dubai's Yellow Boats Deep Sea Fishing Tours offers a custom-built center console sports fishing boat. The target species in the Arabian Sea include King Fish, Queen Fish, Barracuda, Tuna and many more. You can even barbecue your catch on board at no extra cost. Professionals and added crews will assist you in all your fishing requirements. All you need to do is get your best angler mode on and get fishing while enjoying the most spectacular view.
Address: Dubai Marina Walk, opposite Spinneys Supermarket
Opening Hours: 6 am, 11 am, 4 pm
HERO OdySEA self-drive boat tour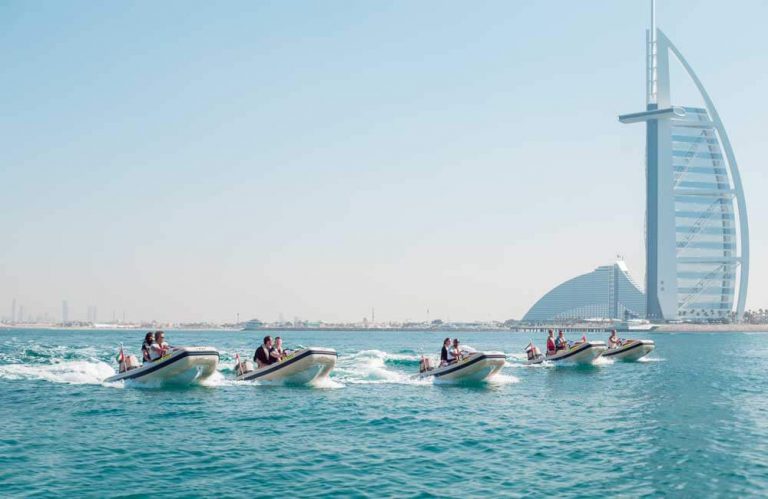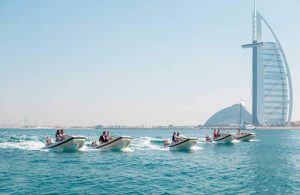 Be the captain of your own ship and navigate through Dubai's iconic coastlines including Burj Al Arab, The Palm and the Atlantis. Running at the speed of 50 km/h, the boats are safe and easy to ride. A professional guide will escort you on your adventure and even share historical significance and anecdotes of these landmark places and more.
Address: Fishing Harbour 2 in Umm Suqeim, behind the Miraj Islamic Arts Centre Makani
Opening Hours: 8 am to 5pm
For more details about self-drive boat tour visit our website.
Seawings Seaplane Tours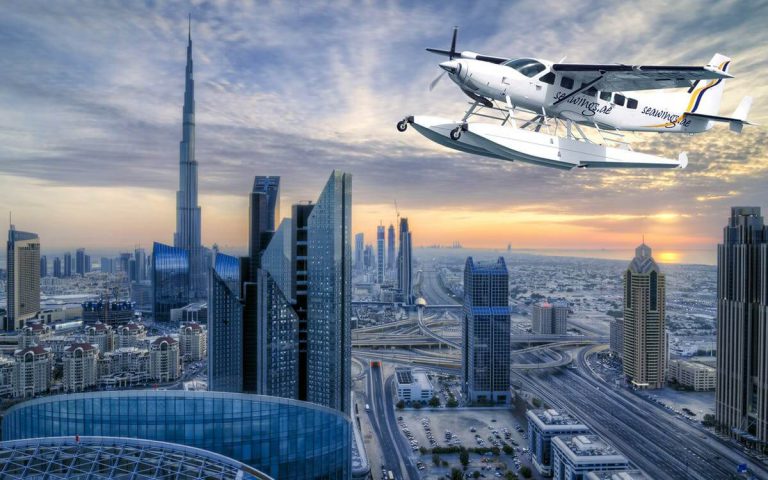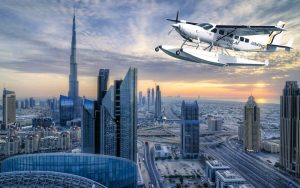 Dubai is a whole another story from the sky, so fasten your seatbelts and get an aerial view of the city. Seawing renders a water take-off experience and goes around all of UAE's wonders including Dubai and Abu Dhabi's landmarks.
Address: Seawings Seaplane Main Base, Dubai Creek Opposite Deira City Centre, Near Park Hyatt Dubai
Opening Hours: 8.30 am to 9 pm
Home to a variety of theme parks
IMG Worlds of Adventure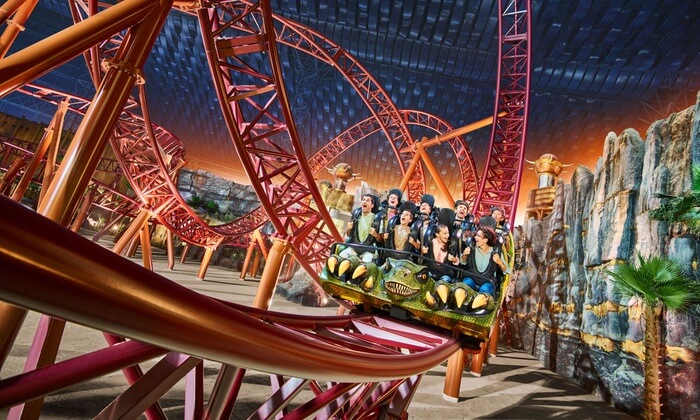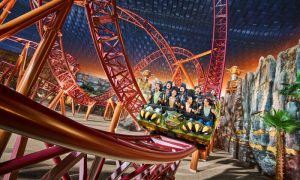 Who do you dream of? Or rather, who do you dream of becoming? A superhero? Look no further than IMG Worlds of Adventure. From Marvel superheroes to crazy rollercoaster rides, IMG World of Adventure is a wonderland for children and adults alike. The theme park, divided into four zones include Marvel, Cartoon Network, Lost Valley and the IMG Boulevard. While the Marvel zone and the Cartoon Network zone is self-explanatory, Lost Valley features the prehistoric world of dinosaurs and IMG Boulevard celebrates Halloween throughout the year.
Address: E311, Sheikh Mohammed Bin Zayed Road, Dubai Land
Opening hours: Sunday to Wednesday: 11 am to 8 pm; Thursday to Saturday: 11 am to 10 pm
Opening hours are subject to change.
Attraction Queues will close at park closing time (not the ride) with the exception of the Haunted Hotel which has limited capacity and will close up to 2 hours before park closing time should the queue line reach its maximum capacity.
Get more information about IMG Worlds of Adventure.
VR Park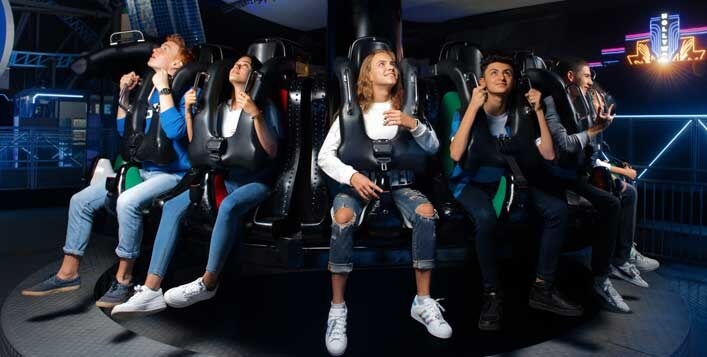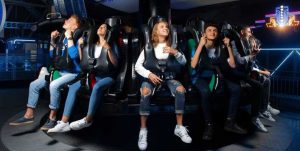 The 75,000 square feet two storeyed indoor theme park is a unique virtual reality attraction in the Middle East. Built on the concept of 'shared escapism,' the VR Park offers a total of 18 crazy attractions including Arena, Ape X, Dubai Drone, John Wick Chronicles, The Mummy, Payday: The VR Heist, The Raft, The Walking Dead VR Outbreak, Robocom VR, VR Balloon, Burj Drop,Dune Bash, Plummet, Construct, Geminose: The VR Carousel, Sports, VR Bus and Robocom.  Don't forget to try 'Burj Drop,' a ride that will give you the experience of falling from Burj Khalifa.
Address: VR Park, The Dubai Mall, Level 2,
Opening Hours: Sunday – Wednesday 10 am to 11 pm, Thursday – Saturday 10 am to 1 am
Find more information about VR Park.
Hub Zero Gaming Park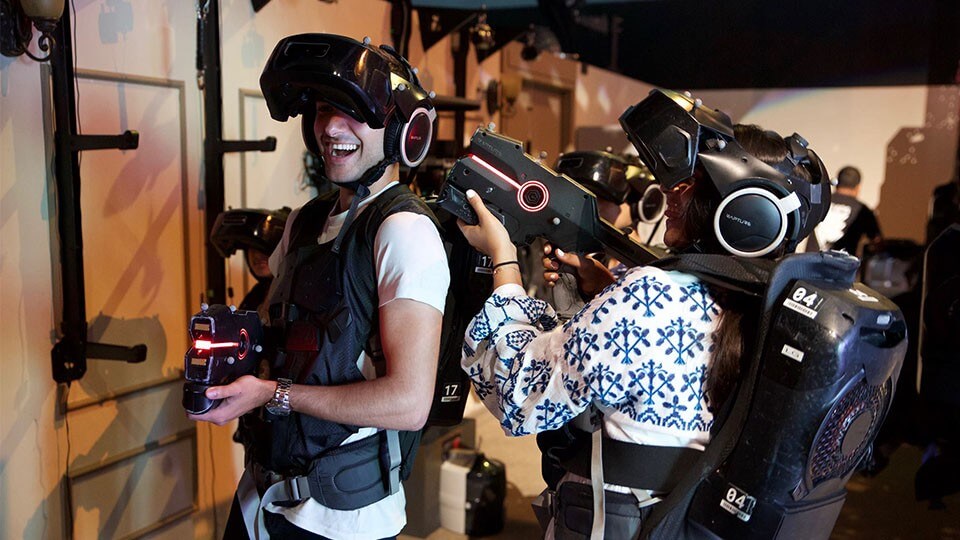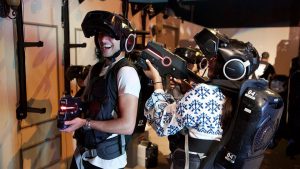 The immersive gaming park is sprawled across two floors offering state-of-the-art indoor gaming destinations with 18 thrilling attractions. Games for the toddlers and professionals alike include laser tag, 4D theatre, and Crazy Dave's Garden. You can expect to try out the best games here as Hub Zero is produced in association with world-famous video game developers including Electronic Arts, Capcom, KONAMI, Microsoft and Square Enix.
Address: Al Safa Street, City Walk
Opening Hours: Thursdays and Fridays 2pm – 12 midnight and Saturdays to Wednesdays 2pm – 10pm
Legoland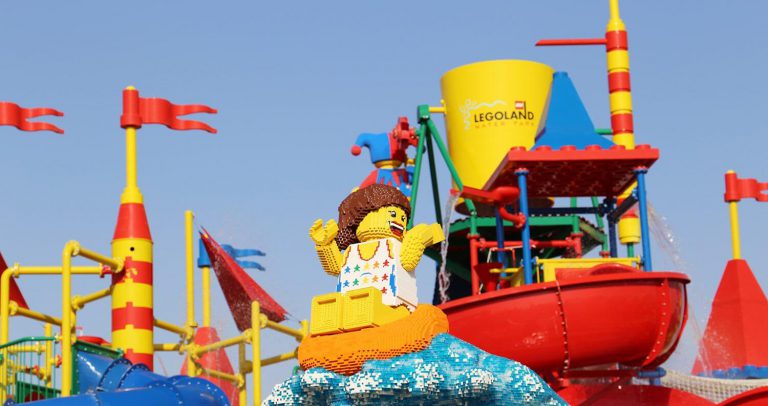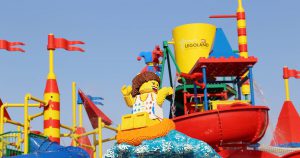 Love Legos? Then this theme park is for you! Curated for the Lego lovers, this park, though made appealing to children is in fact for the whole family. You can spend your day getting your hands-on experience with Legos and building a masterpiece to show it off. Besides, you can indulge in water slides and interactive Lego rides to add more sizzle to your all day Lego experience.
Address: Opposite Palm Jebel Ali,  Sheikh Zayed Road
Opening Hours: 10 am to 8 pm
More information about Dubai Legoland.
Atlantis Aquaventure Water Park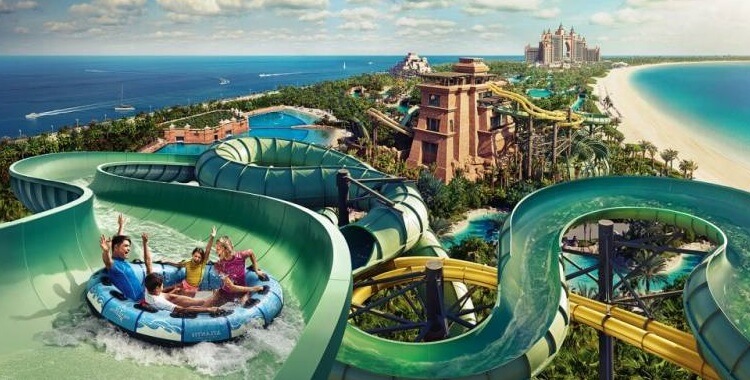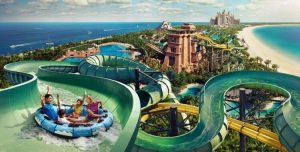 Water park is exciting and all, but have you had an experience at the largest water park of the region filled with record breaking rides and waterslides? Immerse in the land of Greek Gods at Atlantis Aquaventure and battle the 'King of the Sea' and 'Tower of Poseidon.' Look out for the 'Tower of Neptune,' that will swirl you into a frenzy. If all the crazy rides get to you, the 700 metres of the private beach is all yours to own.
Address: Atlantis Hotel, Crescent Road, The Palm Jumeirah
Opening Hours: 10 am to sunset (seasonal variation)
More information about Atlantis Aquaventure Water Park.
Ski Dubai
Middle East's first indoor snow park is also the world's third largest ski slope. Escape from Dubai's sweltering heat any time and indulge in the world of snow. Build snowmans, watch penguins flap around, go sledding and live your life as though you would in the snow capped mountains. Explore the ice cave and suspend yourself 16 feet above the ground on the Snow Bullet ride.
Address: Sheikh Zayed Road
Opening Hours:  Sunday – Thursday 10 am – 12 midnight; Friday – Saturday 9 am to 12 midnight; Friday – Saturday 9 am – 12 midnight.
For More information about Ski Dubai visit our website.
Laguna Water Park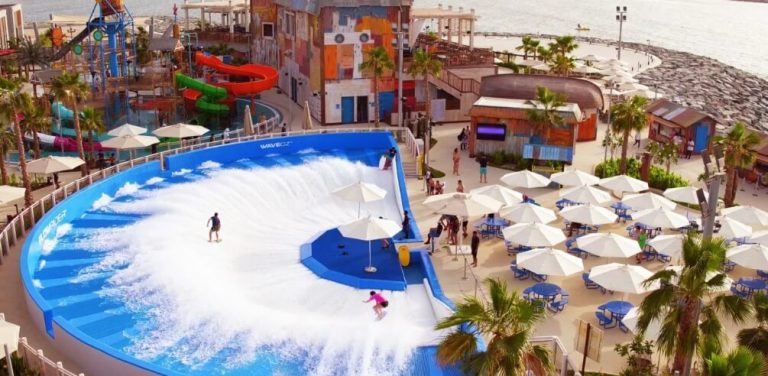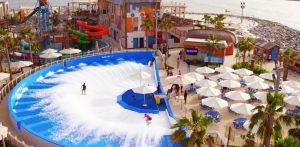 The beach-front water park at La Mer is not only the "it" destination of today but is an ultimate water park destination. Why? Because of the WaveOz 180 FloRider surf machine of course! Surfing enthusiasts and professionals alike can surf on all levels, and there's a reason why you cannot get this experience anywhere – there are only three in the entire world. Divided into four district zones; Surf, Relax, Slide, and Splash, there are rides for every mood.
Address: Located near Jumeirah Public Beach, close to Dubai Zoo and The Village Mall, 2A Street Jumeirah 1
Opening Hours: 10 am to 6 pm
For more information about Laguna Water Park visit our website.
Bounce Dubai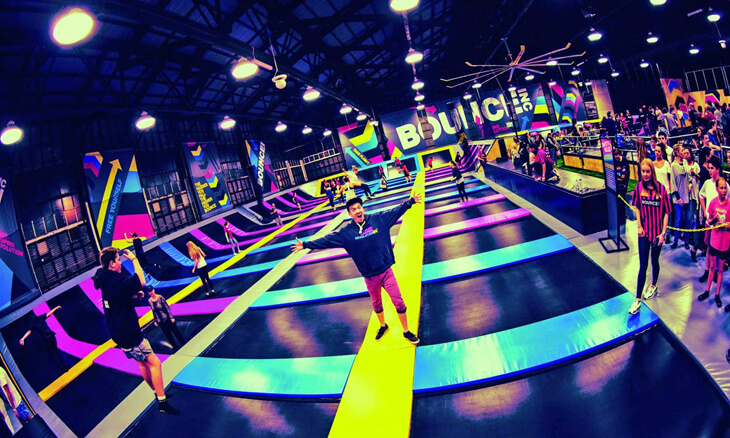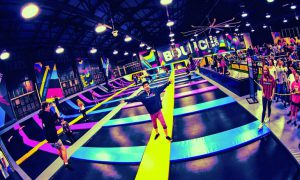 The trampoline park offers more than 80 interconnected trampolines for a jumping/flying experience like no other. The Free Jumping Arena allows you to let your hair fly, release your stress and hone your trampoline skills. Test your ninja skills with X-Park Obstacle Course and challenge your friends at the Dodge Ball Court. You can even enrol for a low impact workout program at Bounce Fit.
Address: Bounce Trampoline Park Building #32, 4B Street, Al Quoz 1
Opening Hours: 10 am to 12 am
More information about Bounce Dubai.