The only thing on everybody's minds right now probably is— "when is this Covid-19 getting over for good?". Sooner or later it is surely gonna go away. So until then let's just focus on how to stay positive during these testing moments and use this time to rejuvenate and refresh ourselves. Also, pretty sure all of you have already started traveling, with of course the safety measures in practice. Or you must be making plans on what you're gonna do or where you're gonna go shortly, right? If you're already in Dubai or planning to visit the city sometime soon, we at TicketsToDo have made your job easier and curated the top 20 places to visit in Dubai post-Covid 19.
Best places to visit in Dubai post Covid-19
1. Green Planet Dubai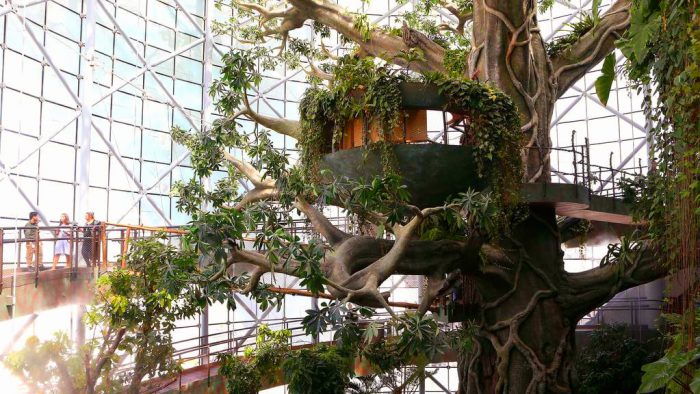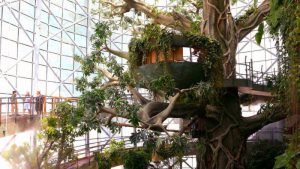 After being indoors for so long, you'd surely want to set your eyes on some greenery. What better way to do this than by visiting the Green Planet Dubai? The Green Planet is the region's first bio-dome that recreates the enchanting world of tropical rainforest in an enclosed ecosystem. Its main aim is to contribute to the environmental consciousness in the region. This is definitely one of the best places to visit in Dubai— a place for people of all ages that provides a wonderful opportunity to learn interesting facts about tropical ecosystems.
Address: The Green Planet, City Walk, Al Wasl, Dubai, United Arab Emirates.
2. The Burj Khalifa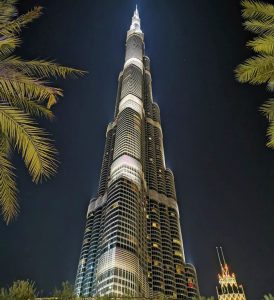 An attraction synonymous with Dubai, you cannot miss out on visiting the Burj Khalifa if you're in the city. The tallest man-made structure in the world is not only famous because of its towering height, but for so many other reasons. From its infrastructure to the way it was built, everything about this building is super fascinating. Burj Khalifa is the tallest freestanding structure in the world and houses the highest number of stories in the world. It has the highest occupied floor and also the highest outdoor observation deck in the world. Further, it holds the record for having the tallest service elevator along with the elevator with the longest travel distance in the world. Worth visiting, right? Book a ticket to the top, and have an experience of a lifetime!
Address: Burj Khalifa, 1 Sheikh Mohammed bin Rashid Blvd, Downtown Dubai, Dubai, United Arab Emirates.
3. Motiongate Dubai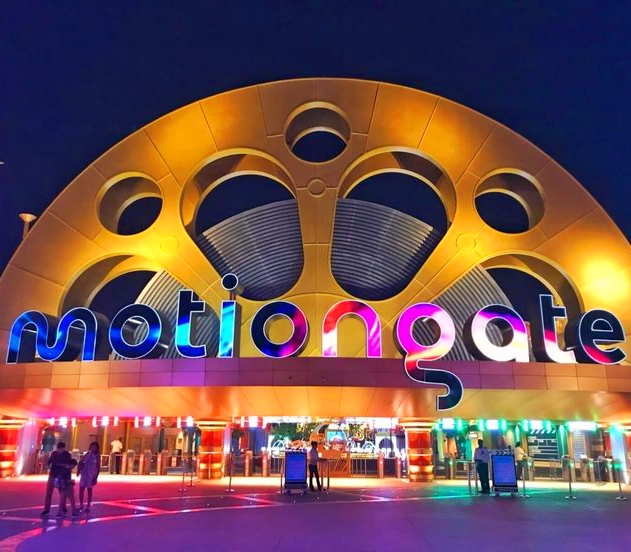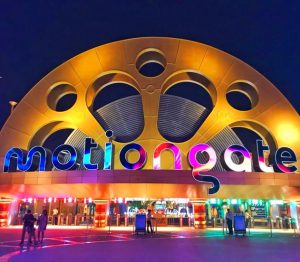 Watched movies all day during the lockdown? You must've turned into a Hollywood fan by now. How about you take your fandom to another level and visit Motiongate Dubai? It is one of the best Hollywood-inspired theme parks ever and showcases themed areas and attractions based on DreamWorks Animation, Columbia Pictures, Lionsgate, and The Smurfs. Being the region's largest Hollywood-inspired theme park, it offers over 27 amazing rides and attractions. It consists of 4 zones to keep the whole family entertained— Columbia Pictures, Smurf's Village, DreamWorks, and Lionsgate.
Address: Motiongate Dubai, Dubai Parks, and Resorts, Sheikh Zayed Road, Dubai, United Arab Emirates.
4. Global Village, Dubai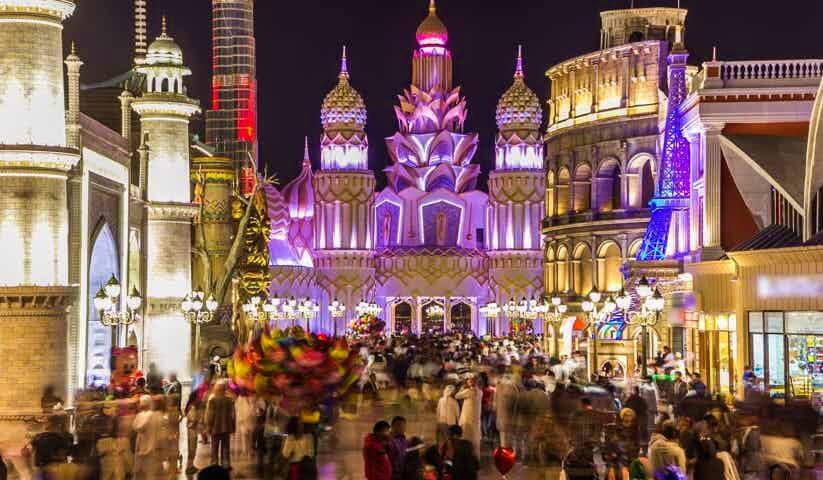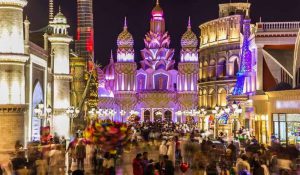 As the name itself suggests, The Global Village combines cultures of 90 countries across the world in one place. One of the best attractions in Dubai, this place allows you to explore different cultures, delicious food, entertainment shows, and much more. It features mini landmarks, cultural shows, and rides too. Besides, this eventful park is a must-visit if you want to experience the cultural, entertainment, and fun activities in the region. This unique theme park starts operating from November every year and closes in April of the following year.
Address: Global Village, Sheikh Mohamed Bin Zayed Road, and Emirates Road – Exit 37 – E311, Dubai, United Arab Emirates.
5. VR Park Dubai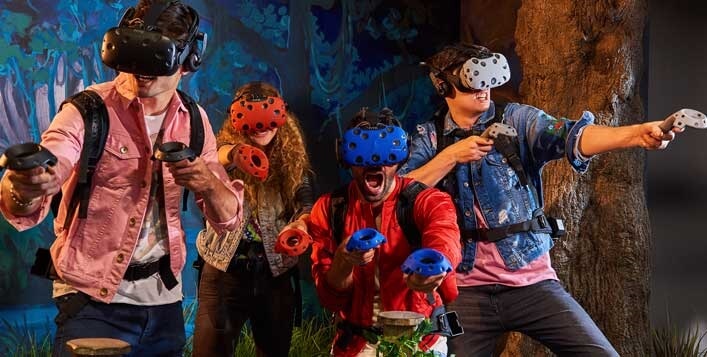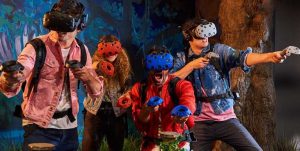 How about exploring and interacting in a three-dimensional, computer-generated environment? Wouldn't it be super exciting to experience free falls and also be a part of a zombie apocalypse? If just reading this thrills you, imagine how you'd feel experiencing it in person. Visit the Virtual Reality Park in Dubai— the first of its kind. VR can be so realistic, one cannot make out the difference between reality and an illusion. Feel your adrenaline rush as the rides and experiences allow you some of the finest experiences.
Address: Virtual Reality Park Dubai, Level 2, The Dubai Mall, Sheikh Zayed Road, Dubai, United Arab Emirates.
Also, check out our YouTube video on the top 10 must-visit attractions in Dubai:
6. Legoland Dubai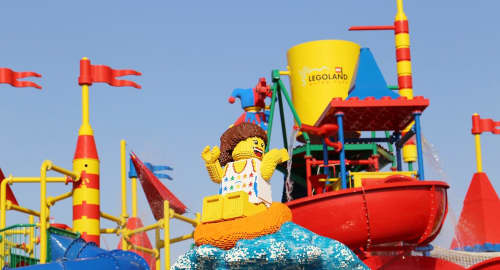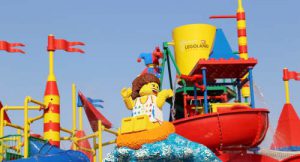 For all you Lego lovers, this is a real treat waiting for you! Legoland Dubai is the seventh-largest Legoland park in the world and the first of its kind in the Middle East. The park has six themed lands each unique in its design, entertainment, and playful learning experience— Lego City, Adventure, Kingdoms, Imagination, Factory, and Miniland. This park offers more than 40 Lego-themed rides and 15000 Lego models made up of 60 million Lego Bricks. More than 20 Lego-themed challenges offer you amusing opportunities to build your boats along with your families.
Address: Legoland Dubai, Dubai Parks, and Resorts, Sheikh Zayed Road, Dubai, United Arab Emirates.
7. The Dubai Miracle Garden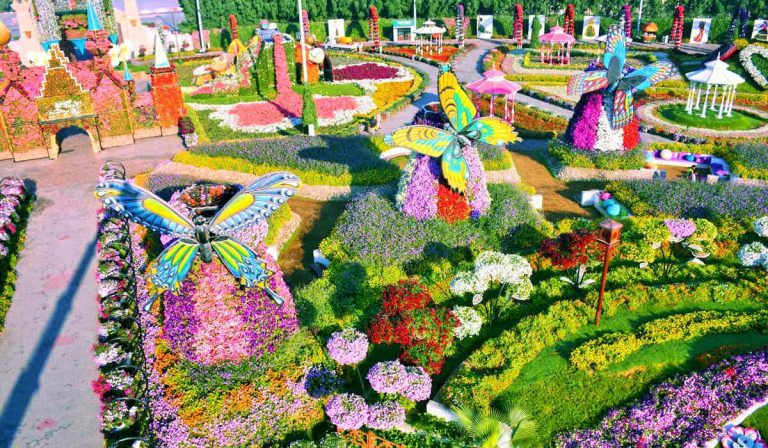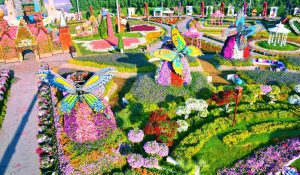 This is one of the prettiest places and surely another of the best places to visit in Dubai you definitely cannot miss out on. The Dubai Miracle Garden is the world's largest natural flower garden and features over 50 million flowers and 250 million plants. It is home to the Dubai Butterfly Park which was later added after 2 years. This also happens to be the world's largest butterfly garden featuring 15,000 butterflies of around 26 kinds!
Address: Dubai Miracle Garden, Al Barsha South 3, Dubai, United Arab Emirates.
8. iFly Dubai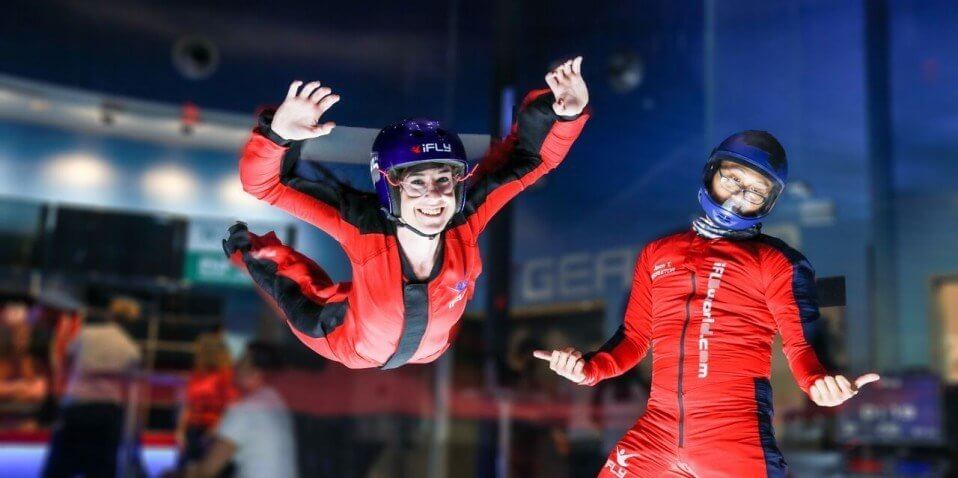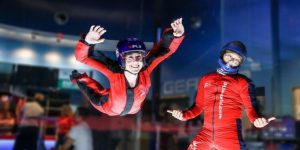 Always wondered what it'd feel like to soar around the sky and look down on the earth from an aerial point of view? If you've had fantasies of being a bird or wanted to experience how much fun it would be to fly around, you need to pay a visit to iFly Dubai— an indoor skydiving area. This is probably one of the few places on Earth which allows you to defy gravity in a controlled environment. Go and live your dreams of experiencing this thrilling sport, with the world's first double vertical wind tunnel.
Address: iFly Dubai, Third Floor, Play Nation Area, City Centre Mirdif, Ghoroob, Sheikh Mohammed Bin Zayed Road, Dubai, United Arab Emirates.
9. Hysteria Dubai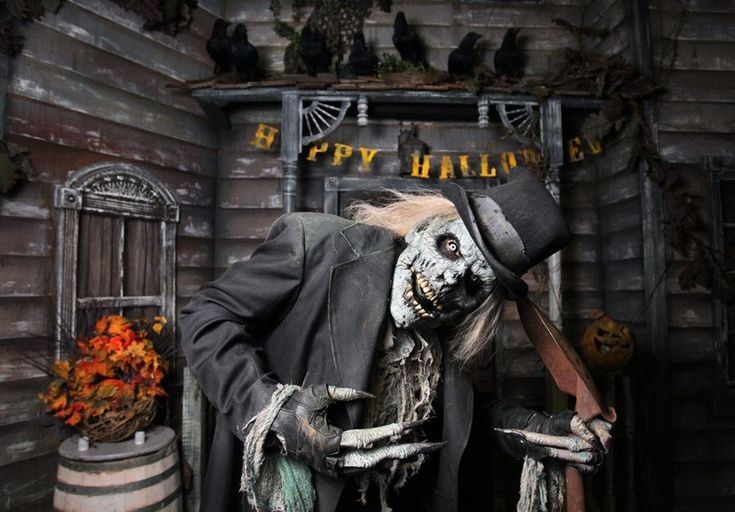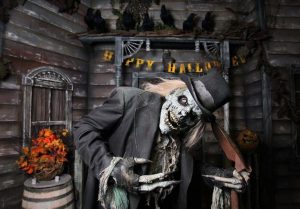 This one is for horror enthusiasts. Trust us when we say this, Hysteria Dubai is not meant for the faint-hearted. The first haunted attraction of its kind in the region, it is an extreme fear experience for those who simply like to try out new experiences. Go on a journey to a place you will never forget— a place where you can experience real haunted situations and check if you really are brave enough to face your fears. It takes you through your darkest nightmares and your deepest fears. If you are a thrill-seeker or a horror movie fan, and most importantly, if you think you're brave enough, Hysteria is just the place for you to be!
Address: Hysteria Haunted Attraction, 2nd Floor, The Dubai Mall, Sheikh Zayed Road, Dubai, United Arab Emirates.
10. Ski Dubai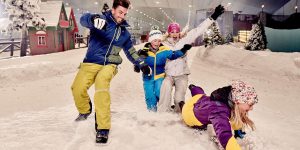 Been indoors too long and craving fun outdoor activities? Another fun place to visit would be Ski Dubai— the first indoor ski resort in Dubai. Based in the Mall of Emirates, it offers exceptional snow quality all year round. It is the third-largest indoor ski slope in the world and features an 85-meter high indoor mountain with 5 slopes of varying steepness and difficulty. Create your snowman and slide down slopes to have the most enjoyable snow experience ever. It is the most ideal place to be in if you are somebody who loves snow and thrilling activities or if you want to experience what it feels like to be in a cold region.
Address: Ski Dubai, Mall of Emirates, Sheikh Zayed Road, Dubai, United Arab Emirates.
What more places to visit in Dubai post coronavirus?
11. Dubai Aquarium and Underwater Zoo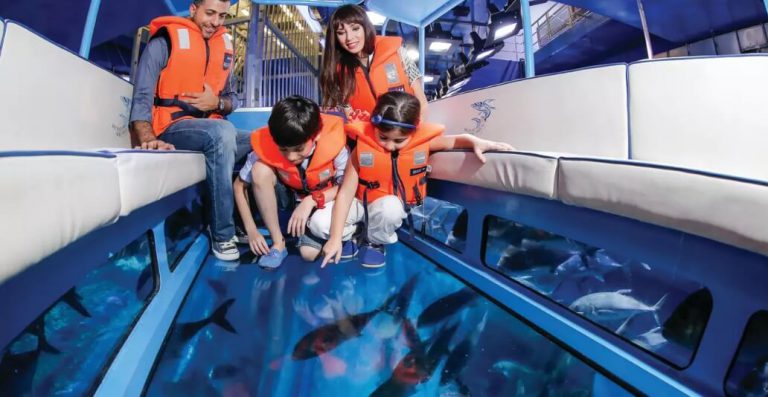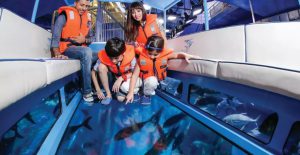 Don't miss out on the world's largest suspended aquarium, housing thousands of over 140 species of aquatic animals— the Dubai Aquarium and Underwater Zoo. Get a glimpse of the vast and stunning ecosystem of undersea life in one of the best and very well-kept aquariums and underwater zoos in the world. The 48-meter walk-through tunnel provides a 270-degree view from 11 meters below the surface of the tank. Another of the cool places to visit in Dubai, buckle up for a close-up view of more than 33,000 aquatic creatures. The most attractive feature about this place is the glass-bottom boat ride which provides visitors with unique views of the tank from beneath their feet.
Address: Dubai Aquarium and Underwater Zoo, the Dubai Mall, Sheikh Zayed Road, Dubai, United Arab Emirates.
12. La Perle Dubai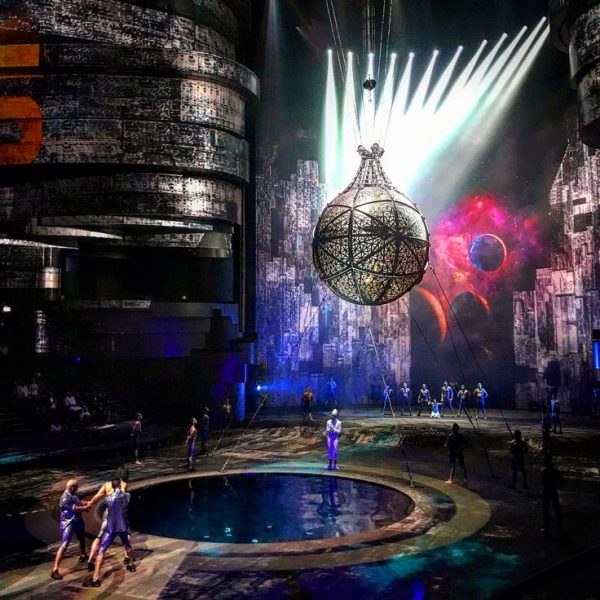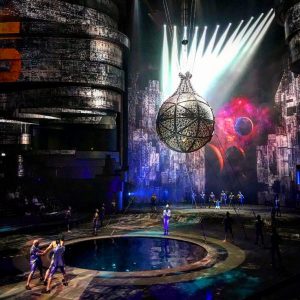 Besides technological and infrastructural advancement, Dubai's love for art encourages innovative collaborations and artistic experiments. One for the theatre lovers, La Perle by Dragone is one of the finest performing arts theaters in Dubai and the region's first permanent theater show. It features 65 world-class artists from 23 countries. La Perle introduces to the audience an aqua-based theater that combines breathtaking live stunts and acrobatics, with spectacular special effects, to tell a story. Their theme is inspired by the cultural heritage of Dubai, vibrant present and aspirational future.
Address: La Perle By Dragone, 260 Sheikh Zayed Road, Al Habtoor City, Dubai, United Arab Emirates.
13. Dubai Dolphinarium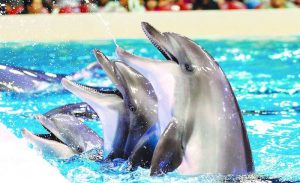 Dolphins are some of the most intelligent creatures that exist. If you haven't been lucky enough to see one upfront and close, this may be your only chance! You can witness and even interact with the majestic species of bottle-nosed dolphins. Don't miss out on this amazing opportunity at the Dubai Dolphinarium. It is the first fully air-conditioned dolphinarium in Dubai and boasts a gigantic 54,000 square feet of area. Be prepared to engage yourself in a captivating experience as these adorable creatures showcase their skills and perform incredible stunts.
Address: Dubai Dolphinarium, Riyadh Street, Inside the Creek Park Gate 1, Dubai, United Arab Emirates.
14.The Smash Room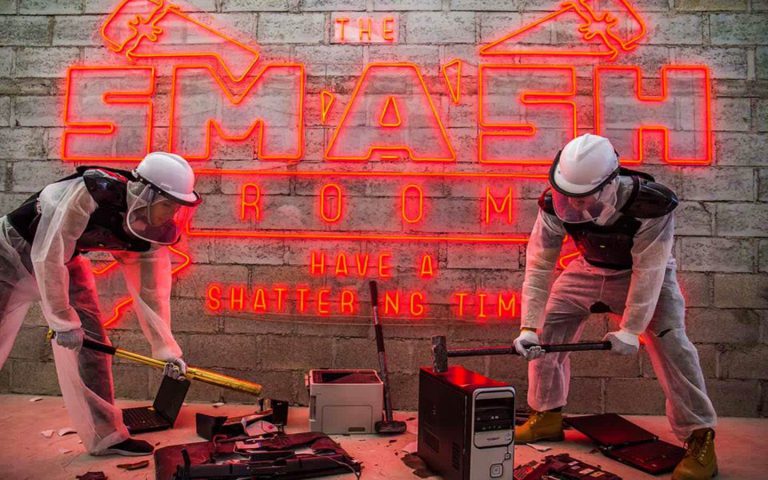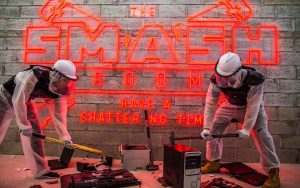 Too stressed but spas and therapies not doing the job to help de-stress you? Here's a fun way to let all that stress out and also vent out your bottled-up anger if there's any. Dubai's Smash Room is like no other. Instead of slamming your phone on the ground or punching a hole in the wall or flipping a table, you can come to the Smash Room and shatter, break, stomp, tear, yell, and embrace an animalistic release you can only find here. Break TVs, computers, laptops, refrigerators, and many more— all by yourself or with friends.
Address: The Smash Room, 195 Umm Sequim Street, Al Quoz Industrial 4, Dubai, United Arab Emirates.
15. Dubai Museum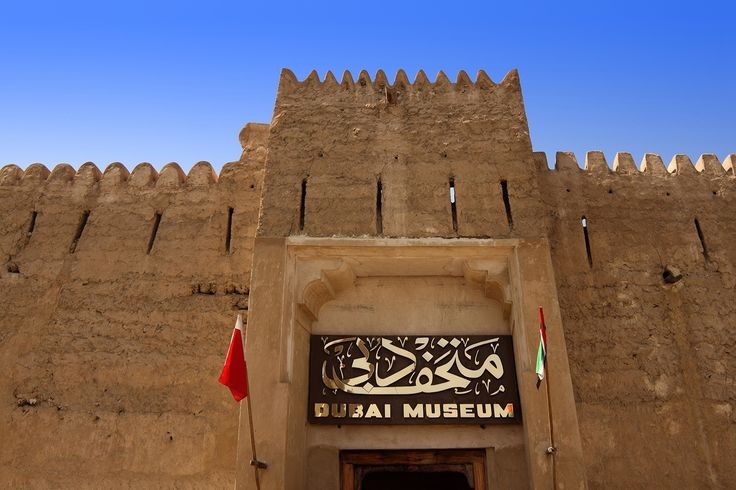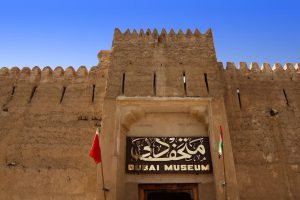 While you're in the city, why not visit museums and get to know about its rich culture and heritage? The Dubai Museum is one of the most important museums in the city. It was built over 200 years ago (in 1787), inside the Al Fahidi Fort, and is considered to be the oldest building in the entire country. Along with colorful dioramas and enlightening historic exhibits, they also have an artifact gallery presenting thousands of items and antiques dating all the way back to 3000 B.C. Do not miss out on a visit to this iconic place. It will surely give you some enlightenment on the ancient history of Dubai and see what civilizations have inhabited this city for centuries.
Address: Dubai Museum, Al Fahidi Fort, Dubai, United Arab Emirates.
16.Museum of Illusions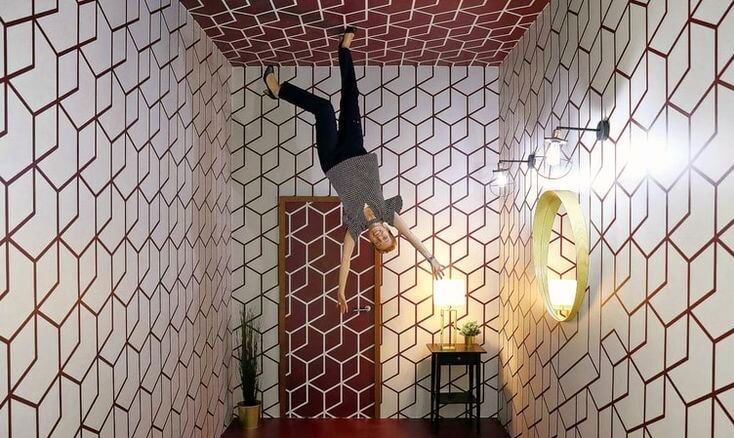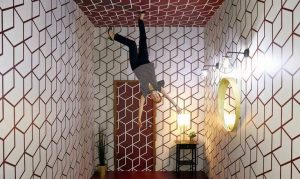 Definitely one of the places to visit in Dubai, how about you let your eyes trick your brains for a while? This is one of the most unique museums ever. As the name suggests, The Museum of Illusions is not like conventional museums. Take a break from rooms filled with ancient, historical items on display and get engaged in one that rather offers dozens of brain teasers and optical illusions. This museum has over 80 different exhibits that will leave you wondering what is real or if magic truly exists. Visit this amusing place with your family and participate in interactive brain teasers, immersive illusions, and even a gravity-defying room.
Address: Museum of Illusions, Al Seef, Dubai Creek, Dubai, United Arab Emirates.
17.Bollywood Parks Dubai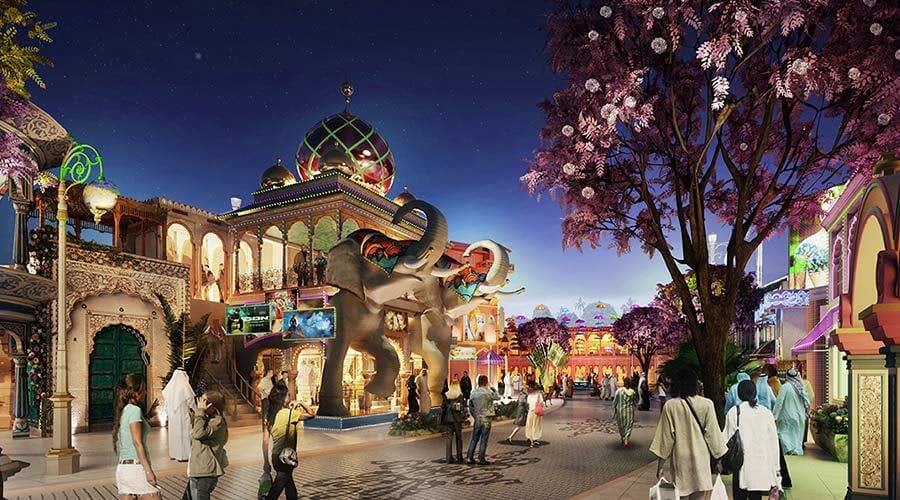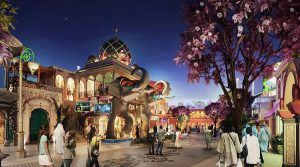 Here's your chance to explore the world of action filled with romance, comedy, music, adventure, and many more. For all Bollywood enthusiasts, this is an amazing opportunity to live and experience the colorful world of Mumbai's famous film production. This park is a celebration of Mumbai's legendary film industry in 5 different zones. Each of these zones is inspired by Bollywood blockbusters. You can live entertainment, stage performances, and extravagant cinematic rides in an experience unlike any other.
These five zones are named Bollywood Boulevard, Mumbai Chowk, Rustic Ravine, Royal Plaza, and Bollywood Film Studio featuring Hall of Heroes. All these zones offer enthralling attractions with 16 amusing rides in total.
Address: Bollywood Parks Dubai, Dubai Parks, and Resorts, Opposite Palm Jebel Ali, Sheikh Zayed Road, Dubai, United Arab Emirates.
18.The Burj Al Arab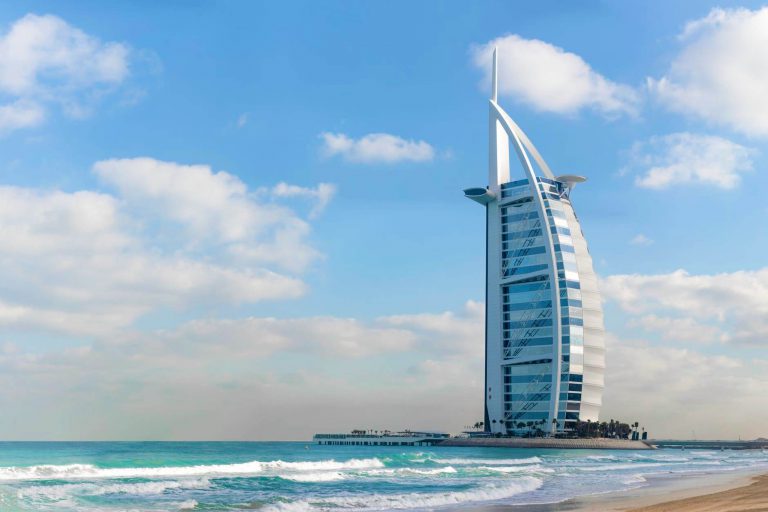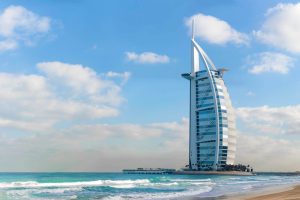 As the third tallest hotel in the world, Dubai's iconic Burj Al Arab should also definitely be on the list of places to visit in Dubai. Engineered to mimic the sail of a boat, this is one of the most luxurious hotels in the world. It not only boasts a helipad near the roof but also its impressive architectural design and remarkable location. The posh surroundings and incredible dining experiences offered by the two restaurants in the hotel make the Burj Al Arab even fancier.
Address: Burj al Arab, Jumeirah St – Umm Suqeim 3 – Dubai – United Arab Emirates.
19.The Dubai Frame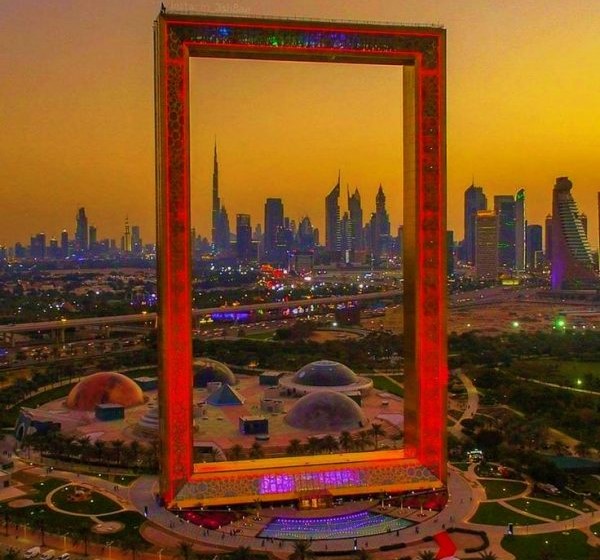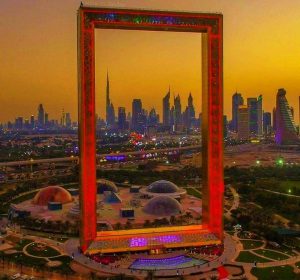 You certainly have to visit the Dubai Frame to take a shot at what is popularly known as the "World's Largest Picture Frame". It is an iconic structure that was built to frame impressive views of Old and New Dubai— the development of the past, current, and future Dubai. This frame is basically two towers measuring 150 meters in height and connected by a 93-meter long bridge at the top. You can even take in 360-degree views from the 25sq m glass panel at the center of the bridge. What is unique about this structure is that on one hand, there is the modern Dubai city with all the towering skyscrapers and the latest developments. On the other hand, you can see the old Dubai with all its traditional construction, souks, and communities.
Address: The Dubai Frame, Zabeel Park Jogging Track, Za'abeelAl Kifaf, Dubai, United Arab Emirates.
20. Atlantis Aquaventure Waterpark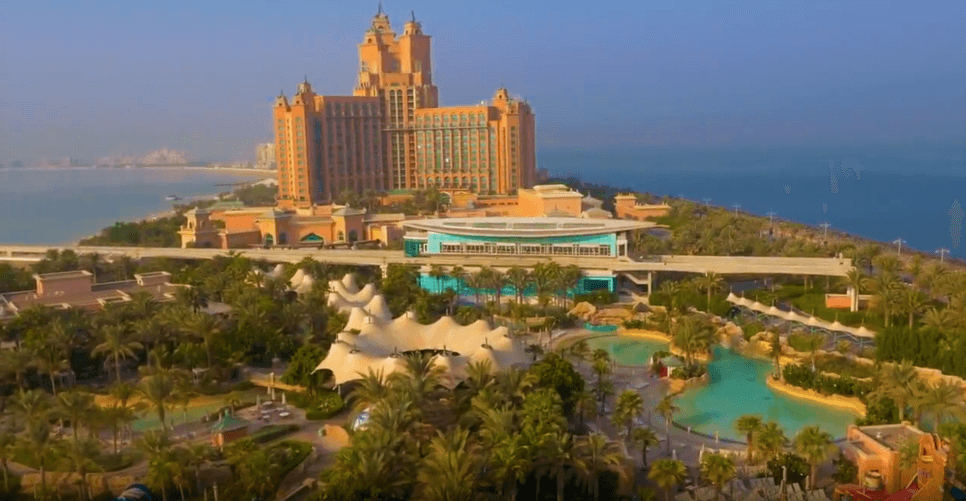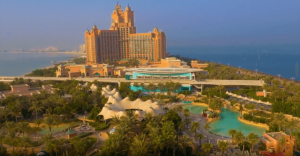 It wouldn't be fair if the attraction that won the title of the best water park in the Middle East and the second-best in the world didn't make it to the list. If you want to beat the heat and get ready for some high dose of an adrenaline rush, this is definitely the place for you to be! Atlantis Aquaventure can be a real treat for all ages. Visit and explore The Lost Chambers along with meeting adorable dolphins at the bay or screaming down the goosebumps-inducing waterslides. Splash into a world of excitement and wander through the ruins of Atlantis. You can also dive amongst sharks and rays. Or take a peek behind the scenes to speak with our marine experts and discover what it takes to care for such diverse marine life.
Note: Don't forget your summer moisturizers on the trip!
Address: Atlantis The Palm, Crescent Road, Dubai, United Arab Emirates.
Book your tickets to all these amazing destinations in Dubai from TicketsToDo.com for exciting offers, combo tickets, and discounts. Apply the promo codes and coupon codes to avail of special discounts on the tickets.
Let us know how your experiences were! You can contact us at [email protected]