Christmas Wonderland, Gardens by the Bay's popular yuletide fair, returns for its 9th edition from Friday, 2 December 2022 to Sunday, 1 January 2023. This year, the popular festive event will feature an all-new Santa's Grotto, as well as returning favorites such as the whimsical Garden D'Lights and the stunning 25m tall Supertree. So come on down and celebrate the joy of Christmas at Gardens by the Bay Christmas Wonderland!
Looking for something fun to do in Singapore? Check out TicketsToDo. We have a wide range of activities and attractions that you can book tickets for, including Garden by the Bay. We make it easy and convenient for you to book tickets for the things you want to do, so you can spend more time enjoying yourself. So what are you waiting for? Book your tickets today and start exploring all the great things to do in Singapore
Book the Gardens by Bays tickets
All you need to know about the Christmas Wonderland at Gardens by the Bay
What's in Store at the Winter Wonderland
Operating hours: 2 Dec 2022 to 1 Jan 2023, 6.30 pm to 11 pm
Marvel at larger-than-life decorations, fascinating ARTWORKS, and awesome performances at this winter extravaganza. With over five million lights adorning the Supertrees and the entire Christmas Wonderland site, don't miss the chance to take a selfie with Santa or experience magical moments with your loved ones at this glittering event.
Events at the Gardens by the Bay Christmas

Spalliera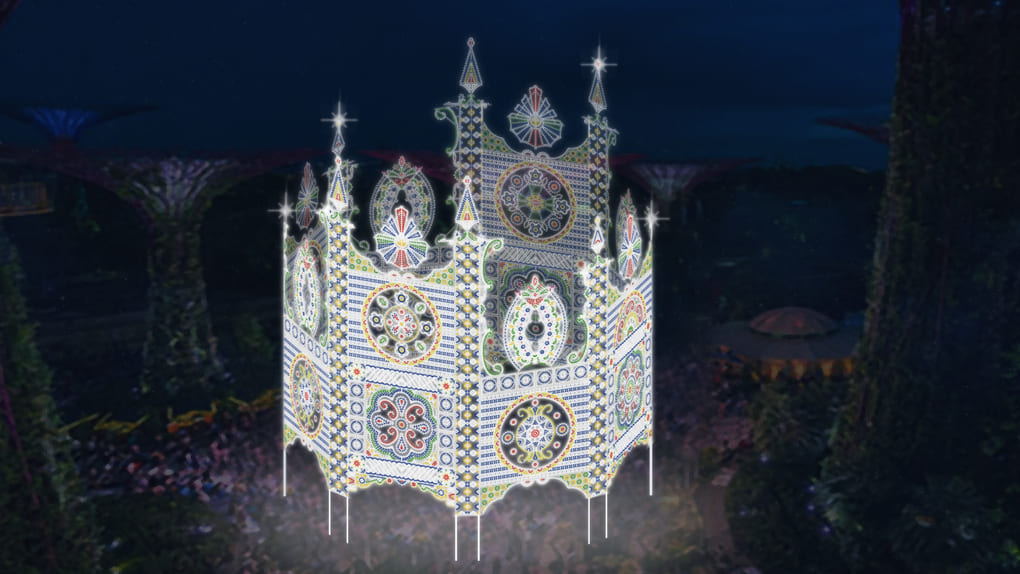 The Spalliera is a beautiful piece of art that was handcrafted by Italian artisans. It's 21 meters tall, which is the equivalent of five double-decker buses. This Christmas Wonderland crown jewel is made up of 103,000 light bulbs and takes a crew of seven to 30 days to set up. You can see it in all its glory at St. Nick's Square.

Navidas Station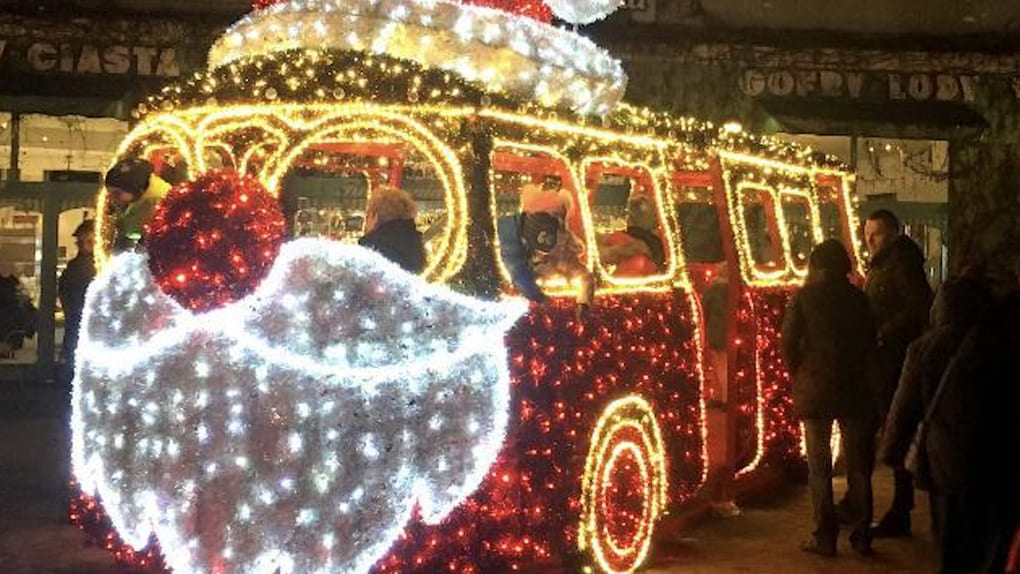 The bus is waiting for you to board Navidas Station for a magical photo opportunity!

Meet and Greet with Santa Claus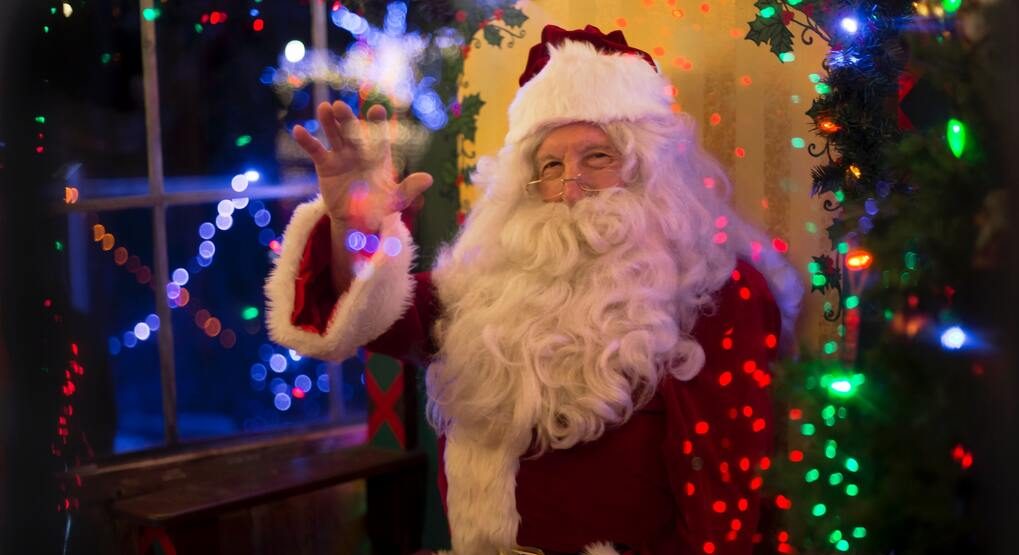 This year, Santa has a new home! Father Christmas will be at his new abode to meet and greet everyone. Be sure to take a photo with him before he heads out to deliver presents all around the world!

Double-Storey Carousel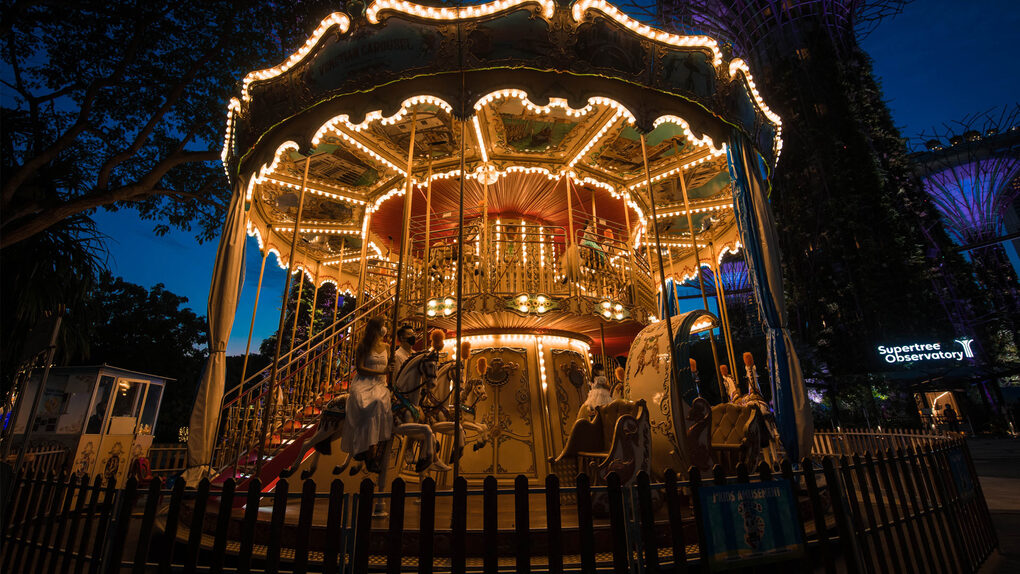 Experience the only double-story Venetian horse carousel in Singapore. The carousel is hand-painted by artists and crafted by skilled craftsmen in Europe. Ride tickets are priced at $10 per person, and $5 for each adult accompanying a child (12 years and below).
Garden Rhapsody's light and sound show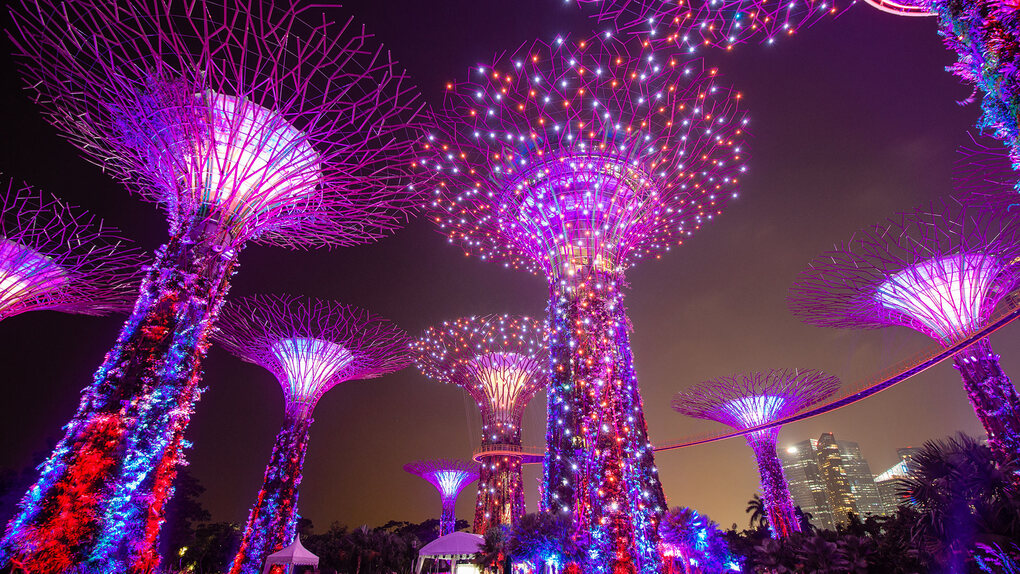 The Supertree Garden Rhapsody light and sound show are back for the holiday season! Immerse yourself in the festive atmosphere with magical lights and holiday tunes. The show runs daily at 7.45 pm, 8.45 pm, and 9.45 pm.

Magical Carriage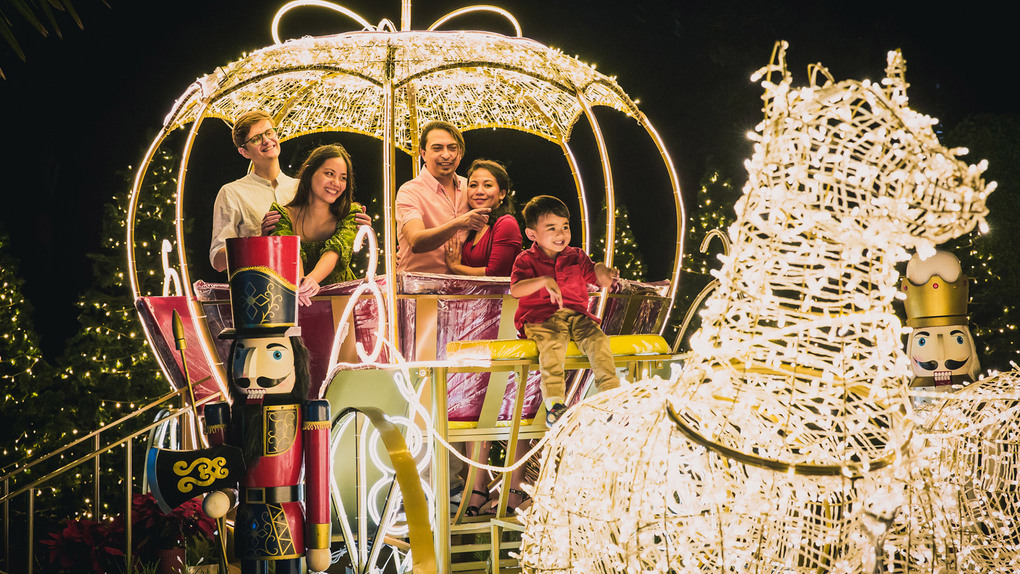 There is no midnight curfew for those who ride the Magical Carriage; the only limit is your imagination.
Festive Huts at Mistletoe Alley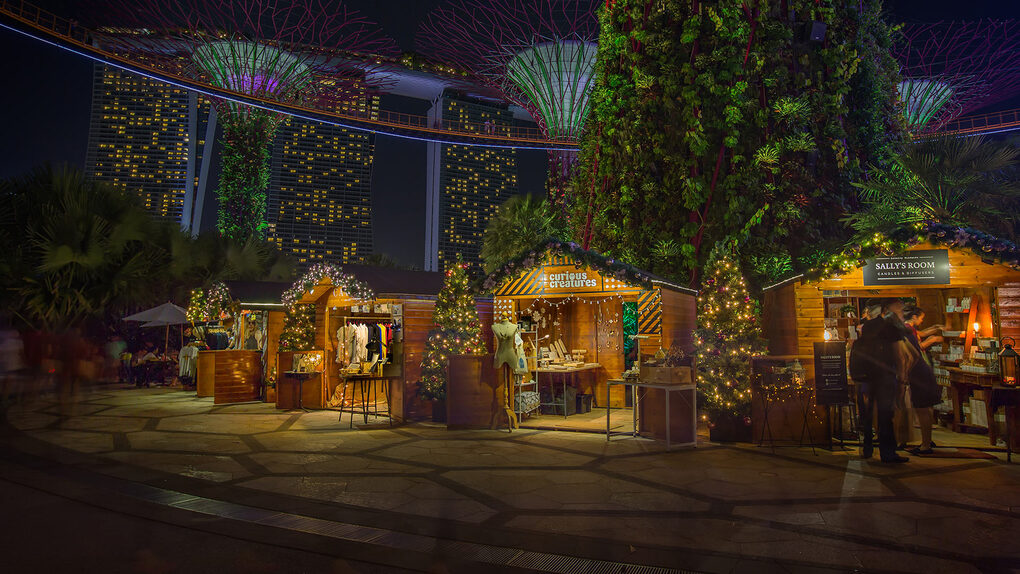 Mistletoe Alley is the perfect place to find unique gifts and festive decorations! With an eclectic selection of huts featuring everything from photobooths to official Christmas Wonderland merchandise, there's something for everyone. So come on down and celebrate the holidays in style!
Whimsical Windmill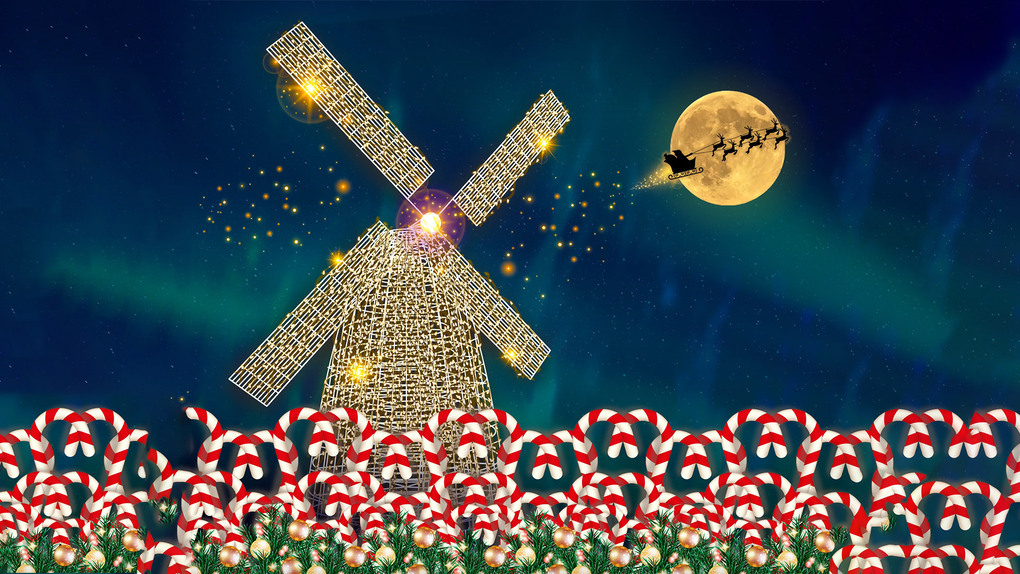 The 10-meter-tall Whimsical Windmill is a new kinetic light display that is sure to enchant visitors of all ages. This light display features 35,000 light bulbs and is set in a field of 250 candy canes.
Walk of Lights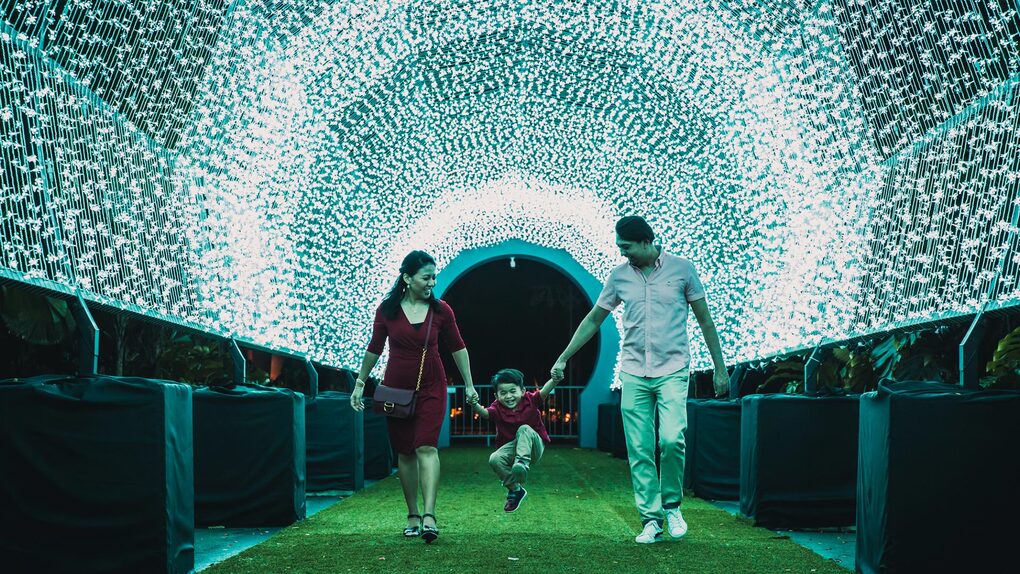 The Walk of Lights tunnel is returning for its fourth edition, and it's sure to capture the hearts of all who see it. This stunning light display has become a must-see attraction for everyone. This year's edition features 50,000 programmable LED lights, which will create a dazzling array of colors along the 50-meter-long tunnel.

Live Music and Show Programs
Live music and show programs feature at the Gardens by the Bay Christmas event. They include
Traditional Carnival Games: Visit the Games Village for hours of family fun with eight traditional carnival games and rides such as Fishy Fishy, Ring Toss, Pyramid Smash, Bowling, High-Striker, and more! Each game costs $6, and two games cost $10.
Festive Treats: Enjoy live festive performances while soaking up the Christmas spirit and indulging in delectable fare curated by some of Singapore's most popular dining establishments. Enjoy festive food and beverages from Brewerkz, Burger & Lobster, Hendrick's, Penfolds, Pita Tree, Sofnade, and other restaurants!
Festive Entertainment: Get into the Christmas spirit and spread the holiday cheer with festive tunes performed by local artists.
Related Article: 10 Activities in Singapore You Must Experience
Get Ready for a Memorable Christmas at Gardens by the Bay
Related Article: 10 best museums in Singapore for a culturally enriching experience
The Gardens by the Bay Christmas event is something you don't want to miss if you're in Singapore during December! With a Winter Wonderland theme, there are tons of fun activities for the whole family to enjoy, from experiencing a festive market to going on a thrilling snow slide! Make sure to get your tickets early, because this event is sure to be a hit!
With us, you can book tickets for activities and attractions in Singapore and around the world. We have a wide selection of things to do, so you're sure to find something that interests you. We make it easy for you to book tickets and take care of all the details, so you can just relax and have fun. So what are you waiting for? Book your tickets today and start exploring all the great things to do in Singapore.