Traveling to a new place requires pre-planning all the activities you wish to include in your itinerary. However, some places and attractions may not be worth your time. Therefore, one needs a guide so that they can make the best out of their trip. Singapore which translates to "The Lion City" has lush green surroundings and the cleanest streets in the world. It is well known for its diversity, modern tall buildings, and architecture. Here we have shortlisted the top 10 amazing activities in Singapore that you should not miss!
TicketsToDo is your online portal for booking tickets for events, attractions, and more. Avoid the hassle and save time and money by pre-booking your trips at great prices today!
Book Things to Do in Singapore
1. Universal Studios Singapore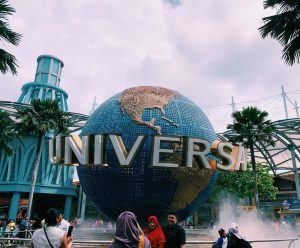 Book Universal Studios Singapore Tickets
Universal Studios is one of the six Universal Studios theme-park around the world. It features several rides, shows, and attractions. It is the only Universal Studios to feature the Battlestar Galactica, a pair of dueling roller coasters. The themed zones cover Hollywood, Sci-fi City, The Lost World, Far Far Away, New York, and Ancient Egypt. Visit this place for a fun-filled adventure and live your childhood dream. Get to meet and greet with your favorite movie characters and experience thrilling rides and experiences. Suitable for all age groups, this activity is one of the most loved activities in Singapore.
2. Merlion Park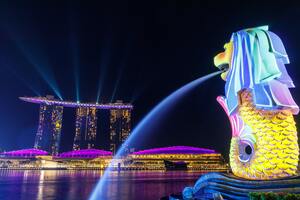 The Merlion is a creature with a lion's head and the body of a fish. It is symbolic and used as a mascot and national personification for Singapore. The Merlion statues, showcased in Merlion Park is a major tourist attraction in Singapore. The original structure measures 8.6 meters tall and sprouts water from its mouth. The entry to the park is free and can be visited any time of the day. Although the night view of the Merlion illuminated with the skyscrapers behind gives an amazing, picturesque view.
3. Gardens by The Bay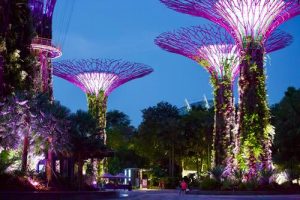 Book Gardens by The Bay Tickets
Gardens by The Bay is without a doubt, one of the most popular activities in Singapore. It is an architectural marvel, and the Super Tree Groves of varying hues are a sight to behold. Garden Rhapsody, a popular light and sound show is held at the SuperTree Grove. The Gardens are massive with exotic flora from various parts of the world. Explore the stunning Flower Dome and magical Cloud Forest on your visit. Indulge in the Floral Fantasy zone with vibrant colored flowers and cascading waterfalls. Pre-book your tickets to experience this beautiful place and save time and money.
Related Article: The first-timer's guide to Singapore
4. Sentosa 4D AdventureLand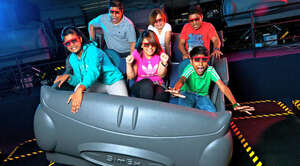 Book Sentosa 4D AdventureLand Tickets
Sentosa 4D Adventureland takes you on a journey with the use of 4D technology. Experience elements like fog, rain, wind and vibrations as you enjoy the different rides. Hop on to Haunted Mine Ride 4D or the Extreme Log Ride. Take part in the Shoot Out Challenge with Desperados or get into action with Journey 2: The Mysterious Island. Go with your family and enjoy the interactive sessions and activities in Singapore.
5. Snow City Singapore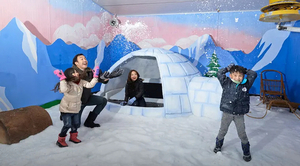 Book Snow City Singapore Tickets
Want to enjoy the snow off season? Discover Singapore's first indoor snow center in sub-zero temperatures in a snow chamber. Get transported to the icy cold Arctic Circle and play paint ball in the Winter Shooting Arena. Drift on ice in the coldest Bumper Car arena, play on slides, and the snow playground. Experience the thrill of outdoor climbing with the help of instructors and step into the Ice Hotel gallery. A family-centric attraction center, Snow City receives about 250,000 visitors from around the world.
6. Madame Tussauds Singapore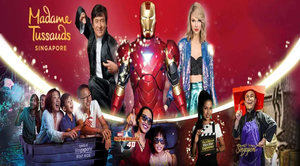 Book Madame Tussauds Singapore Tickets
Madame Tussauds Singapore is a wax museum consisting of wax statues of famous personalities and celebrities. Take a picture with the stars and your favourite fictional characters. Experience the Singapore boat ride and familiarize yourself with the culture and history. Groove to the music while clicking pictures with the almost real wax figures.
7. Jurong Bird Park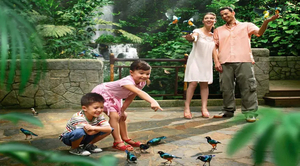 Experience the best of nature and wildlife at Jurong Bird Park. Avail the tickets online to enjoy a hassle-free experience of visiting Asia's largest bird park. Furthermore, prebooking the tickets for attractions you are interested in makes your trip inexpensive and saves time. Jurong houses beautiful, featured creatures from all around the world like penguins, flamingoes, turacos and more. Feed the birds and enjoy the amazing interactive animal shows. Undoubtedly, Jurong Bird Park is one of the best attractions in Singapore.
Related Article: 10 Best Places to See Wildlife in Singapore
8. SEA Aquarium Singapore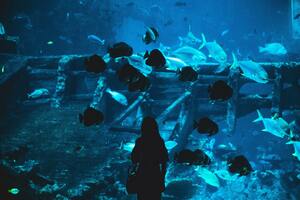 Book SEA Aquarium Singapore Tickets
Have a wonderful underwater experience at the SEA Aquarium which is one of the most loved attractions in Singapore. Be awed by an array of marine and aquatic creatures, colorful fishes and scary sharks. Explore the Shipwreck Zone that showcases the importance of shipwrecks. Witness the beauty of the different zones which includes dolphins, octopuses, vibrant fishes and sea jellies. Furthermore, can also dive into the water and immerse yourself in the marine life around you. Watch and learn as you get an up-close understanding of life under water with your family.
9. Singapore Cable Car Sky Pass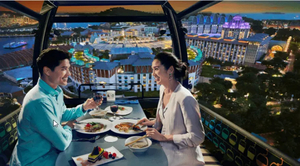 Book Singapore Cable Car Sky Pass Tickets
The Singapore Cable Car is a gondola lift which provides an aerial view from Mount Faber Singapore to the resort island of Sentosa across the Keppel Harbor. Go on a journey along the urban city and the lush green tropics. It is an amazing unique way to experience Singapore at 100 meters above sea level. Additionally, you can also dine and enjoy a 4-course meal with glittering city lights below you.
10. National Museum of Singapore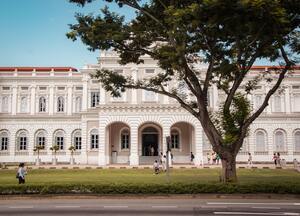 Book National Museum of Singapore
The National Museum is Singapore's oldest museum and an important monument that showcases its history and culture. The museum exhibits artifacts touching different areas of history, modern colony and the digital world. Take up this educational activity to learn about Singapore's background amidst music and visually appealing sights. The museum also covers new ideas and exhibits precious artifacts like the Singapore Stone, Gold Ornaments of the Sacred Hill from Java, Daguerreotype of Singapore Town, Will of Munshi Abdullah, portrait of Frank Athelstane Swettenham and more.
Related Article: 10 best attractions in Singapore for solo travelers
There are so many more attractions in Singapore that you need to explore. Because it is renowned for being the safest countries in the world you can go on a mini adventure if you plan a solo escapade. One of the cleanest, greenest cities it is easy to travel here. TicketsToDo makes traveling easier and convenient.