Winter season comes graciously with the last week of November. As the November sales and offers are coming to an end, we want to offer a Fun Friday and weekend for you and your family! Look forward to heavy discounts, never-before prices, and a list of the must-visit best winter attractions around UAE from your one and only travel buddy: TicketsToDo! Also, we bring you the best Black Friday deals on attractions you've been wanting to visit for so long.
Yes, you read that right. In addition to skipping the long queues and hassle-free bookings, we have a special gift for you in the event of Black Friday so keep on reading till the end.
Fun Friday: Special Gifts and offers from us, just for you!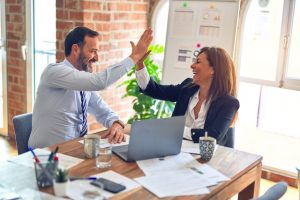 So here's all you need to know about this one-of-a-kind offer you cannot afford to miss! Stay tuned for a sneak peek into the best winter attractions! Welcome to the real party and a special gift. We have two hampers for you to choose from! Just a note: The offer stands from 26th to 28th November only, so hurry up!
Offer 1: 21% off on everything!
Use code "FF21", to get an extra 21% off on the whole website. Attractions, Tours, and Activities, we offer you 21% on your booking. Note: You cannot participate in the lucky draw if you opt to use the code.
Offer 2: Win Noon Giftcards worth AED 100
Your Fun Friday weekend includes 78% on all Tickets and Tours and a chance to win AED 100 gift card. If you want to have your luck decide your fate, this is your chance. If you don't want to use the code, you will be added to the lucky draw automatically with each booking from our site!
5 Lucky winners will be announced on 29th November on TicketsToDo Social Media. So don't forget to follow us!
Related Article: Black Friday Sale: The Best Attractions In The UAE
Sneak Peek: Best winter attractions for a Fun Friday Weekend
1. Real Snow, Read Fun at Ski Dubai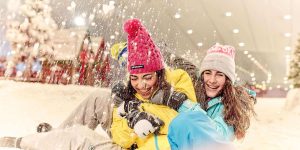 The Winter Wonderland waits for your arrival with hot chocolate, the third-largest ski slope in the world, 6,000 tons of real snow, and the world's first indoor black run! Making headlines as one of the best winter attractions, Ski Dubai is for every family member to enjoy. The whole area covers 22,500 square meters with five different slopes of varying length.
If you are feeling adventurous, you have bobsled runs, tobogganing hills, and Snow Bullet (a sub-zero 150-meter zip line), soaring 16 meters above the group.
For children aged between three to six: Check out the Ski Classes at Ski Dubai Polar Bear Club.
For anyone above eight: Snowboard lessons.
If you are someone who just wants to chill after a hectic day, you can even hang out with the penguins, build snowmen or visit the snow cavern with the ice maze. Avalanche Cafe's outer terrace gives you the goodness of hot chocolate with whipped cream and marshmallows!
Related Article: Have "snow" much fun at Ski Dubai
2. Meet the World at Expo 2020
As a part of the best Black Friday deals on attractions, this is something you cannot miss! The 192 participating countries are all set to welcome you to the world's greatest show, Expo 2020 Dubai! You can experience the culture from each participating country, as everyone has their own pavilion. Witness the innovation, culture, and architecture like never before. The event has already kicked off its opening ceremony on October 1, 2021, and will continue welcoming guests till March 31st, 2022.
What's stopping you? Bathe in the excellence of the six-month-long event filled with global solutions and entertainment like never before. The first expo in the MENA region is awaiting your arrival. If you're still not sure why you need to visit the World Expo 2020 Dubai, here are 100 reasons to do so.
Book your World Expo Tickets here!
Fun Fact: The six-month-long event is estimated to cost around $7 billion with more than 23 million visitors.
3. Pretty blooms at Dubai Miracle Garden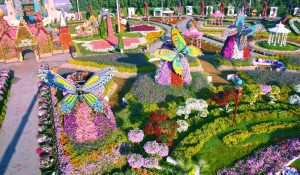 Two Guinness World Records, largest flower arrangement on display, 150 million flowers in colorful patterns and arches. That is ladies and gentlemen, the Dubai Miracle Garden. Its display is at best from mid-November to mid-may, hence, making it a perfect fit for the best winter attractions.
The 72,000 square meter space, brings new concepts and themes every single year. Our favorite displays are the Umbrella Passage, Lost Paradise, Dubai Butterfly Gardens, Floral Castle, Disney Avenue, largest floral Mickey Mouse structure, Butterfly Passage, and many others. Don't forget to take a trip to the Butterfly Garden and Global Village, while you are there!
Book your Miracle Garden Tickets here!
Related Article: Escape to the desert or the sea, here are the best weekend getaways from Dubai
4. We are cruising with Yellow Boat tours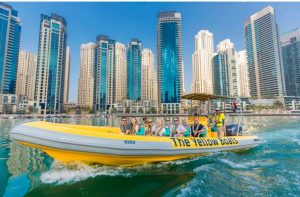 This is one of the best Black Friday deals on attractions. Have a calming evening along the shore of the Arabian Gulf or enjoy the thrilling ride on a 45- 60- 75- or 99- minute cruise by RIB (rigid inflatable boat). The choice is yours and Yellow boat tours are ready to spoil you! Grab your cameras, Dubai Marinas Skyline is worth capturing forever. How about cruising through the Bluewater Island, Atlantis, Palm Jumeirah, and more?
Book your Yellow Boat Tickets Here!
5. Underwater Zoo at Dubai Aquarium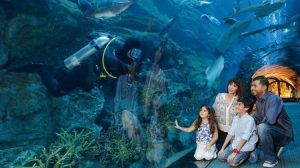 This winter, add on an experience of diving with sharks, cage snorkeling, scuba diving and so much more. We are talking about adventure and you do not have to know how to swim to meet the sharks! Home to more than 3000 aquatic creatures, Dubai Aquarium and Underwater Zoo is a unique world with the most diverse collection of marine animals.
10 million liter water tank with a 48-meter walk-through passage along with a 270-degree view from 11 meters below the surface of the tank.
Don't forget to meet King Croc, the five-meter-long, 750kg Australian crocodile.
this aquarium has the largest collection of sand tiger sharks on Earth.
Kraken's Liar: A theme zone for the cephalopod. , where you can meet octopuses, nine cephalopod species, and even a life-size replica of a Giant Squid.
The UAE's Night Creatures attraction: Arabian toads, giant camel spiders, and scorpions. You should not miss the Kraken's Lair.
Where: The Dubai Aquarium and Underwater Zoo is located at The Dubai Mall, Doha Street off 1st Interchange. Sheikh Zayed Road, Dubai.
Buy Dubai Zoo and Aquarium Tickets here!