Black Friday is one of the busiest online sale events in the UAE. According to Arab Business, the Black Friday sales this season are projected to mop an estimate of 6 billion dollars. As the D-day approaches (26th November) with sales and deals on brands all around the internet, why not take a trip this year? Spend your holiday season by visiting hot attractions for up to half the price! Here at TicketsToDo, we have rendered a list of must-visit Black Friday sale attractions in the UAE.
For all things, vacation and travel TicketsToDo is here to guide you in planning your next big adventure. From tickets to top tourist destinations in Dubai to Bali we got it all!
More Read: Explore Dubai, not just the World Expo 2020
Black Friday sale attractions in the UAE
Tickets at their best prices
1. Jeep Adventure Safari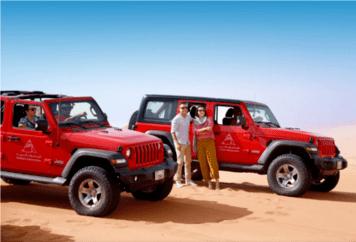 Price: AED 699 – AED 299 (58% off)
Explore the Wadi Shawka, a seasonal watercourse in the Hajar Mountains of Ras Al Khaimah by booking a full-day Jeep Adventure Safari. The wadis have been able to evolve in their unique way due to their special location within the landscape, which has allowed them to remain relatively untouched by human influence. This area is ideal for eco-tourism adventures. With the prices at their best with 58% off, a Jeep Adventure Safari to the Wadis should be on your wishlist!
2. Dubai Aquarium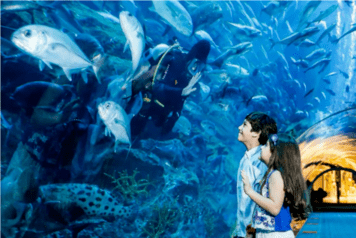 Price: AED 140 – AED 70 (49% off)
Get a close-up with the aquatic residents at the Dubai Aquarium, which is home to thousands of aquatic animals, comprising over 140 species. The 48-meter walk-through Tunnel provides a 270-degree view from 11 meters below the surface of the tank. Don't miss your chance to meet over 400 Sharks and Rays that live in this 10 million liter tank. With ticket prices starting from AED 72 and 49% off, visit the largest suspended aquariums in the world today!
More Read: Visit Fujairah: the land of heritage sites, hot springs, and cartoon island
3. Dubai Ice Rink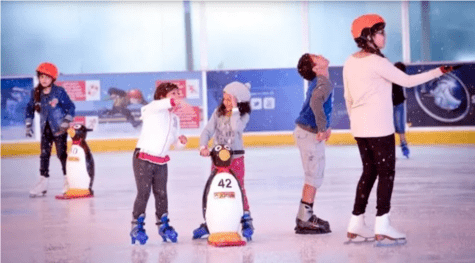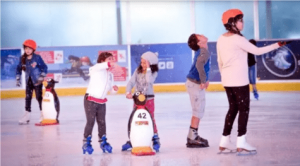 Price: AED 110 – AED 67 (40% off)
Escape the hot weather by skating through the snow at Dubai Ice Rink. Whether you want to learn from the start or brush off your skating skills, Dubai Ice Rink is always accepting new enrolments for its Academy & Skating School. Learn from the experts as classes are available for all ages and abilities. Book your tickets today and full-fill your skating adventures!
4. 3D World Selfie Museum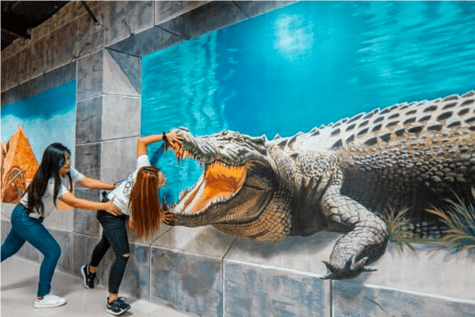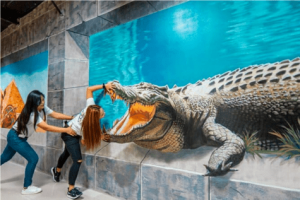 Book 3D World Selfie Museum tickets
Price: AED 70 – AED 59 (36% off)
It's time you visit the Largest 3D Museum in the World- 3D World Selfie Museum in Dubai! The mind-boggling 3D artworks will question your grasp of reality. The Three Dimensional Art refers to a traditional art technique Trompe-l'oeil, which translates to "deceive the eye" in French. This technique turns two-dimensional paintings into three-dimensional images through the use of optical illusions. Indeed making the perfect place to update your Instagram feed with a cool selfie for just 45AED!
5. Dubai Fountain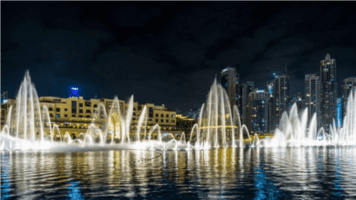 Price: AED 55.09 – AED 36.73
Book the Dubai Fountain Show tickets for this holiday season and be thrilled to experience the world's largest performing fountain. Located on the 12 hectares manmade Burj Khalifa Lake, the fountain jets up 22,000 gallons of water as high as 140m in sync with the lights and sound. Moreover, you can get a closer look at the spectacular show by sailing the traditional Abra boat on the lake.
More Read: Get the best out of your one day Expo 2020 ticket
6. City Sightseeing Dubai
Price: AED 153.68 – AED 103.68 (33%off)
As the tickets prices have dropped, now is the best time for you to explore Dubai at its full potential. Hop on the best Dubai city sightseeing hop on hop off bus tour today. Furthermore, get yourself a day pass or 2-day tour, or a 7-day pass to enjoy the panoramic views of Dubai Creek, Global Village, and other Dubai international attractions.
7. Legoland Dubai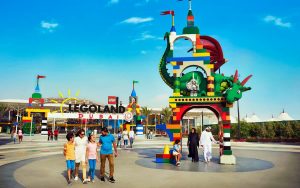 Price: AED 275 – AED 195 (30 % off)
Explore your love for legos by visiting the biggest Lego-themed entertainment park in the Middle East- Legoland Dubai. Buy the Legoland 1-day pass today for just 195 AED for a wide array of lego-based rides, shows, and attractions, and more! Explore all the zones including Lego City, Factory, Miniland, Imagination, Kingdoms, etc with over 40 lego themed rides and 15,000 lego models made up of 60 million lego bricks!
8. Bollywood Parks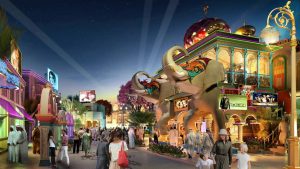 Price: AED 275 – AED 195 (30% off)
Do you love blockbuster Bollywood movies? If yes then the world's first theme park inspired by legendary Bollywood blockbusters should be right up your alley! Grab the Black Friday sale by purchasing 30% off on all Bollywood Parks tickets today. Explore the enthralling cinematic attractions with rides such as Hawa Hawai, Bollywood Skyflyer, Monsoon Masti, Rodeo, Rocket, Tanga No. 13, Taxi No. 1, and many more.
9. Laguna Waterpark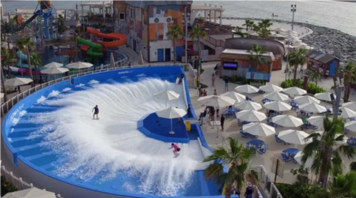 Price:AED 125 – AED 90 (29%off)
The Laguna Waterpark is the deal for this Black Friday sale season with tickets starting at AED 90. A full day with water slides, tube rides, raft rides, and many more adventurous activities like this is enough to get your heart pumping. Located at the La Mer in between panoramic views of the ocean and Dubai's skyline, Laguna Waterpark is the perfect way to elevate your holiday season!
10. Ekart Zabeel Dubai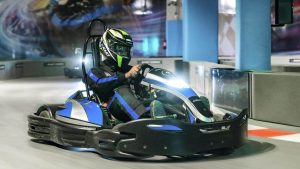 Price:AED 95 – AED 68 (29% off)
The latest generation of electric go-karts is there for you to have a fun and memorable afternoon with your friends and family. Ekart Zabeel by Emaar is here to give amateurs as well as pro drivers the ultimate indoor driving experience. You can choose from different Go Kart experiences like Standard Ticket, Race Events, and Double Ticket all for 29% off for the Black Friday sale.
More Read: These top 5 holiday season attractions in Dubai are a must-visit
11. Dubai Garden Glow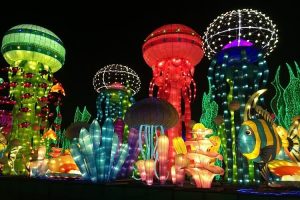 Book Dubai Garden Glow tickets
Price: AED 75 – AED 54 (29%off)
The World's most unique and never-seen-before concept theme park is yet again in the infamous Dubai! The Dubai Garden Glow steals the slow with its 'largest glow-in-dark garden' made with millions of energy-saving Led Lights and yards of recycled luminous fabric. The unparalleled beauty of over 500 eminent craftsmen, engineers, and architects behind the Magic!
12. Dubai Dolphinarium
Book Dubai Dolphinarium tickets
Price: AED 40 – AED 30 (25%off)
Visit the Dubai Dolphinarium to meet the friendly mammals this holiday season. Watch as these adorable dolphins and seals win your heart by juggling, dancing, playing balls, singing, and jumping through the hoops! The 45-minute Dubai Dolphinarium dolphin show is the main highlight of this place. So, Book your tickets ASAP!
13. Ski Dubai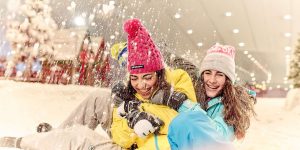 Price: AED 220 – AED 175 (21% off)
Want to experience the full outdoor skiing and skateboarding experience but indoor? Ski Dubai is the perfect destination for you this sale season to chill, relax and make a snowman! Choose from the 3-hour or the full 1-day pass and spend the day in perfect snow-daycation!
15. Deep Dive Dubai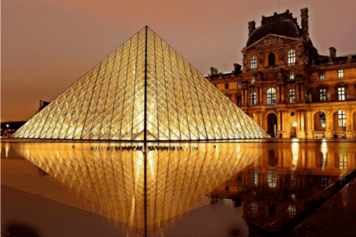 Dubai has yet another record-breaking attraction, the deepest dive pool in the world-Deep Dive Dubai. Deep Dive Dubai is now verified by the Guinness World Record as the world's deepest swimming pool, at a depth of 169.9 feet (60.02 meters) and holds 14 million liters of water. So, if you're tired of the normal deep in a regular pool, take a deep drive and explore the into a sunken city and underwater film studio.
16. MOTIONGATE Dubai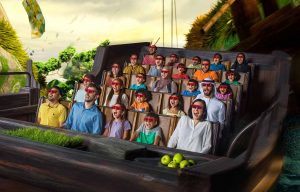 Price: AED 275 – AED 220 (20% off)
Hotel Transylvania, Madagascar, Smurfs, Shrek, Kung Fu Panda are these your favorite blockbuster animated movies? MOTIONGATE Dubai is the ultimate getaway if you are looking for fun, adventure, and some amazing meet & greet! It is jam-packed with fun rides, shows, haunted houses, and more thriller fun.
The Black Friday sale is here! Grab the tickets to your favorite theme parks or attractions today for unbelievable prices. For more destinations and attractions check out the TicketsToDo homepage.
More Read: More Read: 100 exciting things to do in Dubai: Explore the best in the city