What would flying over the iconic Flying Aces Loop at Ferrari World Abu Dhabi look like? You can find out with Yas Island's first-ever zip-line passing through the track. This latest offering, Ferrari World Zipline Adventure, is an action-packed 30-minute thrill that takes you soaring through the air and gives you an unparalleled view of this part of Abu Dhabi.
Ferrari World is home to the world's fastest roller coaster, thrilling rides, and attractions, but nothing compares to soaring through the Heart of Abu Dhabi with the Zipline Adventure. Whether you're visiting Abu Dhabi for business or pleasure, this is an escapade that's sure to take your breath away.
TicketsToDo offers a wide range of tickets for attractions and events in the United Arab Emirates, making it easy to find the perfect activity for you and your family. Our online ticketing system allows you to book your tickets in advance and skip the queue. Book your Ferrari World tickets with TicketsToDo to get the best deals
An Unforgettable Thrill: Ferrari World Zipline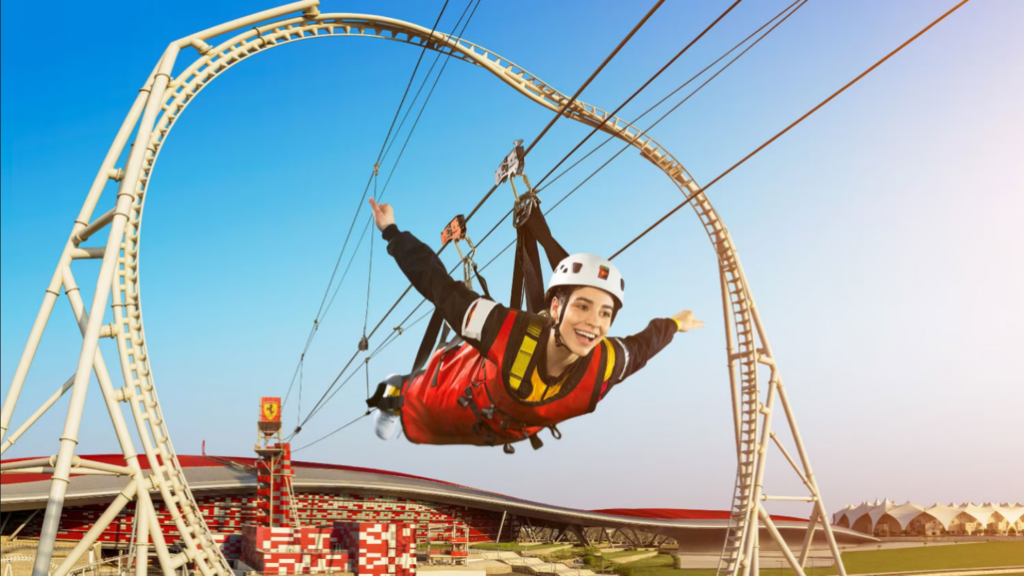 The Ferrari World Zipline ticket price is AED 95 per person.
Are you looking for an unforgettable and thrilling experience? Look no further than the Ferrari World Zipline Adventure! Experience the exhilaration of soaking in the sights of Abu Dhabi from high above along with a 30-minute helicopter ride.
Take off on an adrenaline-charged journey as this high-speed zipline streaks at over 50 km/hr, zipping through the iconic Flying Aces Roller coasters giving you an eagle's view of the city below. The zip line is designed for safety, equipped with ten paired steel cables, each measuring more than 1km long and suspended by 16 towers spread out 400m from start to finish.
Ferrari World Zipline Adventure is a ride is suitable for all ages and accessible for wheelchair users.
Complimentary photos are a part of the package. You will also get an official Zipline Adventure certificate to display your achievements. Take the frames to remember your expedition.
Although the zipline Ferrari World is not the only one in the UAE, it is undoubtedly one of the most popular. Other notable zipline UAE adventures include the
Zipline Abu Dhabi: The Zip indoor zipline in Bounce.ae and X Circuit.
Zipline Ras Al Khaimah: Jebel Jais Flight,
Zipline Dubai: XLine Dubai solo urban zipline in Dubai Marina, XDubai and Marina Zipline.
Related Article: Take on the Challenge of Seeing Dubai for Less Than 100 Dirhams
Safety Measures and Procedures
The safety of everyone at Ferrari World Zipline is our top priority, and that's why we've taken all the necessary steps to ensure you have a safe, secure, and fun experience. The guides are fully trained, certified, and equipped to handle any situation. They will also be with you every step of the way, ensuring you get the most out of your adventure.
In addition to their guides, they also have strict safety measures and procedures for every zip line tour. They include
Parents of guests aged 16 and under must consent in person before joining the experience.
Guests must weigh between 60 kg and 115 kg and have a minimum height of 1.6 m and a maximum of 1.9 m to participate.
Guests must be capable of wearing the full-body harness provided and should not wear any open-toed shoes, flip-flops, or any other footwear that is not suitable for zipline adventure.
Loose clothing, such as bandura, abaya, saris, long scarves, skirts, and dresses, should not be worn.
All loose items must be stored in the lockers provided, and long hair must be safely tied before participating.
Smoking, eating, or drinking is not allowed during the experience.
Guests must not bring personal items such as cameras, videos, audio, pagers, mobile phones, handbags, satchels, wallets, watches, fitness trackers, or other personal items or effects to the attraction.
The experience is not recommended for those with neck or back pain, heart conditions, abnormal blood pressure, or other medical conditions.
The experience is not recommended for those who are afraid of heights.
Expectant mothers are not permitted to take part in the experience.
Guests must comply with any specific onsite health and safety requirements.
Please take these guidelines seriously and follow them carefully to ensure a safe and enjoyable feat for everyone involved.
Take your thrills to the next level with the Ferrari World Roof Walk Experience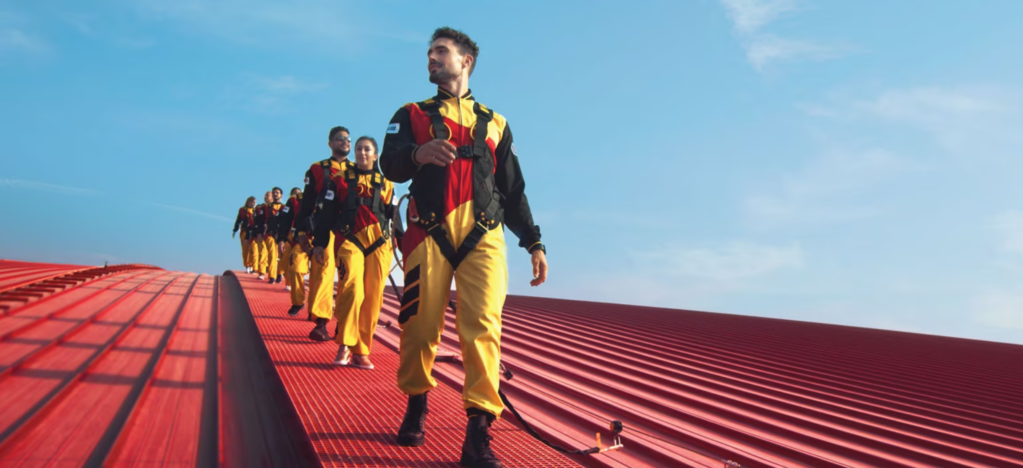 The Ferrari World Roof Walk ticket price is AED 125 per person.
Absorb the sights of the bustling park from a new perspective and conquer the iconic red roof of Ferrari World Abu Dhabi with the new Roof Walk Experience. This exclusive, 60-minute thrilling experience allows visitors to walk on the world's most iconic red top, the Ferrari World Abu Dhabi Roof, and witness the most prominent Ferrari logo up close.
As you go up the catwalks, you'll catch glimpses of the incredible theme park attractions that make Ferrari World Abu Dhabi an unforgettable escapade. Spot the Formula 1 track that circles the park and stay alert for some fantastic photo opportunities.
Once you reach the peak of Ferrari World Abu Dhabi's iconic red roof, you'll witness one of the spectacular vista views of this incredible city. Feel free to take breaks along the way and take some time to truly take in all the sights below you and allow yourself to be mesmerized by the panoramic skyline.
The Ferrari World Zipline Abu Dhabi price starts at AED 125, and the experience lasts 60 minutes. At the end of your journey, you'll be rewarded with some fantastic photos and a custom-made souvenir wristband to remember your expedition. You'll also be able to get up close to the most iconic Ferrari symbol in the world and learn about its rich history.
Related Article: Explore Warner Bros Abu Dhabi
Safety Measures and Procedures at Ferrari World Roof Walk
Here are the safety precautions and requirements for the Ferrari World Roof Walk Experience in bullet points:
Guests must be between ages 8 – 65
A minimum height of 1.2 m and a maximum weight of 140 kg
Guests must be able to use the entire body harness provided by the guide.
An adult should accompany guests under 16 throughout the experience.
Open shoes, flip-flops, and other unsafe footwear are prohibited.
There is no loose clothing (kandura, abaya, saris, long scarves, skirts, etc.) during activities.
Secure items and belongings in lockers before beginning your adventure
Eating and drinking are not permitted.
For the safety of guests, equipment such as cameras and video recorders cannot be taken onto the attraction at Ferrari World Zipline.
Additionally, wallets, watch pagers, mobile phones, handbags, satchels, and other personal items must remain outside.
For the safety and security of all participants, guests are to abide by the following restrictions when participating in the roof walk adventure.
Related Article: Speed into the exciting Ferrari World Abu Dhabi
You've seen Ferrari World from the ground, but now witness it like never before through the new Ferrari World Zipline Adventure and Ferrari World Roof Walk Experience. Guests can enjoy spectacular new vista views, beautiful architecture, and unique insights throughout the experience. For more information on Ferrari World or book tickets, head to our website now!