From fireworks to delicacies, Diwali celebrations bring the best of everything. Even though the official religion of the country is Islam, the United Arab Emirates welcomes the celebration as the Emirati Festival of lights and showcases the fact of harmony and tolerance amongst the residents of UAE. If you are wondering where can you celebrate Diwali in Dubai, look no further. TicketsToDo brings you everything you need to know!
At TicketsToDo, you can get your travel partner and easily book your tickets sitting at the comfort of your home! No hassle of booking tickets and you even get an insider's take on the detailed guides of cities, attractions, and more.
Diwali 2021: Dates, Significance, and Customs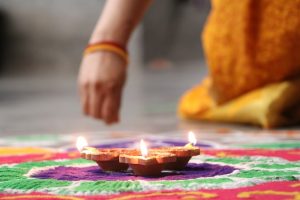 The 5-day festival starts on November 2 November and goes on till November 6. Each day bears a cultural significance and customs practiced by generations. Let's take a sneak peek into the rich culture.
Day 1: Dhanteras
Dhanteras is quite literally the day to shop. The first day of the festivities begins with traditionally buying a utensil of brass, silver, or gold. The market bustles with visitors buying gifts for friends and family, ranging from lights, decorations, sweets, and many more.
Day 2: Choti Diwali
Choti Diwali translates into "Small Diwali", which precedes the main festival. Lights, diyas, and candles lit up the households and everyone's heart! Everyone hustles to make the arrangement for the main day, which includes making sweets, visiting the family, and obviously, gifting and receiving a lot of gifts!
Day 3: Diwali
The main day (November 4 this year) brings out the best of festivities. Everyone is dressed in traditional attire, accompanied by friends and families, enjoying the festival with dancing and singing. Diwali is often connected to fireworks but, fireworks are strictly prohibited in Dubai. However, you can witness fireworks by the Emirates on this special occasion.
Day 4: Goverdhan Pooja
A day after Diwali is dedicated to Lord Krishna, where Hindus prepare vegetarian delicacies. In cities such as Dubai, langars are held across the city, where free and delicious vegetarian food is served with warmth and love. Also, if you want to taste real Indian Vegetarian cuisine, the Indian restaurant is your place to be at.
Day 5: Bhai Dooj
Bhai Dooj symbolizes the bond of brotherhood, a day for siblings. On this day, a sister offers sweets to her brother and in return, the brother gifts his sister. Traditionally, sweets and money are gifted along with vows to protect her from any dangers.
Related Article: Get the best out of your one day Expo 2020 ticket
How to celebrate Diwali in Dubai: Things to do and places to be at
1. Visit the India Pavilion at Expo 2020
The first week of November is packed with events and activities for the festivals of lights. Musical nights with delicious delicacies and a special selection of events waiting for you at Expo 2020 Dubai. If you want to celebrate Diwali in Dubai, what better place than a look inside the India Pavilion, the home to the festival. The 4 four pavilion features a Swarangoli, which is an interactive musical LED Rangoli that is sensor activated!
Immerse yourself into the celebrations with the beautiful Diwali-inspired projections at Al Wasl Dome, the largest 360-degree projection dome in the world. Don't forget to taste the delicacies made specially by Michelin star chefs and restaurants:
4-6 November: Special Diwali Set Menu by Michelin Starred Chef Rohit Ghai at Kutir.
4-5 November: Diwali Baking Workshop at Bread Ahead Bakery & School.
3-6 November: Exclusive Indian Menu at Ferrago- The Expo Culinary Pod
Here is the event list that you should not miss:
2 November 2021 | 20:30 – 21:30 Dubai Millennium Amphitheatre: Dubai-based band Rooh
4 November 2021 | 22:30 – 01:00 Jubilee Stage: Dhol Tasha, performance by the Indian singer and songwriter, Badshah and "When Chai Met Toast".
4 November 2021 | 21:05 – 23:00 Dubai Millennium Amphitheatre: Deepanjali – Celebration of Oneness, Lok Chhanda and a Musical Night by Salim and Sulaiman, and Vipul Mehta
5 November 2021 | 22:30 – 01:00 Jubilee Stage: Performances by Shilpa Ananth, Esther Eden, and Peter Cat Recording Co.
5 November 2021 | 20:30 – 21:30 Dubai Millennium Amphitheatre: Dubai-based band Dhruv
Related Article: World Expo 2020: Ranking the top 10 pavilions from countries to organizations
2. Largest Dancing Fountain Performance at Palm Jumeirah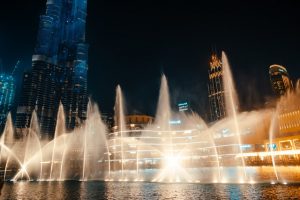 Dubai Fountain and Lake has always been a jaw-dropping experience, how about adding the festive colors and lights to it? Let your Diwali in Dubai be marked by the world's largest dancing fountain, The Palm Fountain. Make the best out of the delicious cluster of restaurants and eateries near and around Palm Jumeirah.
Book Dubai Fountain Tickets Now!
3. Epic Fireworks to be witnessed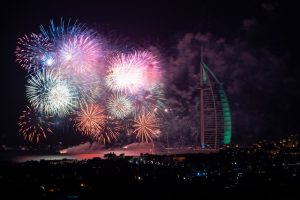 Fireworks displays and that colorful burst of lights are the essences of DIwali. The Emirati Capital doesn't shy away from the beautiful displays! Here are the best places to be mesmerized by the beautiful fireworks displays to celebrate Diwali in Dubai:
Ain Dubai
The World's largest observation wheel gives you the perfect view of the Diwali Fireworks display at Bluewaters Dubai! The perfect backdrop of Plam Jumeira and the Dubai Marian Skyline add the cheery on top! You can groove to the Bollywood dance number at the live street festival from 4th to 6th November.
Time: 8:30 PM, Thursday, November 4th (Firework show)
Global Village
Diwali celebrations at Global Village are always a special event, you should definitely be a part of. Make the best out of the day, and try delicacies, shop your heart out and enjoy all the live shows. Most important is the fireworks above! The fireworks will be on Thursday and Friday.
Time: 9 PM
Buy Global Village Tickets Here!
4. Win gold in the city of Gold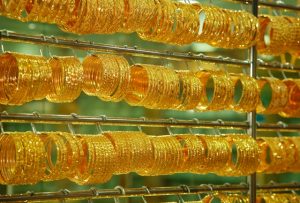 Dubai upholds its name as the "City of Gold" for this Diwali celebration. When you buy jewelry from Dubai Gold and Jewellery Group, you get more! The offer is valid for both visitors and residents. It states if you buy jewelry in one of the 125 outlets, you get a chance to win Dh150,000 in vouchers. Not just that, there are presents, discounts and other offers on the purchases made. The campaign is valid till 6th November, the last day of the Diwali Celebration.
Related Article: Explore Dubai, not just the World Expo 2020
Let us know how are you going to celebrate Diwali in Dubai? You can always connect with us and help us be your travel buddy for your next adventure. Happy Diwali 2021 to you and your loved ones!