Cravings for Sushi? You are at the right stop! Sushi is a staple rice dish of Japanese cuisine. It consists of cooked rice flavored with vinegar, a variety of vegetables, raw seafood garnishes, and served cold. Like everything else, Dubai has the best of all. We are conveying the goodness of sushi to you by showcasing a list of the best Sushi in Dubai.
TicketsToDo brings you a list of the best sushi restaurants you ought to visit. Book your tickets now and browse through the offbeat attractions with us. Taste the Japanese culture at the best sushi restaurants in Dubai.
Explore the Best Sushi in Dubai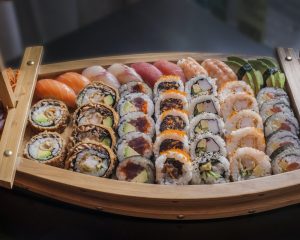 Sushi masters in Dubai practice a truly creative art. If you are planning a trip to Dubai, don't miss some real-life sushi-making action! They prepare delicate dishes that are almost too pretty to eat. Here are our top picks for Sushi restaurants that cater the best sushi in Dubai.
AKIRA BACK
You can head to Akira Back for one of the best sushi in Dubai. From Michelin-starred chef Akira Back, the restaurant at Palm Jumeirah is a top choice for sushi. The famous Pop Rockin sushi is stuffed with spicy crab, cucumber, and asparagus. If you are a vegan. this restaurant also serves up excellent vegan dishes which include vegan rainbow roll sushi. Experience the stunning view of Dubai Marina and it is also the perfect spot for an ideal sushi date night.
Location: Palm Jumeirah – The Palm Jumeirah – Dubai
Contact: 04 245 5800
Related Article: 10 local and historic eateries to go global at World Expo 2020
3 FILS
Awarded the Time out Best Asian Restaurant 2020, and Forbes 10 coolest places to eat in 2019, 3 Fils is your next sushi stop. They serve modern Asian cuisine with a Japanese influence. You will find lip-smacking sushis and fire-grilled octopus on the menu. The star sushi platter comprises of crispy eel roll, unagi teamed with foie gras and yellow pepper mayo with the soft shell crab roll topped with truffle caviar. Their much-loved sushi spot perched on the water at Jumeirah Fishing Harbour is amazing.
Location: Shop 02, Jumeirah Fishing Harbour – 1 Al Urouba St – Dubai
Contact: 04 333 4003
ZUMA – Best Sushi In Dubai
Zuma is a posh Izakaya-inspired Japanese restaurant located in Dubai. It is hailed as one the best sushi restaurants in the world by San Pellegrino. You can always sit near the sushi counter so you can get a view of the masters at work. Their Salmon Aburi sushi with Mentaiko Sauce is simply divine as you watch them create the multilayer platter in from your eyes.
Location: Gate Village 06, Podium Level – Al Mustaqbal St – Dubai
Contact: 04 425 5660
MIMI KAKUSHI
Mimi Kakushi means "covering the ears" and describes a fashionable bob-style haircut in 1922. Here, you will be served signature dishes with a twist and the menu is filled with exciting Japanese favorites including, sushi, black cod, and wagyu beef. A Citrusy yuzu and garlic uplift the smashed hamachi, while the jalapeno relish adds punch to a salmon tataki sushi. Mimi Kakushi is a fabulous new spot that sushi lovers like you will absolutely love!
NOBU
Nobu is awarded 2021 What's On Awards – Favourite Japanese Restaurant in Dubai. Chef Nobu Matsuhisa's iconic black cod miso, with premium wagyu beef tacos and a Japanese twist, is deemed as "Dubai's best sushi". There are 22 types of simple sushi alone – ranging from otoro to caviar de Sologne – with a whole page dedicated to hand and cut rolls too. From Tuna Tempura Roll to sea urchin to sweet shrimp and new-style sashimi, their menu is loaded with aesthetic sushi flavors. That is enough to water your mouth already!
Location: Ground Level, The Avenues, Atlantis – Dubai
Contact: 04 426 2626
YUGO SUSHI- Best Sushi In Dubai
If you're looking for fine sushi in the city, with an even finer ambiance, then this is the place you should head to. The uramaki platter, filled with the signature volcanoes, California, and king salmon rolls is a bestseller. Another specialty of Yugo Sushi is Yellowtail Usuzukuri which is a thin slice of yellowtail topped with jalapeno and white onion and served with mixed vegetables with signature citrus vinegar sauce. If you fall under the category of Asian/Japanese food lovers, Yugo Sushi is a must place to visit.
Location: Almas Tower – Jumeirah Lakes Towers – Dubai
Contact: 04 557 4765
REIF JAPANESE KUSHIYAKI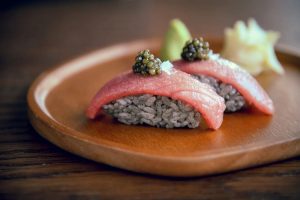 REIF offers beautiful Japanese cuisine. A new, edgy, and affordable version of sushi kushiyaki is popular and you must try it. The freshly grilled, skewered meats are inspired by Japanese robata restaurants. A centered open kitchen gives you the chance to see the creation of this unique dish. You can try the special omakase sushi prepared by Chef Reif Othman himself.
Location: Dar Wasl Mall – Al Wasl Rd – Al Wasl – Dubai
Contact: 050 235 7071
CHEZ SUSHI
Chez Sushi has branches around the city, with the newest in Al Wasl as a family-friendly Japanese restaurant. They have an impressive list of maki and temaki for you to try. The prawn tempura maki, with a secret tangy pink sauce, will be your favorite deserves a second helping. Every Wednesday the casual Chez spot offers 50 percent off all food and super sushi deal in Dubai.
Location: Al Wasl Road
Contact: 800 78744
Related Article: This Is Where You Should Really Be Eating In Dubai
Sushis are a healthy and tasty option, you should at least give it a try at one of these famous world-class Sushi bars. If you love to travel, have new experiences, and see new attractions, take us as your travel partner! To avoid standing in queues or worrying about the tickets, book yours at TicketsToDo.com. You can also apply the promo codes and coupon codes to avail of special discounts on the tickets from VoucherCodesUAE.