Want to take your loved one on an unforgettable trip this special day? We present to you a curated list of the best places to visit for Valentine's Day in Dubai. We're here to make your planning a bit easier so that you get time to arrange for other things as well!
At TicketsToDo, we help you book activities and tickets online to discover new places at exclusive prices. As your trusted travel companion, we give you handpicked experiences with real user reviews. Don't worry and let us help you plan it out. Trust us as you always do!
Celebrating Valentine's Day in Dubai – our recommendations
Here are 6 activities to make this year's Valentine's Day special!
Haunted house? Why not?
We challenge you to try to stay 10 mins in the haunted manor. You can show who has a braver heart and also, faint-hearted people are a total no-no for this. If you both love a horror movie night and enjoy the thrill, why not have it in real life as well. Also, don't forget to make a bet and know who is the better horror fanatic!
We chose the one of the kind Hysteria Haunted House! How is it different from others? Well, the one living there is actually looking for.
Backstory: The kids of the manor are disappearing and the parents are in hysteria. They believe you know where their kids are. Your nightmares are going to be real as you may be taken by the family and the spirits of the deceased children themselves may just drop to say hi.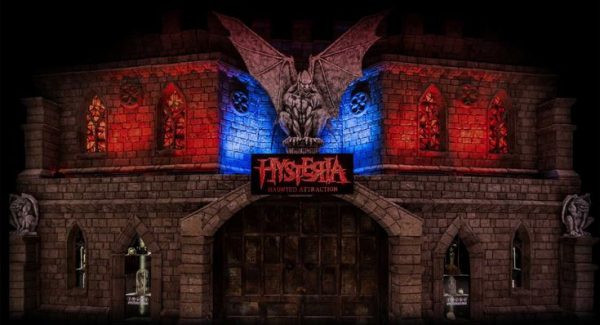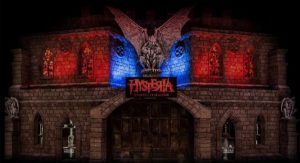 A particular time limit is not set in Hysteria, you can stay as long as you can. You can walk through 15 rooms of the mansion, but most people haven't survived longer than 10 minutes. Also, if you feel any kind of distress you can exit through any room or alert any of the staff members. Most of the team members at Hysteria are certified first-aid and basic life support qualified and are trained to respond to emergencies.
Location:
Hysteria Haunted Attraction, 2nd Floor, The Dubai Mall, Sheikh Zayed Road, Dubai, United Arab Emirates.
Operating hours:
Saturday to Wednesday: 10 AM to Midnight.
Thursday and Friday: 10 AM to 1 AM.
A little theatre action!
You can experience the extraordinary shows for the festive season with 270-degree seating in the tailor-made aqua theatre. Located in the heart of Dubai at Al Habtoor City, La Perle by Dragone is the region's first permanent show. With the help of the legendary artistic director, Franco Dragone of Le Reve in Las Vegas and The House Of Dancing Water in Macau, these breathtaking performances are created. The beauty and talents will make you awe. Certainly, one of the best places to visit for Valentine's Day in Dubai to make it an unforgettable one.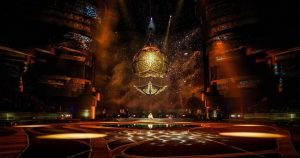 You can witness the stage flooding with 2.5 million liters of water and drain in a matter of few seconds while artists perform mind-blowing water and aerial feats. Also, remember to breathe when you see them casually dive from 25 meters high.
Location:
Centrally located at Al Habtoor City
Al Habtoor City – 260 Sheikh Zayed Rd – Dubai – United Arab Emirates
Show Schedule:
7:00 pm, Tuesday to Saturday
9:30 pm, Tuesday to Saturday
Operating hours:
Sunday & Monday: 10 am – 6 pm
For the nature lovers
We present to you The Green Planet Dubai— a biodome with an indoor rainforest. Visiting a rainforest in Dubai, yep, you read that right. If your special one loves to spend time in nature, then this can be the perfect retreat. An expansive botanical museum featuring an indoor rainforest with giving plants, animals, and birds.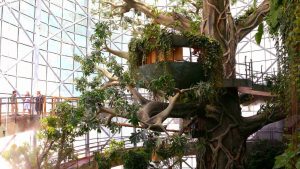 A mini tropical forest in itself with 3000 plants and animals. You can use the code "GP10" to get 10% off on your tickets!
Location:
City Walk, Al Wasl, Dubai, United Arab Emirates.
Operating hours:
Monday-Saturday: 10 AM to 6 PM.
Other ideas for Valentine's Day in Dubai
Places to go eat!
After all that sightseeing, walking around, and having fun, you need to get some delicious food that Dubai has to offer! Dubai offers a blend of traditional and global flavors, let's just say Dubai's cuisine has got a little something for everyone. Who would know your partner's palate better than you?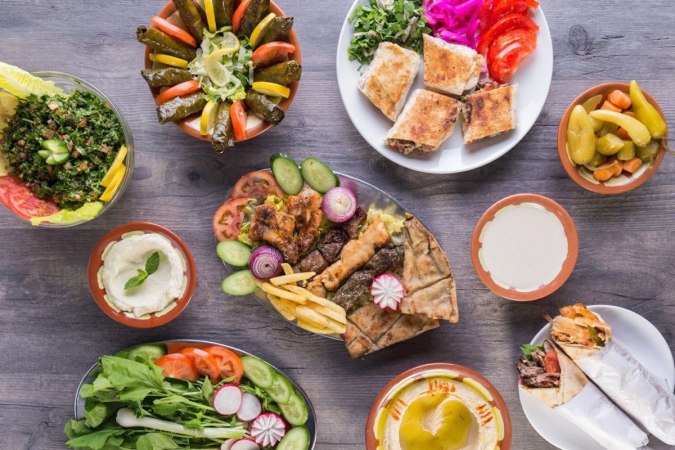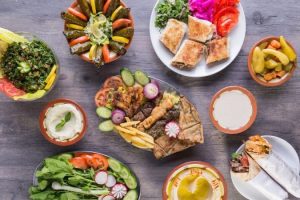 From top restaurants of Pierchic's seafood to Nobu's authentic Japanese Cuisine to the local eateries of Bu Qtair restaurants, here are so many places with mouthwatering delicacies for you to try out! End the meal with Ben's Cookies restaurant located in Dubai Mall which has the perfect cookies you could ever ask for. We recommend the milk chocolate chunk and Peanut Butter cookies. Thank us later!
We found the top restaurants and local eateries in Dubai for your every mood, the best places to visit for Valentine's Day to eat! Take a look at best restaurants in Dubai.
Skiing in Dubai
Snow in Dubai, quite a dream right? How about the third-largest ski slope in the world. Your special one deserves a trip to the winter wonderland, Ski Dubai is waiting for your arrival. A 22,500 square meters area with 6,000 tons of real snow, let's just say it deserves the hype.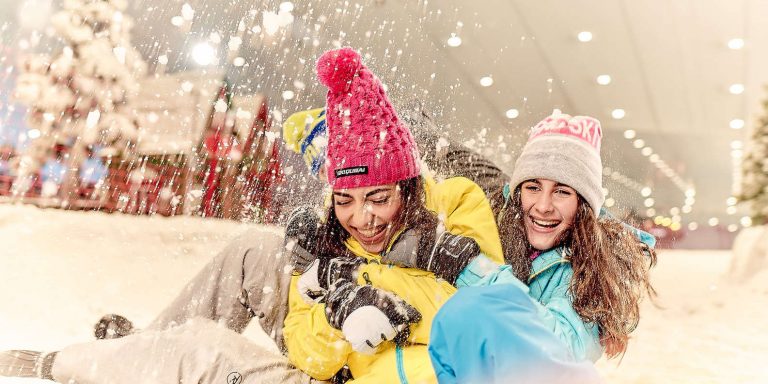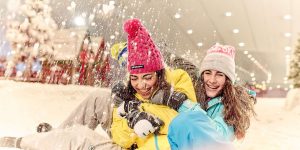 The magical and wonderful vibe will be perfect for a date! That's the reason it is one of the most recommended not only as the best places to visit for Valentine's Day but as one of the top family attractions in Dubai. You can choose among five different slopes of varying lengths with bobsled runs and tobogganing hills.
If you're alone, and just want to enjoy yourself, we like that! Go and Sip hot chocolate with extra whipped cream and marshmallows at the Avalanche Café's outer terrace. Oh, there's a sub-zero zip line which is 150 meters called Snow Bullet to soar you 16 meters above the ground.
Location:
Sheikh Zayed Rd – Dubai – United Arab Emirates
Know Before You Go
Things like boots, helmets, skis, snowboards, Trousers, and jackets will be provided.
Every activity has a specific age requirement, height restrictions, and rules & regulations that should be followed.
Ski Dubai Timings:
Sunday – Thursday
10:00 am – 12:00 midnight
Friday – Saturday
09:00 am to 12:00 midnight
Friday – Saturday
09:00 am – 12:00 midnight
Penguin March:
Daily: 2:00pm, 4:00pm, 6:00pm and 8:00pm
Smash Box!
Having some stress lately? Then why breaks hearts, when you can break things without restrictions. No more slamming your phone against the ground, flipping tables, or punching a wall. We bring to you, The Smash room in Dubai that gives you the animalistic release you need. No need to meditate, reflect, or soul search, just enjoy the therapy.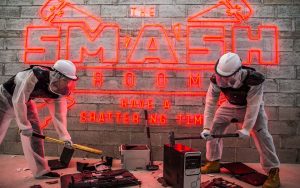 Smash Room does not come across as an ideal location for the best places for Valentine's Day celebration at the first look. But if you and your partner love the fun and adrenaline rush, it's enough. It is exactly what it sounds like, you are assigned a room, and you along with your partner can smash anything present there.  Grab your weapon of choice, and get ready to break, shatter and de-stress yourself. Scream, yell and just go mayhem without any restriction
Insider Info
Protective gear and gloves are provided so that there is no injury.
The Smash Room Dubai also collects old unwanted items that are recycled after broken into pieces.
Lost or damaged Smash Room Tickets will not be entertained or refunded.
Location:
Dubai, United Arab Emirates
195 Umm Sequim Street, Al Quoz Industrial 4
Operating hours:
Opening and Closing time: Sun to Wed – 11:00 AM to 10:00 PM
Thu to Sat – 9:00 AM to 11:00 PM
That's what we have for you, and we will make sure we are there for your future trips as well! Happy Valentine's Day to you and your special one.
If you are planning to travel anytime soon, you avoid the hassle of standing in queues by booking your tickets from TicketsToDo.com. Apply the promo codes and coupon codes to avail of special discounts on the tickets from VoucherCodesUAE. 
Keep in touch with us on [email protected] and follow us on our Social Media channels to share your experience.