Dubai has myriad things to do and unsurprisingly is the hub for tourists. Every other day we see a new development garnering the attention of swamps of people. If there's one thing that you shouldn't be missing out on at any cost, I'd say it is the Dubai Dolphinarium. This visit is a wholesome family experience. Spread over 5000 sq. meters, the dolphinarium is home to 6 bottlenose dolphins and a healthy population of fur seals. The air conditioned facility allows a comfortable environment to be in, even if you visit during the day with the glaring sun up in the sky. Here's what you can expect:
Dolphin and seal show in Dubai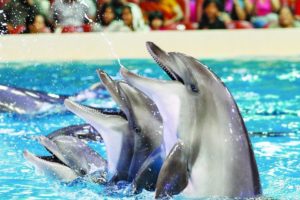 This is an interactive experience portraying the tremendous talent, both physical and mental that these animals possess. From dancing to juggling and playing ball as well as diving on command, these mischievous creatures are sure to win your hearts. The stars of this show are six bottlenose dolphins fondly named Jerry, Tetka, Fekla, Kai, Elvis and Kyushu. Also, participating in the show will be the adorable Fur seals! These animals perform in the main show pool, surrounded by an arena style seating with VIP as well as regular sections.
The Dolphinarium opens its gates at 10:00 a.m and is open throughout the week, except on Sundays.
There are 3 shows available at 11 am, 3 pm and 6 pm.
If you opt for the 3 pm or 6 pm show, you might be in for a little surprise! There is an additional magic show by resident illusionist Max before the actual dolphin and seal performance begins. So be ready to get completely mesmerized!
Creek park exotic bird show

This is one of the most unique attractions in the UAE and the first and only show to be featuring exotic birds in the middle east.  Home to over 20 species, this fascinating experience is sure to leave you in awe as these birds fly over your heads and perform interesting tricks. Some of the species included are the African Grey, Red Billed Hornbill and Blue and Gold Macaws!
The show takes place at 12:15 pm, 4:15 pm and 7:15 pm.  On Friday's and Saturday's there is an additional show at 2 pm.
Swim with dolphins in Dubai Dolphinarium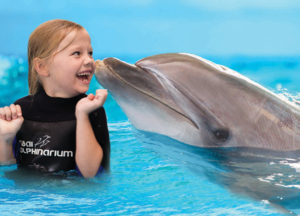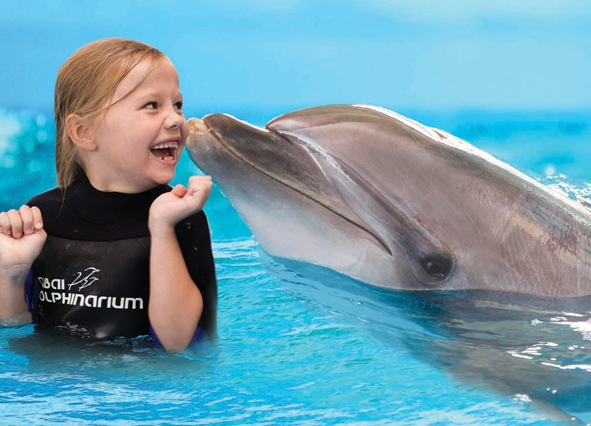 What could be more exciting than having a personal encounter with these lovely creatures? Yes, you heard that right! This experience lets you spend time with the dolphins on a personal basis. From poolside interactions to swimming with the dolphins along side, it is sure to leave you with a memory that will last a life time. This not only provides you with the incredible opportunity of meeting these creatures, but also broadens the perspective of your mind and makes you realize that the world is indeed a wonderful place. All this is done under the complete supervision of expert trainers, so you have nothing to worry about.
You have two options if you wish to swim with dolphins – either in knee deep shallow water or completely immersed in deep waters.
It takes place at 11 am, 12 pm, 1 pm, 3 pm, 4 pm and 5 pm.
I don't think you have a reason to wait any longer. So hurry up and book your swimming with dolphins in Dubai already!
If you're going to Dubai this year, check out the attractions for the 10th anniversary of Burj Khalifa!