Georgia is the place calling you for your next holiday!
Tucked away at the intersection of Europe and Asia, this former Soviet republic is home to tall cascading mountain villages and deep Black Sea beaches. Georgia is the newest destination for all those bitten by the wanderlust bug! With sprawling cave monasteries dating back to the 12th century with their world-renowned wine-growing regions of Kakheti. Georgia is known for its diverse architecture and maze-like streets of its old town.
Traveling to Georgia – why is it worth considering?
Lonely Planet has described Georgia as one of the most beautiful countries on earth and is a haven for walkers, horse riders, cyclists, skiers, rafter, and travelers of every kind. The locals of Georgia are hospitable, proud, and pride themselves on their rich and vibrant culture.
Hailed as the birthplace of wine, they enjoy the influx of travelers all year round.
We're giving you a low-down on all things related to Georgia, so you can add that to your destination list!

When is the best time to travel?
You're in luck! It's possible to travel to Georgia all year round. If you're planning for a snowy vacation, Georgia is world-renowned for its winter sports with destinations such as Gudauri and Bakuriani as the places to visit. October to April would provide you with optimum skiing conditions.
For the beachgoers, the time for you would be late spring or summer as you have tourists flocking to the Black Sea allows for water sports and sunbathing.
If you're waiting to wine and dine your holiday away, autumn would be the perfect time for you as it brings in the vintage harvest with fall colors of the beautiful and scenic landscapes of Georgia.
Visa Talk
You can enter Georgia without a tourist visa for up to 365 days if your home country is included in the list of 95 countries that have an exemption. If you are part of the 50 countries that are not included in the list, there is a provision that allows you to visit Georgia without a visa or a permanent residence holder.
If you require a visa, you can apply at the Georgian Embassy near you or visit www.evisa.gov.ge.
Getting there
The easiest way to travel to Georgia is to fly into the capital city, Tbilisi. Trains from neighboring countries such as Armenia and Azerbaijan are also available. You have the option of driving down to Georgia from Russia, Azerbaijan, and Turkey. If you enjoy long rides at sea, there is always a ferry that you can catch from Russia or Ukraine.
Getting Around
Georgia is well-developed in terms of its infrastructure. You can opt for planes, trains, coaches or minibusses and cars for your travel in and out of the country. If you are confident enough to drive around the country on your own, we would advise you to wear a seat belt as they have some of the highest traffic accident rates in the region. You could always take trains between the cities and mini-busses are a popular mode of transport as they connect all major cities in Georgia as well as to its neighbors.
If you'd like to hire private transport, that's an option. But make sure you split the bill!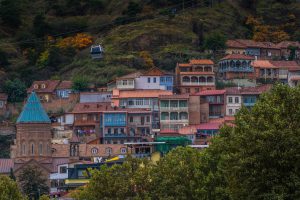 Where to stay during a trip to Georgia?
Finding a place to stay is not difficult. Georgian development has taken tourism as a strong option for increasing GDP and allows you to choose various options of accommodation at every price.
You can choose from luxury, standard, and basic accommodations in most cities. The chubs of Tbilisi and Batumi offer you the widest selection as they are well-versed with the needs of seasoned travelers. You always have the choice of opting to locate yourself in an AirBnB for your stay. Reviews are always important cues, so make sure you've thoroughly read through the customer reviews.
Georgian language
Though Georgians speak their native language Georgian, it's observed that most locals speak in Russian. English is commonplace in touristy areas of Tbilisi and the mountain ski regions. Though don't worry, Georgians are extremely hospitable and will work their way to ensure your safety and communicate with you.
Traditional Georgian cuisine to try
We believe that the best way to truly experience your holiday destination is by eating locally. With wonderful national cuisine, Georgians are extremely proud of their local cuisine and are craved both in Russia and other countries. There are variations of certain dishes that are available throughout the country, and you can try them at every cost. Bread, cheese, salads, and meat are commonly seen as consumed during meals.
Lucky for you: Wine and food are exceptionally affordable as they are a staple for any Georgian. If you're a vegetarian or vegan, you can opt for non-bread and cheese dishes, though you might have a hard time as they are part of their staple diet.
Now that we've answered your queries, Georgia is the perfect place to satisfy all your holiday cravings. From beaches, mountains, and glorious old ruins, taking a walk through this beautiful country will leave you breathless.
If you want to discover Europe, check out our Germany travel guide tips!
If you are planning to travel anytime soon, you avoid the hassle of standing in queues by booking your tickets from TicketsToDo.com. Apply the promo codes and coupon codes to avail of special discounts on the tickets from VoucherCodesUAE. 
Keep in touch with us on [email protected] and follow us on our Social Media channels to share your experience.9+