Nestled at the heart of the Middle East, Dubai is the UAE's answer to the New York's and London's of the world. This luxurious city synonymous with Metropolitan and Chic witnesses millions of visitors travel up its shores every month. With the incredible infrastructure and array of activities, a vacation becomes a flurry of can't- miss adventures for its tourists. So many options, and yet so little time. How does someone fit them all into one trip?
We've got the answer! Below, you'll find the list of must-visit places that you HAVE to check out if you're heading to Dubai for a quick trip. You really wouldn't be experiencing the city without hitting up these sweet spots.
Tours & Activities in Dubai We Recommend
Stand Tall, Stand Proud – Burj Khalifa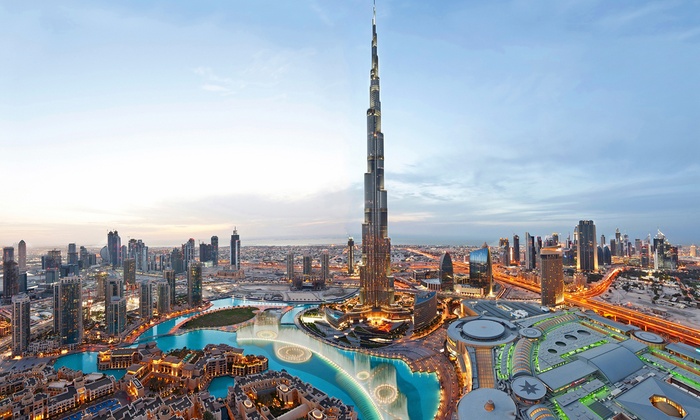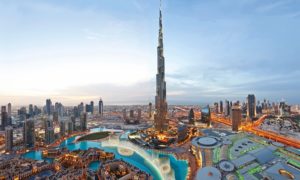 Ah yes, the Burj Khalifa. A world-renowned landmark, yet nothing can accurately describe the feeling of standing atop this incandescent building. Scrape at the skies and witness breath-taking views of the Dubai skyline. Not only can we commend this building for the views, the craftsmanship and engineering prowess that went into creating this skyscraper showed-off sheer architectural brilliance. It became the tallest man-made structure in the world, just over a thousand days into its construction! Rome may not have been built in a day, but the Burj Khalifa is a definite testament to mankind's progress ever since.
Be Adventurous – Skydiving
Dubai has been gaining a reputation for being the "it" place for indulging in the best adventures life has to offer. And it'll suffice to say that nothing gets the heart pumping like jumping out off a plane with nothing but a parachute and a will to live. Sounds scary, doesn't it? Rest assured they have multiple certified and professional Skydiving companies which will take good and proper care of you so why not take that leap? The blue waters, tall buildings, and diverse cityscape will make this a one-of-a-kind experience for you.
Heat Up The Temp – Desert Safari
The Desert Safari is the not-so-best-kept secret in the city. On the weekends, city slickers can be found in the desert making doughnuts in fancy cars and ripping through expensive tires without a care in the world, definitely a sight to behold. If you're coming down as a tourist and traveler, get the whole Desert experience and opt for the Safari. It begins with an exciting dune drive followed by camel rides, dressing in traditional clothes, photo opportunities, and delectable traditional food.  This gives you a snapshot of what makes Dubai such a magnetic spot for travelers. It will be a (hot) memory you won't forget. So, make sure to tick this off your bucket list.
Dubai – Dubai Mall
You heard all about it, you've seen the pictures and you know your wallet will be much lighter when you leave! The Dubai Mall is located in the heart of downtown Dubai and is the world's largest mall. Rich in fashion and grandeur, this place is a goldmine for those interested in truly living like kings and queens. Even if you aren't planning on buying anything, it's really worth just visiting to look around in wonder at the impressive scale and list of Brands. And if you are going to splurge, why not do it in the largest mall in the world?  You literally can't complain about not finding the size for you.
The Great Beyond – Dubai Aquarium
Hey, while you're window shopping at the Dubai Mall, why not head down to the ground floor and look out the windows for otherworldly treasures! That's right, start off the day with Gucci, Armani, and Dior and finish it off with one of the world's largest suspended aquariums. The Dubai Aquarium and underwater zoo located at the ground level of the Mall, houses over 140 species and 300 sharks and rays, along with the largest collection of sand tiger sharks in the world. Talk about diversity!
You've Got To Be Wild – Wild Wadi Water Park
Want to take the family or a little bit of fun AND history? Didn't think you'd hear fun and history in the same sentence, did you? Well, look no further than the Wild Wadi Water Park. Touted to be one of the best water parks out there, you really can't miss this one when you visit. The water park boasts excellent rides for all the thrill seekers out there, and the interesting part is that it's all themed around the tale of Juha, a very well-known character from Arabian folklore.
Also, it's plain and simple one of the best ways to beat the heat in the city. A wonderful place to bring the family, just don't forget to carry sunscreen.
Being Cool Is The Way – Ski Dubai
Another way to beat the heat? Try skiing on desert land. Ski Dubai is an indoor ski resort that brings the best of the west right to your doorstep. Dubai pretty much never sees snow, so this is their cool way of changing it up from sand dunes to real snow slopes. All your favorite winter sports are available from snowboarding and tobogganing to chairlifts and tube lights. And get this, those aren't even the best part.  They have recently real live penguins as residents, so if that doesn't say winter wonderland I don't know what does.
Bounce Your Worry Away – Bounce Indoor Trampoline Park
Try something a bit different from a regular itinerary. Bounce – Indoor Trampoline Park is exactly what you think it is and yes, it is lots of fun. Work off some of that holiday weight and have a blast while you're doing. Even if you aren't the most enthused bouncer, some of the expert wall runners and bounce gurus that frequent the joint will absolutely leave your jaw open in awe.
Heritage – Dubai Museum
Amongst the many world-class historical and architectural destinations in the city, the Dubai museum one of the must-sees's in the heritage department. It is one the oldest existing building left in Dubai. The history of the museum itself is quite fascinating itself, its door opened primarily to let the public know what traditional life was like living in the Emirates back in the day and preserve that bit of culture which always seems to be slipping away in today's modern world. It's a great look into the majesty of the Emirates and it's great place catch a glimpse into that lifestyle.
How About A Ride? – Abra
Away from all the glitz and glamour, is the Dubai Creek with its many stalls, shops and of course Abras. If you truly want to see your way around the creek, the best way to do that is by getting on an Abra ride. Abra comes from the word "cross". Take a ride across the Dubai creek and enjoy this traditional form of transportation that is still used by residents even today. They've upgraded the Abra ride experience as well which means there are bigger, grander and AC seater ones too. It's a wonderful ride, day or night to feel a nice breeze against your skin and traverse across quiet waters.
These are the top 10 suggestions for tours and activities we have for you if ever you find yourself itching to visit Dubai. Certainly, there is plenty more for you to do but if you've managed to touch down at most of these places, you'll have had a full and satisfying vacation.
Article Credits: Sybil Braganza & Risha Ghosh