There's no doubt about Dubai being the epitome of technological and infrastructural advancement. Through innovations that continue to amaze the world, the city has gained quite a reputation. From hosting a number of entertaining and recreational events like The Dubai Shopping Festival and The World Expo 2020 among many to being home to some of the best amusement parks in the world, Dubai is deservingly one of the top 10 cities in the world. When you think the city has finally reached its zenith, Dubai will blow your mind with yet another innovation.
Besides technological and infrastructural advancement, Dubai's love for art encourages innovative collaborations and artistic experiments. Dubai's performing arts centers are a good place to get firsthand experiences of the various forms of art- both local and international. You will find concerts, theatrical shows, musicals as well as other live entertainment. TicketsToDo presents to you one of the finest performing arts theaters in Dubai and the region's first permanent theater show – La Perle by Dragone.
What is La Perle by Dragone?
La Perle is a Performing Arts Theater in Dubai, United Arab Emirates. It was designed to be a permanent show created by the world-famous Italian theater director Franco Dragone and brought to Dubai by Al Habtoor Group, featuring 65 world-class artists from 23 countries. La Perle introduces to the audience an aqua-based theater that combines breathtaking live stunts and acrobatics, with spectacular special effects, to tell a story. Their theme is inspired by the cultural heritage of Dubai, vibrant present, and aspirational future.
Where is it?
La Perle By Dragone, 260 Sheikh Zayed Road, Al Habtoor City, Dubai, United Arab Emirates. The theater is located in the heart of Dubai thus making it easily accessible from all areas. Business Bay is the nearest metro station and the closest point to easily catch cabs after the show is at Westin or St. Regis.
Show Schedule
Tuesday to Saturday: 7 PM and 9.30 PM.
Operational Hours
Sunday and Monday: 10 AM to 6 PM.
History of La Perle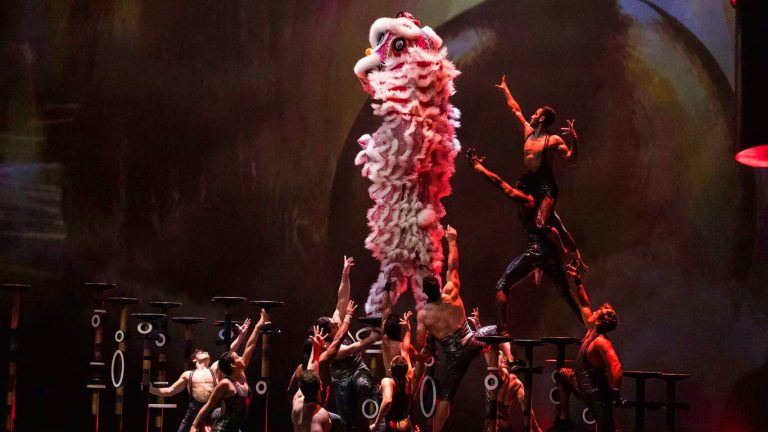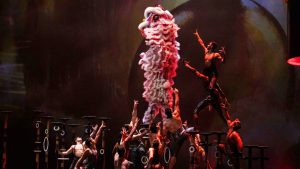 In 2017, Dragone's theatrical extravaganza, La Perle opened in Al Habtoor City, Dubai, in a custom-made 10-story theater. For the first time in the region, the theatrical performance introduced to both the residents and tourists in the city, water-based shows that combined gravity-defying acrobatics and special effects to tell a fantastic story. The show involved waterfalls, fires, motorcyclists spinning inside a suspended metal sphere, acrobatics into the water, and many other features. It took Dragone 4-5 years to prepare La Perle.
What makes La Perle so Special?
This uniquely designed theater creates a one-of-a-kind experience for the audience. It creates a visually captivating experience both below, on, and above the stage. The theatrics combines the spirit of Dubai with an iconic aqua-stage to deliver an unmissable spectacle in, on, and above water. It is a breathtaking fusion of immersive artistic performances, imagery, and technology, brought to life by astonishing aqua and aerial stunts.
The 270-degree seating provides a different perspective of the action unfolding in the tailor-made aqua theater. The aqua theater uses state-of-the-art technology that floods and drains within seconds. You will be able to witness the stage flooding with water and getting drained in a matter of seconds as the artists perform mind-blowing aqua and aerial feats, such as diving from a height of 25 meters.
La Perle Show also offers easy access to sensational food and beverage options all within walking distance of the theater. You will have the pleasure of choosing from a magnificent array of more than 20 restaurants, bars, and entertainment venues.
Bookings
La Perle has 5 tiers of seats starting with Bronze, Silver, Gold, Platinum, and VIP Seats on request. You can choose from three different showtimes and various seating options.
Tickets
• Bronze Ticket: Includes only the Admission Ticket and costs AED 320.
• Silver Ticket: Includes Admission Ticket 501 seats with Stunning views and great perspective. Costs AED 360.
• Gold Ticket: Includes Admission Ticket 496 seats at Premium locations closest to the action. Costs AED 415.
• Platinum Seats (with lounge access): Includes complimentary valet parking and access to the VIP lounge where canapés, popcorn, and soft beverages are available. Costs AED 520.
• VIP Seats (with lounge access and backstage tour): Includes 54 Luxury seats in the heart of the theater. As a VIP, you'll be able to enter the exclusive VIP lounge area, where you can hang out pre-show and have complimentary savory and sweet snacks, candy, and beverages. Once in the theatre, VIPs will be able to enjoy the show with great views and larger seats. It also includes complimentary valet parking and access to the VIP lounge where canapés, popcorn, and soft beverages are available. Costs AED 899.
You are required to carry a copy of the E-Ticket which you will receive through Email.
Book your tickets from TicketsToDo to get amazing deals and interesting package options.

If you are planning to travel anytime soon, you avoid the hassle of standing in queues by booking your tickets from TicketsToDo.com. Apply the promo codes and coupon codes to avail of special discounts on the tickets from VoucherCodesUAE. 
Keep in touch with us on [email protected] and follow us on our Social Media channels to share your experience.