Check new things to see in Dubai
Hop aboard the QE2
The legendary Queen Elizabeth 2 cruise ship, steeped in British heritage has been given a second life and is now open for daily heritage tours, restaurant bookings and hotel reservations. You can enjoy a rejuvenating staycation onboard the famous liner with guest rooms starting around Dh600 or check out some of the original restaurants onboard like The Golden Lion-an English pub which has been restored to look exactly the way it did during QE2's sailing days. A QE2 mobile application will also be coming out soon to make it convenient for bookings and to avail exclusive offers.
De-stress at Dubai's first Smash Room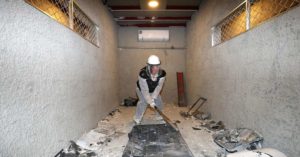 Have you been feeling stressed out of late? No, worries, we've got just the right therapy for you! The smash room lets you smash out all of your annoyances in a safe place and is typically a rebel's version of a day spa. The room is filled with old televisions, laptops, mannequins and furniture. You can choose a weapon of your choice and show the object who the actual boss is.
Glow in the dark Golf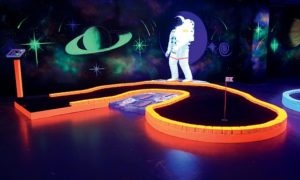 Are you fond of mini-golf? We are too. And what we are talking about is one of a kind! These experiences are set in dark, glowing rooms along with 3D effects and illuminated by neon back lighting which light up the floors and walls of the indoor course. You can also expect some fascinating visuals, from the orange hues of the desert to the vibrant underwater world immersing into the depths of the sea.
Explore La Mer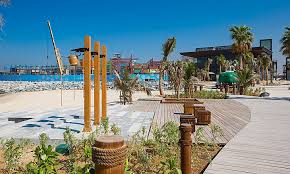 The new beach front district in Jumeirah looks stunning and right now there are a number of quaint little restaurants, cafes and shops which are open. You could probably stroll along the beach or head in for an afternoon dip in the sea. Make sure you stay until evening to witness the gorgeous sunset when the area is lit up with fairy lights.
Waterparks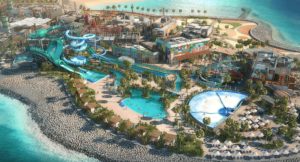 Apart from the regular splashing that occurs at water parks, what if we told you, you could also take surf lessons? Yes, you heard that right! Laguna Water Park offers an invigorating surf lesson suited for beginners as well as the professionals. It also features a water slide complex with 5 main rides and apart from that an exclusive children's zone and a pool lounge. The opening hours are from 10 am to 8 pm everyday.
Dubai's first Licensed Cinema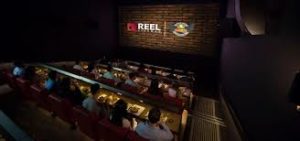 Feeling fancy and want a slightly different experience while watching films? We could help you out. As temperatures continue to soar in the UAE, you might want to retreat to the air conditioned comfort of a cinema. But what's unique here is that you could dine in too, while catching a film. Celebrity chef Guy Fieri has opened this one of a kind cinema in the Jebel Ali Recreation Club. The opening hours are from 9 a.m until midnight.