Do dolphins amuse you? If you haven't been lucky enough to see one, well, you're in luck! You can witness and even interact with the majestic species of bottlenosed dolphins. These highly intelligent marine mammals are super talented and quick learners to put on quite an amazing show. TicketsToDo presents to you Dubai Dolphinarium— the first fully air-conditioned indoor dolphinarium in the Middle East. Read on the benefits of going to this wonderful place.
About Dubai Dolphinarium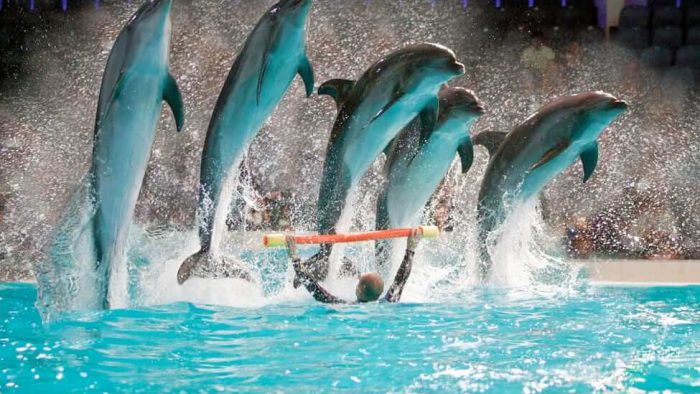 Boasting a gigantic 54,000 square feet of dolphinarium area with a seating capacity of 1250 people per session, Dubai Dolphinarium is the first fully air-conditioned dolphinarium in Dubai. It is based on the Creek Park at Bur Dubai, near the Children's City. It is sponsored and supported by the government to provide the general public and tourists with entertainment and also educate them on dolphins, seals, and other aquatic organisms. The amusement park features a private habitat area with 600 cubic meters of seawater connected to the main pool area. There is also a separate medical pool and sea pool constructed considering the well-being of these marine mammals.
Location
Dubai Dolphinarium, Riyadh Street, Inside the Creek Park Gate 1, Dubai, United Arab Emirates.
Operational Hours
Monday –Saturday: 10:00am-7:30pm
Dolphin and Seal Show
Monday-Saturday:  11:00am, 2:00pm and 6:00pm
Exotic Bird Show
Monday-Saturday:  12:15pm, 2:00pm and 7:15pm
Benefits of Swimming with Dolphins
The Dolphinarium provides a rare opportunity to swim with the dolphins which is truly a surreal experience. In addition to the happiness, education and entertainment that this activity provides, there are other benefits of swimming with dolphins:
Experts confirm that swimming with these animals allows people to experience very powerful emotions associated that are connected with nature, making us feel like a part of nature.
This activity also provides a positive impact which is based on the bond that exists between dolphins and human beings as well as the natural characteristics we share with them.
There is scientific evidence that suggests that the various recreational activities conducted with animals enable us to understand the various life forms of nature. It truly inspires us to protect and live in harmony with nature.
What to Expect
Get up close to some of the world's most intelligent and graceful marine mammals – bottlenose dolphins, in one of the world's most exciting cities. Dubai Dolphinarium invites you to witness a one-of-a-kind show where you get to watch dolphins and seals dance, sing and jump in perfect symphony with their trainer's commands. You learn about the behavior of the majestic mammals while admiring their agility and intelligence
Your days visiting Dubai are sure to be busy, but no worries! With 3 convenient package options to choose from, you are sure to find a slot that fits into your busy schedule. You can even opt for a relaxed afternoon show at 2:00 pm or choose a mesmerizing experience with the illusionists and even book VIP seats to guarantee the best views.
Attractions
You can enjoy the dolphin and seal extravaganza as these majestic sea creatures put in their best fin forward to provide you with an incredible act of juggling, singing, and dancing. This 45-minute show gets you up close and personal with the bottlenose dolphins, fur seals, and other sea animals that will keep you in awe with their amazing tricks and thrills.
Not only that, but you can also even experience a once-in-a-lifetime swim with the dolphins. Get in touch with these loveable creatures as you share the same waters learning about how to swim like one. There is also a dry interaction with the dolphins where you can pet them and hug them all under the guidance of the special trainers. Where you can even get a complimentary photo to remember this surreal experience.
Here, you also get to witness the Creek Park exotic bird show wherein you can witness 20 species of parrots and birds that perform acrobatic and high-flying tricks that will thoroughly amaze you.
Are you getting energized and inspired by all the amazing tricks of the animals? Do you want to engage in some physical activity? Then this facility has you covered as there is a big trampoline park wherein people of all ages can have fun and enjoy themselves together. There is a safety instructor who helps in making it a safe and enjoyable experience. You can also have fun and experience the amazing Mirror Maze as you navigate through the seemingly endless networks and corridors of mirrors.
Bookings
Dubai Dolphinarium offers you various packages:
Confirmation:
You will receive a confirmation email and voucher instantly after booking
In the event that you do not receive an email from us, please check your Spam folder or if notify us via email
Opening Hours:
Monday-Saturday: 10:00am -7:30pm
Schedule:
Dolphin and Seal Show:
Monday –Saturday: 11:00am, 2:00pm and 6:00pm
Price for:
Regular seat: AED 50.00
VIP seat: AED 85.00
Swim with Dolphins (Deep Water): AED 547.00
Exotic Bird Show
Monday-Saturday: 12:15pm, 2:00pm and 7:15pm
Price: AED 30.00
Additional Information
Seatings are on a first come first serve basis
VIP seats are located at the center section of the arena while regular seats are located at the sides.
Gates open 15 minutes before the show and all guests must be seated at least 30 minutes prior to the chosen show time.
Dubai Dolphinarium is located inside Creek Park and all guests must pay an entrance fee of AED 5
Please note, both shows are operational on all days except Sundays.
For amazing deals and discounts, book your tickets to Dubai Dolphinarium from TicketsToDo.com